Electric mountain bikes can help get you where you want to go on the trails, and they can be used for commuting in a pinch as well. However, some of these bikes can be so expensive as to be way out of your price range of what you can afford.
This does not mean you are simply out of luck, though. There are some excellent electric mountain bikes that you can afford for under $1,000. While you should always be careful about cheap knockoffs, these options are perfect for your tight budget so that you can get the bike you need.
1. ANCHEER 350/500W Electric Mountain Bike
This electric mountain bike from Ancheer is one that definitely deserves a place on this list. Its frame is an aluminum alloy that is coated with a rust-resistant finish that helps it weather the elements. This helps the bike be as durable and as lightweight as possible.
Speaking of being lightweight, the frame folds to make it easy to take your bike on trips with you. Meanwhile, the 21-speed drivetrain combined with the fact that you have both pedal assist and throttle only modes help you get where you want to get to where you are trying to go on your bike.
When it comes time to brake, the dual front and rear mechanical disc brakes will make sure that you can stop in time. In the meantime, the full suspension helps keep you comfortable along the way. In fact, the front fork is made of a high-strength carbon steel so that it will not fail on you.
You can charge this battery either on or off of the bike, whichever is easier for you. The battery will take you at least 20 miles and has five different modes for you to choose from. The display shows you how much battery you have left, what mode you are using, and other important things.
It comes already 85% assembled, so there is only a little for you left to do. If you are afraid you will put it together wrong, this can save you from that concern. There is even a video they have that you can watch that shows you how to finish assembling it.
2. Kemanner 26-inch Electric Mountain Bike
This electric Kemanner mountain bike is great for bumpy roads and challenging surfaces thanks to its sturdy aluminum frame. As this mountain bike's name suggests, it has a 26" wheel size, and the seat that it comes with is a bit on the small side as well.
If you like small seats, then this should suit you perfectly. However, you may want to plan on getting a different seat if you buy this bike. This is a minor detail in a great bike, though, and this whole bike is lighter in weight than some other electric mountain bikes are.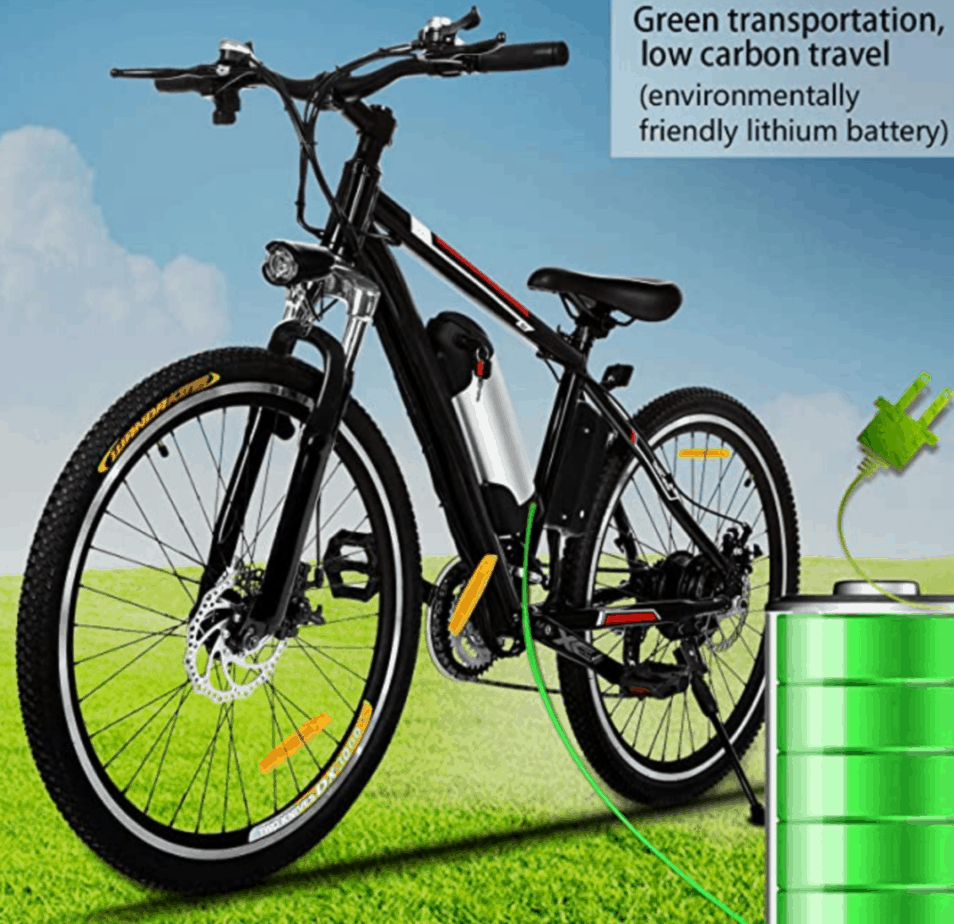 The weight is also dropped a little in the area of the battery and the motor, which are not as powerful as they could be. They are both still more than enough to get you to where you want to go on your bike. As with most electric mountain bikes, the mechanical disk brakes are on both the front and back wheels.
This is needed so that you can stop even with the extra power coming from the motor. This mountain E-bike does not fold up, but it does have a headlight and a smartphone charger. Also nice are the 21 speeds and the 3-speed smart meter button.
The tires that this bike comes with are anti-slip and wear-resistant so that they will grip the ground like you need no matter the terrain or weather. While not perfect for everyone, this electric mountain bike is still a great option, and it is affordable as well, even with a budget of $1,000.
3. Yiilove Electric Mountain Bike for Adult 26"
This electric mountain bike by Yiilove is quite similar to the previous mountain bike on this list. It has a high-quality aluminum frame and a front fork that is made out of high-strength carbon steel. This mountain bike has a double layer of aluminum alloy in places to make it extra durable.
The bike battery is removable so that you can charge it up, and it comes with a smart lithium battery charger so that you do not overcharge it by leaving it plugged in. It only needs between 4 to 6 hours to charge, and you can choose to use any of the three modes.
These three modes are full pedaling where you do all the work yourself, pedal-assist, and full-power where you don't have to pedal at all. This allows you to travel longer if you feel up to pedaling before your battery runs out.
In the pedal-assist mode, there are three different levels of pedal-assist that you can choose from. This way, you get exactly the right amount of pedal assist that you want and need. On top of this, the 21-speed gear system makes sure that you can get the right cadence without a problem.
The line disk brakes are adequate for stopping you when you need it. Since the warehouses are in the US, you will not have to wait too long to get this mountain bike and hit the trail with is. They offer a 100% risk-free satisfaction guarantee.
All in all, the customer service is friendly, and this is a great electric mountain bike. It is quite durable, especially for this price, and there is no doubt that you will find it more than adequate for what you need.
4. Plohee 26 Inch Folding Electric Mountain Bike
The is another electric mountain bike that can fold up for easy storage or transportation. More than that, it is eco-friendly and is 100% electric, and it is emissions-free. Its weight capacity is around 300 pounds, which is more than enough for almost any mountain biker.
This weight limit can allow you to pack a bag and bundle up for some mid-winter mountain biking without putting too much weight on your mountain bike. It has the customary three modes of full power, pedal-assist, and no power.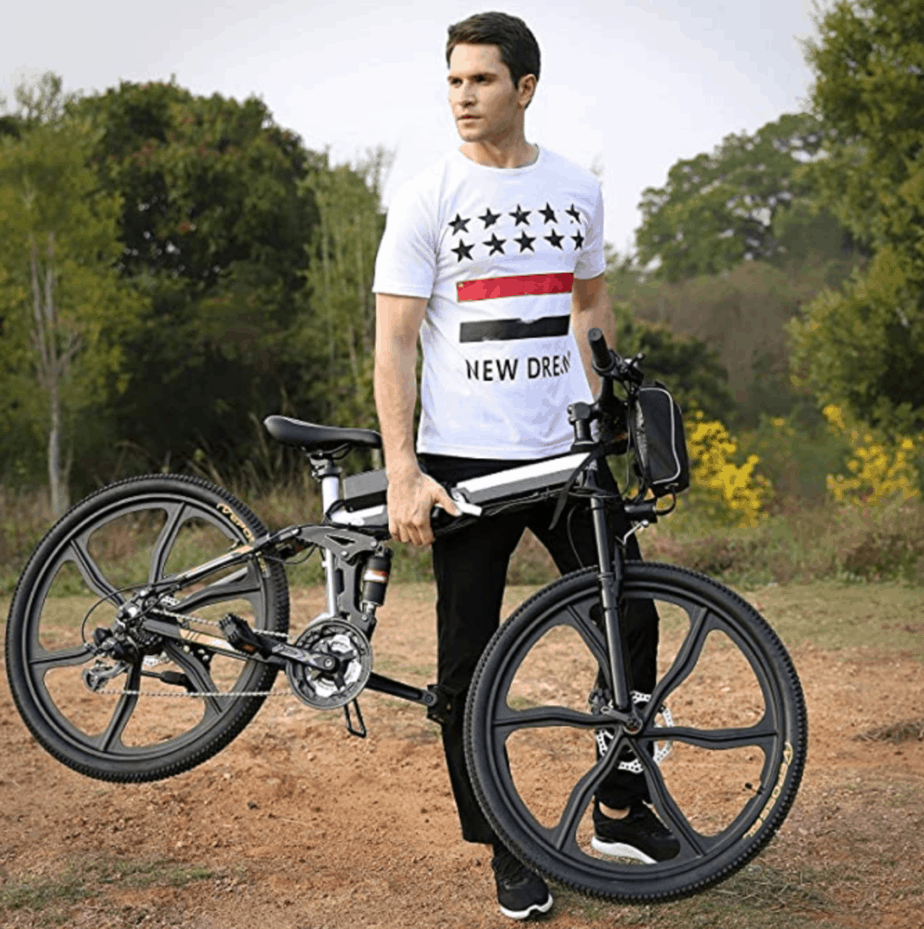 In addition to a few pedal assist settings, you can also use the throttle to give you a burst of speed when you need it. This can help you get that last little bit of motion you need to top the hill you have been climbing, or it can get you started from a dead stop.
The folding frame is made from an aluminum, and it comes mostly pre-assembled. This is much easier than having to completely assemble it yourself, and there are fewer things that you can do wrong. If you do have trouble, they try to help you within 24 hours.
The battery and the motor work together to help you reach nearly 18 miles per hour. If your local laws say that it counts as a motor vehicle at 20 miles per hour, then this puts you in the green. Finally, there are two color options to choose from: White with a sky-blue accenting or black with a white accenting.
5. Kepteen 26 inch Electric Mountain Bike
This last electric mountain bike on my top five list is another foldable mountain e-bike. Instead of spokes like a usual bike has, these spokes are made integrated with the wheels. This makes it look different than a usual mountain bike, but it can be more stable.
The three working modes are the same as most other electric mountain bikes. The 21 different speeds when it comes to gearing is also a common amount for foldable mountain e-bikes like this one is. Along with headlights, there is also a horn to help you stay safe.
The front and rear mechanical disc brakes are up to par. Finally, it is easy to assemble this bike, and there is a 1-year warranty for the motor, battery, and some of the other electric parts. They try to solve any problems within 24 hours when they can, and it comes with two different frame options and three different colors.