Electric mountain bikes can come with quite a price tag to them. However, there are electric mountain bikes that you can get for a reasonable price. Even if you don't have a whole $3,000 to spend, you can still get a great one.
These top 5 electric mountain bikes are all great options that you can take to your favorite trails. Maybe one of these bikes is the perfect one for you.
1. M2S All Terrain R750 HT Integrated
The M2S company stands for Mountain To Sea, and they specialize in electric mountain bikes with the hopes that you will go on an adventure. This All Terrain electric mountain bike from them is one of their latest models, and it is also one of their mountain bikes that are under #3,000.
The frame is aluminum, and the air suspension fork has a lockout ability should you wish to rough it. It is also perfectly compatible with fat bike tires so that you can ride on sand and snow. There are eight speeds on the drivetrain, on top of the electric assist.
This pedal-assist has nine different speeds itself with the throttle being controlled by your left hand. You can also use the cadence sensor, which all adds up to your bike going the speed you want it to while only putting out the effort that you feel up to.
The battery is designed to be fully integrated yet removable. It lasts anywhere between 20 and 75 miles, and the motor is in the rear hub so that you don't have to worry as much about front hub failure while you are out on the trail.
Also included in this bike are fenders, and a small back rack which are removable. The bike is water-resistant enough to allow you to hose and wash it down like you would any other mountain bike, thanks to the fact that the electronics are fully sealed.
If you cannot decide what size bike is right for you, you can set up an appointment to test one out and see if it is the right size for you. Finally, this great quality electric mountain bike comes with an excellent 1-year warranty. The warranty covers the frame, battery, motor, controller, and the display.
2. Nakto Electric Fat Tire Mountain Bike
Nakto electric mountain bikes are of great quality at an affordable price. The extremely durable frame is made out of aluminum and can hold over 350lbs of weight. This is adequate for not only heavy riders but also allows you to pack what you need for a long bikepacking trip.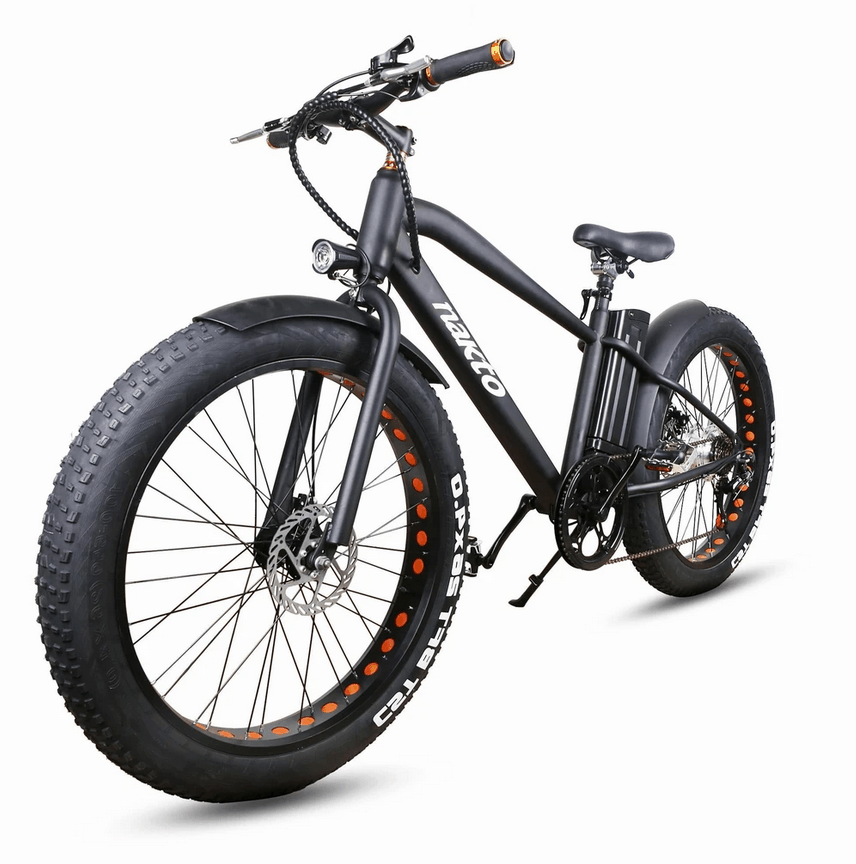 The front suspension fork is similarly made of aluminum so that it won't fail on you. This mountain bike is a full suspension with dual disk brakes so that you can stop quickly and safely, even with the power of the motor.
The motor is strong enough to let you go over 20 miles per hour easily, and the battery is just as good. This battery can be taken off and charged, or you can charge it while it is still on the bike. You can go for 20 to 30 miles without having to pedal at all, and longer if you do not use that amount of power.
The three working modes for the power are pedal only, pedal-assist, and full throttle. To help you even more, there are six different gears you can choose from. In addition, the LED headlight and the horn make sure that you stay seen and heard so that you can avoid accidents.
Finally, there is a 1-year warranty for certain parts of the electric mountain bike if you get it new from them. It comes partially assembled, with only around 15 minutes being needed to finish setting it up and videos available to help you the whole way.
3. eAhora AM100 27.5 Inch 48V Mountain Electric Bike
This electric mountain bike is one of the few electric mountain bikes that have 27.5" instead of 26" like most are. It has a full suspension paired with dual hydraulic brakes to make your ride on the trail smooth and safe as much as possible.
One unique feature this mountain bike has is cruise control, which is a slightly newer feature that only some electric mountain bikes have. You do not even have to press a button for this feature; simply keep the same speed for at least 8 seconds, and it will activate itself.
You can also use a button to set the speed. Also unique is the eAhora Power Regeneration, which optimizes the efficiency of the electric system. This system can sometimes let you ride with power for up to 60 to 70 miles.
Other nice features are the USB port that you can use to charge things with and the smart LCD screen for the display with an LCD backlight so that you can see it clearly even at night. This screen is so smart that you can even set a password to it, which is nice for protecting your investment.
The motor is strong enough to get you slightly over the 20 miles per hour mark. It has a 9-speed gear system to give you a few options there. Meanwhile, the battery can be removed and has an e-tech recharge system so that you do not overcharge it.
This bike comes mostly pre-assembled with videos available to show you what you are doing. They offer 1-year of service for the electric parts. Finally, the headlight has one last nice feature worth mentioning: it automatically turns itself on when it gets dark enough.
4. Macwheel 27.5″ Electric Mountain Bike
This is another 27.5" electric mountain bike that has a great quality aluminum alloy frame. The integrated battery looks sleek and does not stick out too much, making it look very much like a normal mountain bike.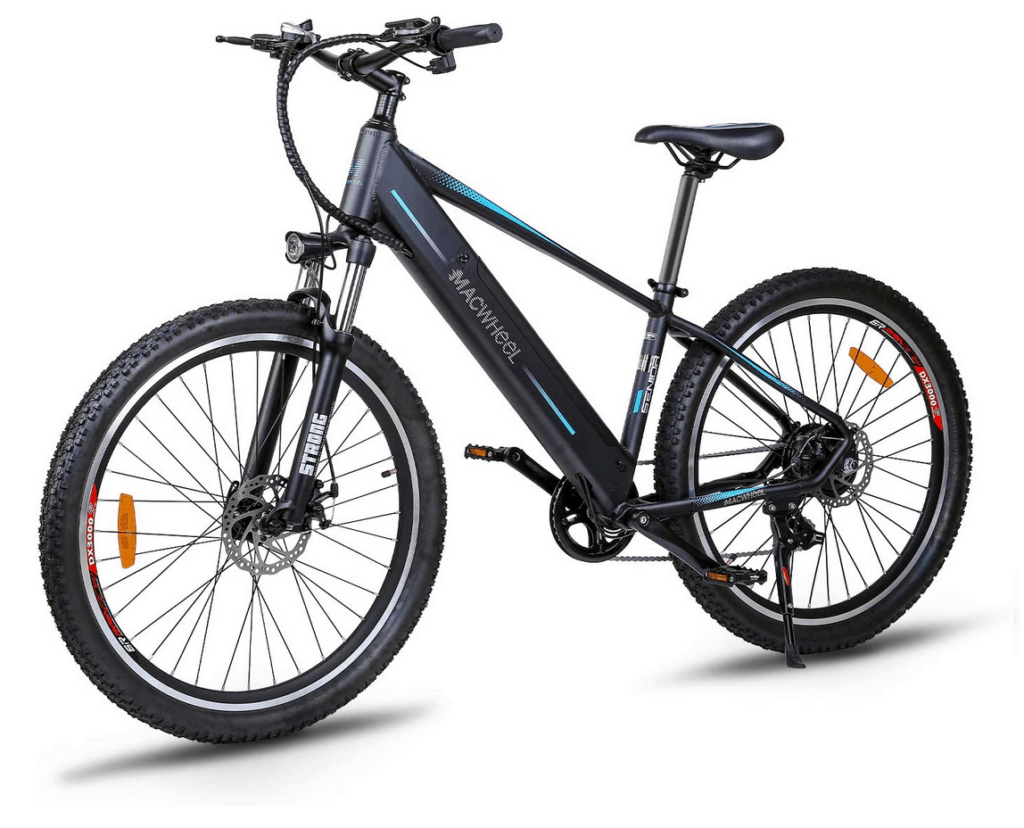 The dual disk brakes have plenty of stopping power for the motor, which does not quite go 20 miles per hour. Still, it can go 30 miles on only its electric power without you pedaling. In the pedal-assist mode, it can double that distance.
The battery does take 6 to 8 hours to charge, which is a little more time than some other models, but which can still easily be done overnight. There are seven speeds and five electric modes that you can choose from to meet your needs and energy levels.
There is both a headlight switch and a horn switch for your safety; however, there is no rear reflector included, so you will have to get one separately if you want one. Finally, it comes pretty much pre-assembled, so you can ride soon after getting it.
5. Speedrid Electric Bike Fat Tire
This electric bike may not be one that is specifically made for mountain biking. However, it is more than durable enough to hit the trail. The Speedrid company uses only high-quality materials and also tries to incorporate the latest technology in its bikes.
The front fork is a perfect example of this, being made of a high-strength carbon steel. Meanwhile, the wheel rim is made with a double layer aluminum alloy. The whole bike is made to last you a long time with care.
The motor can go over 20 miles per hour on flat terrains, letting you cover distance quickly. The bike battery can be charged either on or off of your bike and lasts over 20 miles per hour. While not the longest lasting battery, this is enough for most of the trails you are interested in.
The display shows your speed setting, your actual speed, your battery level, and even your mileage. There are also five different pedal assist modes to choose from in addition to full power and no power at all. Paired with the 7-speed gearing, you only work the amount you want to.
Finally, the pre-assembly is great. On top of the pre-assembly, you can also choose to have it completely assembled, though you may have to pick it up from a bike shop or some other location if you decide to go with this route.