Deciding that you want to convert your mountain bike into an electric mountain bike can be quite a leap. Once you have decided to convert your bike, the next thing that you will have to consider is what electric mountain bike conversion kit you are going to use.
There are many E-Bike conversion kits that you can choose from. However, some of these are not as well suited for mountain biking. Choosing the right conversion kit can be the difference between a great experience and a terrible one.
1 – BAFANG Mid-Drive E-Bike Kit
This electric bike kit comes from BafangUSAdirect, a company that is often simply called Bafang. The Bafang company was founded in 2014, but it has grown a lot since, especially in the area of electric mountain bike conversion kits, which is what they almost solely specialize in making.
The Bafang company is located in Los Angeles and focusses on conversion kits that are both of good quality and affordable. This company works with bike shops as much as they can. Bafang does this by helping the shops stock their conversion kits and by teaching the owner how to use their kits.
As far as electric mountain bike kits go, Bafang kits are extremely versatile without being over complicated. There are two different mid-drive e-bike kits for you to choose from. If you buy from their site, you can also choose other details.
You get to decide what size battery you want, what charger you want to go with it, and what you want your LCD display to look like. This literally allows you to customize your electric mountain bike conversion kit to fit your needs perfectly.
In addition, Bafang also carries each of these parts individually. This is handy should you break something and need to replace just that one part. Also, if you are piecing together your own electric conversion kit, you could use Bafang parts for the whole thing if you want to.
All in all, Bafang electric mountain bike conversion kits are perhaps the best ones to have. For the quality, they are great and will last you a while and suit you perfectly. As for cost, Bafang kits are neither the most expensive nor the cheapest, falling somewhere in between the two.
2 – EBIKELING Waterproof Electric Bicycle Conversion Kit
If you prefer getting an electric mountain bike conversion kit that is made in the US, then an Ebikeling kit is another one that might be right for you. Located in Chicago, Illinois, this company was established in 2014, just like the last company was.
Also, Ebikeling specializes is making conversion kits so that you can change your bike into an electric one. While they started off with only a few options, this company now has a much wider variety. As the name of this conversion kit suggests, they even have waterproof models that you can buy.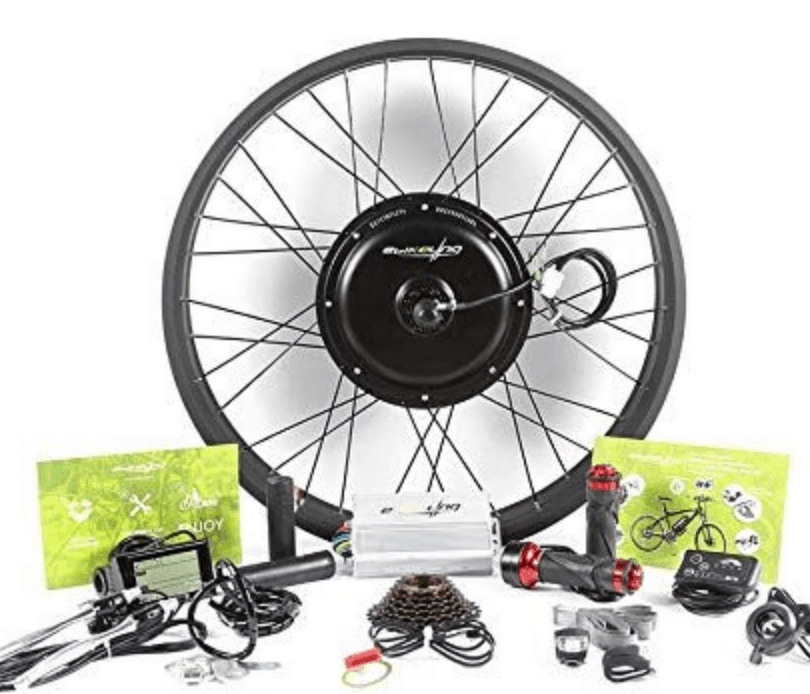 While these waterproof conversion kits are a bit more expensive, they are great for riding during wet weather. Though you should never ride through standing water on an electric bike, if it is not too deep, then this bike is more likely to handle it compared to other electric setups.
Other than that feature, Ebikeling kits are very different in another way. Whereas most kits give you the parts that you add on to your existing wheel, these kits include the entire wheel rim with the motor already in place.
This means with a simple switching out of your rim, and a few minor details, you are ready to go. Using one of these kits is extremely simple for even the faint of heart. However, this ease does come at a greater cost.
Ebikeling kits are some of the more expensive ones out there. Between the waterproof features and the easy installation, this may be worth it to you. Should you decide to purchase this conversion kit, you will be getting good quality electric parts.
3 – TONGSHEN Mid-Drive E-bike Kit
The Tongsheng company is an older one, being founded in 1998 and located in China. In fact, it was the first company in China that particularly specialized in making e-bikes and conversion kits. For this reason, Tongsheng is one of the largest suppliers today coming from China.
You can buy either a whole kit, or you can buy the individual parts from this company. The different conversion kits come with different motors and batteries, which allows you to choose which of each best fits your needs.
These electric mountain bike kits have very simple displays that are easy to understand and use. Also included are a few tools with some of their kits so that you can have all of the tools you need without having to buy the right tools or work with an incorrect tool.
Also nice is the extremely affordable price. Tongsheng conversion kits are some of the most inexpensive ones that you can buy. However, this low price is in part because their motors are often noticeably less powerful than other motors that are used for high-quality kits.
Still, the motor is powerful enough to do its job and to keep you going. This bike conversion kit company does not have a whole lot of variety that you can choose from. However, if you want to get a cheap but good electric bike setup, then this is a good kit.
4 – AW Wheel E-Bike Conversion Kit
The AW company sells conversion kits that include the whole wheel. Some mountain bikers prefer to have their motor on the bike wheel while others prefer to have their motor on the front wheel. For this reason, AW has some kits that are made for your front wheel and others that are made for your back wheel.
The motor in this electric mountain bike conversion kit is an extremely quiet one, which is nice if you don't like the noise of a motor. While these motors are made for road use more than for mountain biking, they can work for both.
However, if you do plan on using this for mountain biking, you will need to change the parts over to a different wheel than the one that the kit comes with. The wheel that is included is not made for mountain biking, though you could probably use it on smoother trails without a problem.
The pedal assist is one of the nicest features of this electric bike setup. The throttle allows you to choose just how much you want the motor to help you when you are pedaling. This pedal-assist can help you on those steep hills.
The display included in this kit shows a lot of useful information, including how much power you have left, the time, your speed, your mileage, and what your current gear setting is. Although it does not come with a battery, the kit does come with a charger and with the mount for the battery.
5 – JUNSTAR Electric Mountain Bike Conversion Kit
This electric bike conversion kit is made specifically with mountain bikes in mind. This means that this kit is made to handle even the toughest of trails and will do much better than other electric conversion kits that are made simply for bikes in general.
Junstar includes not only the motor and other pieces but also the battery as well. Since not many kits contain the battery, this is a convenient extra. The latest kits even have a Bluetooth function that can be linked with certain types of phones.
The installation of this conversion kit is very simple, with only a few tools being needed. One reason why the installation is so simple is because the design is nice and simple. In addition, Junstar offers a 1-year warranty on top of technical support if you have a hard time installing it.
With all of these advantages, Junstar conversion kits are a bit more on the expensive side. However, there are plenty of motor and battery options so that you can get the right kit for you. Unlike the other kits on this list, which make their own parts, Junstar uses some parts made from other companies.