If you want to increase the downhill portion of your mountain bike rides. Getting an electric assist mountain bike is the answer. Get up the hills faster so you can enjoy the thrill of the downhill without burning yourself out.
An electric assist mountain bike is a mountain bike with a built in electric motor that allows you to go faster without exerting more effort while pedaling. Your pedaling efforts are amplified with the electric motor allowing you to climb mountainous terrain faster so you can enjoy more downhill portions of the trail.
Who Would Benefit The Most From An Electric Assist Mountain Bike?
Electric assist mountain bikes are best suited for 3 types of people. The first would be avid downhill mountain bikers that love fast terrain with obstacles. Most ski resorts use their chair lifts to carry mountain bikers to the top. Having a electric assist mountain bike allows you to traverse uphill without the strenuous effort it effort it would normally take. You simply engage the pedal assist on the bike and you'll be cruising uphill with little effort on your part.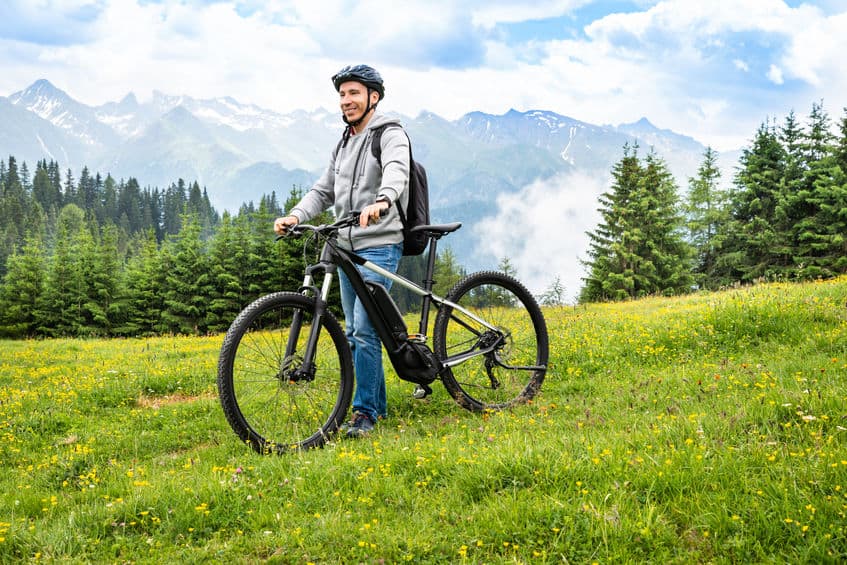 The second type of person that would benefit from an electric assist mountain bike is elderly riders that still want to get some exercise but not as tough of a workout as they used too. Many seniors are opting for the electric assist mountain bike on their local trails. You can still get a good workout even with the electric assist on but it can help you cover steep portions of the trail that a senior may otherwise avoid.
Lastly, bike commuters will also benefit from an e-MTB. If your place of work, school or shopping is accessible by safe trails then an electric assist mountain bike is a great option for getting you from a-b. The costs are far cheaper than a car, motorcycle or even public transportation. An electric assist mountain bike can be rode effortlessly if you fully engage the electric motor. This is great benefit for those going to work that don't want to get all sweaty before sitting at a desk or meeting a friend for lunch.
These are the top 3 types of people that could benefit from an electric assist mountain bike. Now let's dig into the various types of e-MTB's.
What Are The Main Types Of Electric Assist Mountain Bikes
There are 3 major types of electric assist mountain bike motors:
Pedal Assist- the first type would be a pedal assist motor. These work very closely to a regular mountain bike. The only change is when you engage the motor it will enhance the output of your pedaling. Essentially you can go faster with less effort than you would if you were pedaling normally. These bikes don't require a drivers license and may or may not have a throttle. The maximum speed of travel on a pedal assist bike it 20 mph.
Throttle Only- the second style is a throttle only e-MTB. These bikes require you to start pedaling before the motor is engaged. It will sense your pedaling effort and then kick in and propel you at a faster speed. Those that ride this style describe it feeling like a tailwind at your back that shoots you forward. These also do not require a drivers license and cap out at a max speed of 20 mph.
Pedal Assist 28 mph- if you are looking for max speed on an ebike this is the style for you. It's best use would be for commuters or bikers that need to travel longer distances. You still won't need a license for this bike but it's highly recommended to have appropriate safety gear on as you will be traveling at high speeds. You do need to be 17 years or older for this style of bike. The max speed is 28 mph.
Are Electric Assist Mountain Bikes Safe For Kids
Your kids will definitely want an electric assist mountain bike. But before you buy them one for their next birthday it's important to consider a few factors.
Are They An Experienced Rider – Has your child been riding a regular bike for a long period of time. If they are well versed on a BMX, Mountain or cruiser bike then an electric assist mountain bike could be a good fit.
Make Sure You Get The Right Motor Style – If you have a child under 17 you won't be able to get the 28 mph bike as they are not eligible. That's a good thing anyways as they can't travel at that high speed. You can also find bikes with a lower max mph to match your child's skill level.
Do You Have The Correct Protective Gear – If you do invest in a electic assist mountain bike for your child be sure they are wearing adequate protective gear. The helmet is an absolute must. In addition to head protection you might consider elbow pads, knee pads, body armor and eye protection.
Do They Understand Traffic Patterns & Laws – Make sure you kids are well versed in traffic laws and patterns. The electric assist will give your young mountain biker further range from the house. If you aren't traveling with them it's important they understand how to cross a street and where they are allowed to ride their bike.
What Are The Top 5 Electric Mountain Bike Manufactures and There Top Model For 2020?
According to best reviews the top 5 mountain bikes for 2020 are as follows:

What Size Electric Mountain Bike Should I Buy?
Electric mountain bike sizes vary so it's important to take make sure you a bike that fits. The charts below will help you determine the bike size that's right for you. Be sure to always have at least 1 inch (2 cm) gap between you and the top tube when standing over the bike.
Electric Mountain Bike Size Chart
| | | | | |
| --- | --- | --- | --- | --- |
| Rider Height Inches | Rider Height Centimeters | Frame Size Inches | Frame Size Centimeters | Suggested Frame Size |
| 4'10" – 5″2″ | 148cm – 158cm | 13″ – 14″ | 33cm – 37cm | X-Small |
| 5'2″ – 5'6″ | 158cm – 168cm | 15″ – 16″ | 38cm – 42cm | Small |
| 5'6″ – 5'10" | 168cm – 178cm | 17″ – 18″ | 43cm – 47cm | Medium |
| 5'10" – 6'1″ | 178cm – 185cm | 19″ – 20″ | 48cm – 52cm | Large |
| 6'1″ – 6'4″ | 185cm – 193cm | 21″ – 22″ | 53cm – 57cm | X-Large |
| 6'4″ – 6'6″+ | 193cm – 198cm+ | 23″ – 24″ | 58cm – 61cm | XX-Large |
Electric Mountain Bike Chart
Electric Mountain Bike Size Chart For Women
| | | | | |
| --- | --- | --- | --- | --- |
| Rider Height Inches | Rider Height Centimeters | Frame Size Inches | Frame Size Centimeters | Suggested Frame Size |
| 4'10" – 5″2″ | 148cm – 158cm | 13″ – 14″ | 33cm – 37cm | X-Small |
| 5'2″ – 5'6″ | 158cm – 168cm | 15″ – 16″ | 38cm – 42cm | Small |
| 5'6″ – 5'10" | 168cm – 178cm | 17″ – 18″ | 43cm – 47cm | Medium |
| 5'10" – 6'1″+ | 178cm – 185cm+ | 19″ – 20″ | 48cm – 52cm | Large |
Electric Mountain Bike Chart For Women
Are Electric Mountain Bike's Safe For Kids?
Most electric mountain bikes are built for teens, men and women. There has been a lot of new bikes on the market that are built directly for kids. If you were going to get an electric mountain bike for your kid it would be safer to get one that is fitted for their size.
They will be traveling at higher speeds so having the right size bike is really important. Here is a chart you can use to find the right size bike for your child.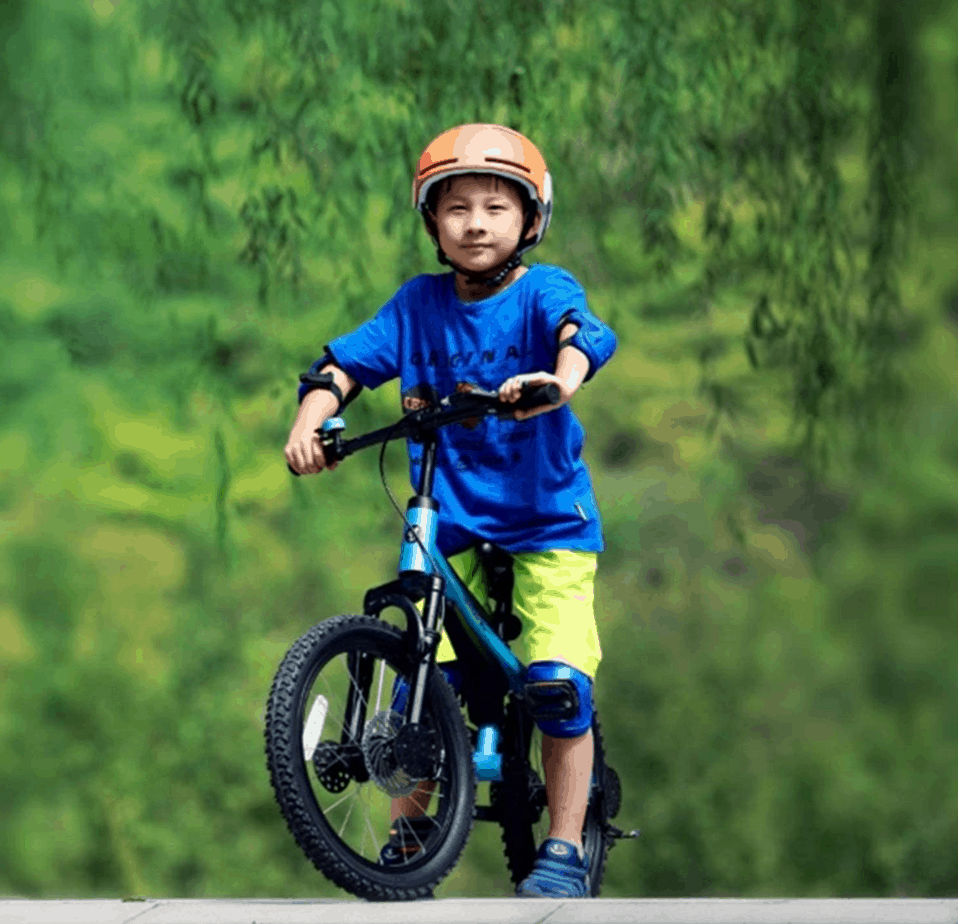 Electric Mountain Bike Size Chart For Kids
Before you start using this chart you'll need to take the following measurements of your child..
Measure Their Height
Measure Their Inseam
| | | | | | |
| --- | --- | --- | --- | --- | --- |
| Rider Height Inches | Rider Heights Centimeters | Age | Inseam Height Inches | Inseam Height Centimeters | Suggested Wheel Size |
| 2'10"-3'4″ | 86cm-102cm | 2-3 | 14-17″ | 35-42cm | 12″ or 31cm |
| 3'1″-3'7″ | 94cm-110cm | 3-4 | 16-20″ | 40-50cm | 14″ or 35cm |
| 3'7″-4'0″ | 110cm-122cm | 4-5 | 18-22″ | 45-55cm | 16″ or 41cm |
| 3'9″-4'3″ | 115cm-130cm | 5-6 | 20-24″ | 50-60cm | 18″ or 46cm |
| 4'0″-4'5″ | 122cm-135cm | 5-8 | 22-25″ | 55-63cm | 20″ or 51cm |
| 4'5″-4'9″ | 135cm-145cm | 7-11 | 24-28″ | 60-72cm | 24″ or 61cm |
Electric Mountain Bike Chart For Women
A few other popular models for kids are the Razor Electric Street Bikes & . They mimic the look of a motor cycle but are powered by an electric motor. These are great starter e-mtbs that can be taken onto mountain bike trails.
If you have younger kids they can take their e-MTB and you can ride your regular mountain bike. With the electrical assist they can keep up with you and maybe even push you into a harder workout!
Top Upgrades For Your Electric Assist Mountain Bike
Once you lock in the type of electric assist mountain bike you are going to purchase here are 10 things you might consider upgrading on your bike.
Tubeless Tires – I always start with tubeless tires when we are talking about upgrades. Mainly because I had such a bad experience with regular tires on my first mountain bike. There is nothing worse than getting a flat when you are in the middle of an epic ride. Updgrading to Tubeless tires is normally less than $100 bucks and you could burn through a $100 bucks in tubes in no time. Be sure to make sure you keep the tire pressure at the right level for the type of riding you'll be performing.
Dropper Seatpost – The dropper seatpost upgrade is important for 2 main reasons. First, it will keep you safer on the downhills by allowing you to maneuver around the saddle with easy. This allows you to distribute your weight more freely and prevents you from flying over the bars. Secondly, it will make for easier handling and better performance on technical and downhill sections of the trail.
Pedals – Pedals is more of a personal preference item. Some riders prefer to be strapped in with clipless pedals while they ride. Others would want to switch out there clipless pedals for flat pedals. Flat pedals feel safer to me as if I wipe out I'd like to be able to ditch the bike. If you are going over jumps and getting air those clipless will keep you secured to the bike so if you're more experienced that might be the best option for you.
Wide Handlebars – Wide handlebars will offer you a more comfortable ride. Mainly the physics involved will allow you to have better control of your turns. Shorter handlebars create a bigger directional turn with less movement which makes them a little tougher to handle.
Grips – Grips is another personal preference while you're riding. You can pick the type of material and grip pattern. Another added benefit is that you can choose your color and style. Grips are a great way to personalize your bike and also increase it's performance.
The Cockpit Area – The cockpit area is the area that represents the grips, handlebars and the stem. Making adjustments to all 3 of these items will distribute your weight differently on the bike. You can play with these settings until you find the sweet spot for your riding style.
Tire Material – The type of tire you choose can make a huge difference on your electric assist mountain bike. Harder compound materials are more preferred for e bikes as you should be traveling further distances. You can get away with a softer tire if you plan on keeping your rides short.
Wheels – Upgrading your wheels is normally a performance decision. They now have electric mountain bike specific wheels which are built stronger due to the increased weight and riding distance you will be putting on your e-MTB. As your skills improve you will want to upgrade your wheel. You also want to factor in the types of conditions you will be riding.
Spare Battery – This is one of the more expensive upgrades for you electric mountain bike. If you plan on doing some overnight trips where you'll be riding a lot on back to back days this is a great option. Also if you plan on trying to reach those far out places then a spare battery is essential. I'd also consider getting a spare if you plan on using your electric mountain bike for bikepacking.
Saddle – The great things about electric assist mountain bikes is that they allow you to spend more time in the saddle. So when looking at saddles take your time to find a saddle that fits your anatomy. You want to be comfortable and there are thousands of saddles to choose from. Adjusting the saddle angles plays a huger part in saddle comfort.
Are Electric Assist Mountain Bikes More Dangerous Than Regular Mountain Bikes?
There are 2 main reasons that electric assist mountain bikes can be more dangerous than a regular mountain bike.
The first reason is the weight of an electric assist mountain bike is significantly more than a regular mountain bike. The added weight can cause a more catastrophic injury if you go over the bars. If you fall and the bike slams into you it could cause more injury from the extra weight as well.
The second reason the e-MTB can be more dangerous is from the speeds it can travel. You can travel at greater speeds going up hill and on the flats and downhill you can trigger the pedal assist and add more RPMs. If you are traveling at a higher speed and crash you can not only injure yourself but also damage the bike.
Its important to take into consideration all of these factors before hopping on an electric mountain bike. Understand you are on a fast heavy machine and respect it as such. Limit your speeds until you become very comfortable in the saddle.
The e-MTB has some extra risk but the speeds you can travel and extra riding time you'll get might be worth it.
What Protective Equipment Should You Wear On An Electric Assist Mountain Bike?
Helmet – By far the most important piece of protective equipment you should have on. Don't even think about riding and e-MTB without one!
Elbow Pads – You can definitely hit the dirt at times while mountain biking and your elbows are the first point of contact. Prevent those strawberries and wear some elbow pads.
Knee Pads – Similar to the elbow pads knees will make contact with the earth at some point if you ride a lot. Strap on knee pads are easier to put on in my opinion.
Shin Guards – If you go over a jump your feet might fall off the pedals and slam into your shin. This hurts really bad! With the shin guards it won't hurt. 🙂
Gloves – If you ride a lot your bound to get some blisters if you don't wear gloves. Wearing also helps with your grip while riding and makes it a safer experience.
Goggles or Sunglasses – Eye protection is critical especially on dry days you can get dust in your eyes and lose site of the trail. If you can't see the trail a crash is inevitable!
Wrist Guards – If you end up going down and ditching your bike and added safety protection is wrist guards. They'll normally prevent a broken wrist even if you have a hard impact when you put your arms out.
Neck Protection – For hard core electric mountain bikers neck protection is really important. It's the most catastrophic injury you can experience and can cause life long damage. If you plan on jumping or doing some extreme downhill rides this is critical element for protection.
In Conclusion
Electric assist mountain bikes are a new style of mountain bike that offers incredible value to the rider. You'll be able cover more miles in less time.
They cost a little more than a regular mountain bike and the parts a little more expensive to replace if they get damaged.
There are many options on the market already. The growing popularity of this style of bike will undoubtedly add more bikes to the market soon.
Be sure sure to get the correct size e-MTB for you body type and riding style.
Don't forget to wear protective equipment and stay safe out there!