If you have recently discovered mountain biking or you are wanting to simply step up your game a bit, one of the best things that you can do is to upgrade your bike by getting a dropper seat that lets you adjust the height of your seat. This is an extremely useful upgrade that you should definitely consider getting.
You don't have to break the bank either in order to afford one of these. While some options can be quite expensive, it is possible to get a good quality dropper seat for under $150. The top three options that are under this price are:
PNW Components Cascade Dropper Post
KS ETEN Dropper Seatpost
Kind Shock Eten-Remote Dropper Seatpost
Click Here To Learn How To Use A Dropper Seat While Riding
But don't take my word for it, let me tell you a little bit about these three options so that you can see what makes them so great. You should also know what the pros and cons are to each as well as how to pick your own if none of these options seem to suit you.
1. PNW Components Cascade Dropper Seat
The PNW Components Cascade Dropper Seatpost is one that can come in a variety of sizes so that there is sure to be one that fits your bike. These can come with or without a lever kit, so if you already have that then you do not have to waste money on buying one.
The routing is external, so you may think that to be a disadvantage, however there is a 3-year warranty for it. It comes with either 125mm, 150mm, or 170mm travel as well, letting you choose how much travel you want it to have.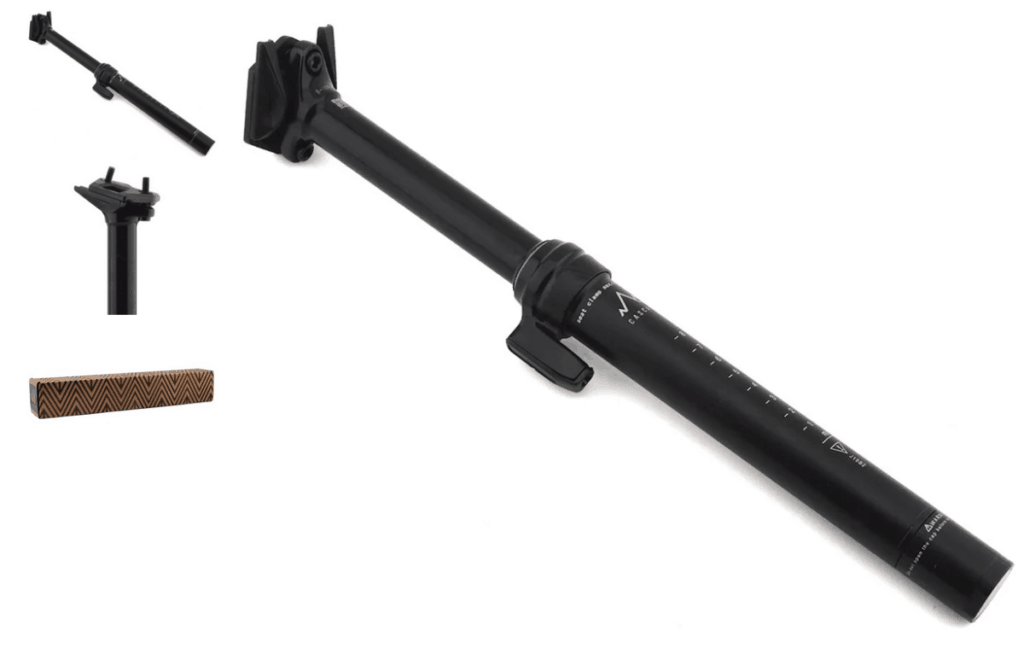 It is made out of a lightweight alloy and it is made with mountain biking in mind. The kits that come with the lever have everything you need in order to install it, including the cables and everything else. The color is solid black, so it will go without whatever color your mountain bike is.
2. KS ETEN Dropper Seatpost
This is another great option made by KS for a dropper seat under $150. It comes in three different diameters which are 27.2mm, 30.9mm, and 31.6mm. This also comes in different lengths so that you can get your perfect fit.
The mast is made out of an aluminum alloy while the stanchion is made out of steel, so it is very durable and there is little chance that this option will break on you or anything. When it comes to the amount of travel it has, the two options are 100mm and 120mm so if you want more travel you may have to look elsewhere.
However, this option is worth getting if you like having only a small amount of travel, and you can even find it with an offset to it if you want. Like the top option, it only comes in black, but that is not a bad thing.
3. Kind Shock Eten-Remote Dropper Seatpost
Made by Kindshock, the Kind Shock Eten-Remote Dropper Seatpost is the third option for a dropper seat on a tight budget. It only comes in two different sizes with either 100mm or 125mm of travel and in the color black like most other options.
This dropper seat is an external one, so you will have that cable on the outside. The head of the post is forged and it has a 20mm offset to the rear. But perhaps the most unique feature of this option is that the company patented their one-way roller-clutch bearing and put it on this seatpost, making it definitely worth trying out.
What To Look For In A Dropper Seat
When you are looking for a dropper seat post, there are some things that you are going to absolutely need and other things that are more a matter of personal preference. The first thing that you are going to need to do is of course make sure that whatever dropper seatpost you get will fit on your MTB.
In order to do this, you will need to get certain measurements from your bike. These are: the diameter of the seatpost, how far the post will go into the seatpost tube of your bike, and the stack height that is right for you.
Other things that you will need to check is if your bike is compatible with internal routing or if you will need to get a dropper seatpost with external routing. Finally, you should also think about how much travel you want or need.
While those are the main things that you can use to help you narrow down the options a bit, there are other things you can look at that you can use to help you make your final decision. The first one of these is that you will want it to be easy to install, especially if you intend on doing this yourself.
This includes the fact that you want it to be easy to attach the saddle on top without needing more than two hands. Along with this is the fact that you want your dropper seat to require as little care as possible and not one that will require frequent adjustments in order to work properly.
Sometimes the dropper seatpost is designed to let you take care of these adjustments yourself, but at other times they require you to take your bike in to a bike shop to get them done. This is also something that you should look at.
Next, you want the controls to be as responsive as possible and easy to use as you are going down the trail. Some options let you set how fast you want it to change settings, and if you like this idea then you should look for a dropper seatpost that has this availability.
Value Option Under $100
If your budget is extra tight and you still want to upgrade your seat to a dropper seat, you can still do so. The Satori Sorata Pro Bike Bicycle Dropper Seatpost is just under $100 and it is still a great option for your bike.
It even comes with internal cable routing, which is great if you have a bike that is compatible with that. It even made the cut to be one of Amazon's Choice dropper seats, and for good reason. It is black like the other options, but in this case the Satori brand logo on the side gives it a hint of color without being too bright.
It comes in different sizes with either 100mm or 125mm of travel and it has an offset of 3mm which is barely noticeable. Finally, it even comes with a 1-year warranty, so you have time to hit the trails with it to see if you like it.
High Value Option Over $250
If you are not on a budget and can afford to get a more expensive option, you still do not have to go with the most expensive thing out there. The Bike Yoke Revive is a great option that you should look at if you have the funds.
This is one of the best dropper seatposts out there, in part due to its specialized Revive Valve which lets you reset the internals of the hydraulic system if you notice it starting to sag. It is easy to set up, with a very easy to use lever.
The two-bolt saddle clamp makes it extra sturdy too, no matter which of its three sizes it comes in. The travel can go really up there, all the way up to 185mm if you like that much. At the same time, you can also choose to get a 45mm stack height if you are a short person.
Conclusion
As you can see, there are plenty of options for dropper seats that you can get without breaking the bank. If you are looking for a useful way to customize your bike so that it suits your ride, then this is a great way to do so whether you go with one of the options I have shown you or decide to go with your own.