Virginia can be a great place to visit and has plenty of mountain biking trails that it can offer. While the scenery may not be the classic red rock of Utah or the mountains of Montana, these trails are still ones that you might want to take a visit just to try, especially in the Southwestern part of Virginia.
1. Mountain Laurel Loop – 10 miles – Intermediate
This trail is exclusively singletrack and has pretty much everything that you might be looking for in a trail. Nearby trails have everything from black diamond to easy and there are restrooms, drinking water, and even camping spots where you can spend the night at.
Night riding is also great here, and you can do winter fat biking too with this being a great trail option to ride after rainy weather. One mountain biker with the username of andtcraigh504 says: "One of the best set ups around. Rode there this weekend with 4 friends and the trails were open, clear, and dry even with all the rain. Does not disappoint."
2. Bull Run Occoquan Trail – 6.2 miles – Intermediate/Difficult
Located in Fountainhead Regional National Park, this point to point singletrack trail is a great trail to try. It has some beautiful scenes as it overlooks the Occoquan River nearby in spots while it weaves its way along one side of the river.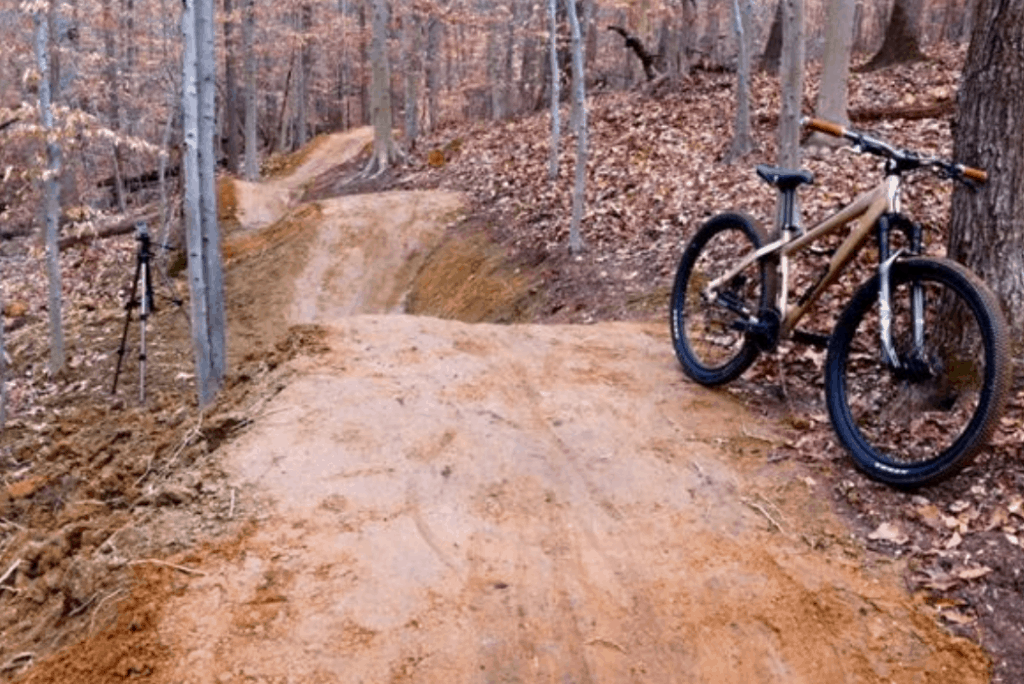 One end of it is by a parking lot where there are miles worth of trails to explore, while the other end of it rests near 612. However, you should know that the park closes after dark and that this trail can therefore not be used for night riding, nor can it be ridden when the park is closed. Tim H. calls this trail: "A heart pumping trail with exposed roots and rocks." 
3. Angler's Ridge Loop – 15.7 miles – Intermediate
This trail is located practically right next to the Danville Regional Airport and is actually made up of parts of a few different loops. There are well over 35 miles of trails that are in this same system, meaning that you could ride here for days before you can explore all of these trails.
Lisa R. gives a very good description of this trail when she says: "Nice XC style trail system near Danville. We were here to drive at VIR and this was a nice bonus a couple of miles from our hotel. Very well marked – we were able to follow the trail easily.
"The majority is singletrack and is of moderate difficulty. Lots of roots but you can still keep your speed up pretty well. Good variety but you'll need to work a bit to keep the flow… There's a paved bike path here too, so there are options for kids or novice riders. Also the park has bathrooms, a bike wash, and tool stand."
4. Woolwine Trail Loop – 14.5 miles – Intermediate/Difficult
This is a great singletrack loop that is made up of two halves which can be ridden separately if the nearly 15 miles is too much of a challenge for you. The West part of the loop is 5.8 miles and is intermediate with a lean towards being difficult. The East part of the loop is 8.7 miles and is an intermediate grade trail.
Chad C. sums up this trail nicely when he says: "This place has it all! If you want real mountain biking not park riding Look no further. Great climbs, flow, rock gardens, techy sections and creek crossings. Very well marked and the trails are maintained well. No wonder the Virginia state championships may be here in 2017. Definitely a must ride."
5. RockStar Trail Route – 282 miles – Extremely Difficult
This is an extremely long trail that goes through all kinds of different terrains as it goes from Harrisonburg to Roanoke in Virginia. Most people leave their vehicle in Roanoke and take the trial's shuttle service to Harrisonburg. Near the midpoint of the route is Douthat State park which provides an excellent place to stay at for the night.
This is perhaps the ultimate way to travel over a section of the Blue Ridge Mountains. This being the case, there are plenty of great views, climbs, descents, rocks, and more as you travel through all kinds of terrain. This is definitely not a trail for the faint of heart and it is a trail that is open all year round!
6. Gold Route Loop – 8.5 miles – Intermediate/Difficult
This trail is great all on its own, but even better is the fact that it is past of a huge network of trails on the Massanutten Western Slope. Since this is a ski resort in the winter there is a fee to get in, but there are also a few nice features as well and the trails can be ridden up as well as down.
One mountain biker with the username of kamoteus says this trail is: "Real mountain biking not for the faint of heart. Rocks, roots, drops, jumps, berms, creek crossings and lots lots more of fun. Will make you smile after descending." Meanwhile Scott P says: "Fantastic place to ride. Great variety of trails. Get ready to do some serious climbing if you want the views and the killer downhills."
Another mountain biker named Brent R. says: "The bummer: You have to pay to get in. The good: all the money goes to support trail building and maintenance activities. Really fun rocky trails with moderate climbs. The vista at the top of the mountain makes the climbs worth while. Great place to get lost for an afternoon."
7. Stokesville 60K Loop – 37.8 miles – Intermediatee/Difficult
This awesome trail is just outside of Harrisonburg in George Washington National Forest. Most of the trail is singletrack and this particular trail is the site of an annual Stokesville 60K bike race. There is a 40K loop as well which also has races on it.
Nearby is the Stokesville Lodges with campground which are a great place to stay and is where the trail got its name from. There are so many miles worth of trails here that you will be wanting to stay overnight to get back on the trails the next day.
8. Matthews State Forest MTB Trail – 8.2 miles – Intermediate/Difficult
This awesome singletrack loop is closed during hunting season, which only goes to show how abundant the wildlife is here. There are rock gardens and all sorts of other goodies that make this trail challenging and fun.
However, I will refer to someone with the username of Mlgs Miguel when he says: "Hidden gem of a world class trail system in the area of Galax, VA. Big climbs, fast descent, rock gardens, gullies, creek crossing and beautiful scenic views at the summit. Just an awesome trail system and definitely going back for more fun."
9. Sundowner Mountain Trail – 1.5 miles – Easy
This trail is a seasonal one which in the winter is a ski resort. This being the case, there are lifts that you can use to get to the top of the trail and which makes this a solely downhill trail. While there are other downhill trails in the same area, this is the longest and the easiest since it has more of a gentle slope, but here are plenty of diamond trails here too if that is what you are looking for.
Alex N. say about these trails: "Bryce is a great bike park to safely learn DH. It's got something for every skill level. It is where I got my start and I'll keep going back for the big jumps and drops. The new Pickleback upgraded features are amazing. Big thanks to Bryce and Gravity Logic for continued work on the park and always improving the trails. It may not be the biggest bike park but it's a lot of fun and worth a trip. They also have stayed open on a week by week basis until it snows which is awesome cause everywhere else is closed for the season."
10. Meadowood Grand Tour Trail – 6.7 Miles – Intermediate
This trail is a combination of some of the best parts of some of the other trails in the Meadowood Recreation Area. There are lots of raised wooden sections of trail that keep it high and dry in wet weather and the trail can be ridden in either direction.
One mountain biker says about this trail: "Spent the weekend camping at Pohick Bay and rode this trail system all three days I was there. Amazing! Hats off and a huge thanks to the people who contributed to this awesome gift of a place to ride! Only odd thing I found though…I was literally the only person I saw all weekend who rode it, counter clockwise. I thought I was doing something wrong and on my last day there rode it clockwise and upon finishing, promtly rode it again counter clockwise…I found it much more enjoyable riding it counter clockwise. Odd…anyway, I'm making a trip again this weekend to ride it again! Fantastic."