Mountain biking is increasingly growing in the state of North Carolina, and there are already great trails there with even more being added on a regular basis. So get on your bike and check out some of these amazing trails that might be right in your back yard if you live in this state!
1. DuPont Ridgeline – 6.3 miles – Intermediate
This trail is found at DuPont State Forest and as a multi-use trail so you will see some hikers and some horseback riders on the trail as well. However, don't let that stop you from coming here since there are over 80 miles of trails, most of which are around the intermediate/difficult range.
This area has waterfalls, streams, technical sections, dirt trail sections, and slickrock areas as well. Nate S. says this about the area: "Best trails I've ever ridden, they've got 75.9 miles of pure awesomeness. Ridgeline is a must ride for sure. Really had fun and great views."
Perhaps the reason for this special recommendation is because this particular trail has two downhill sections plus some climbing as you navigate the ridgeline. Richard B. gives you an idea of just how fast these are when he says: "The two downhills on Ridgeline are fantastic, some of the fastest I've ridden. I ran out of gear on my 2×10, just couldn't pedal any faster. The final downhill is worth all the climbing, it is amazingly smooth and fast."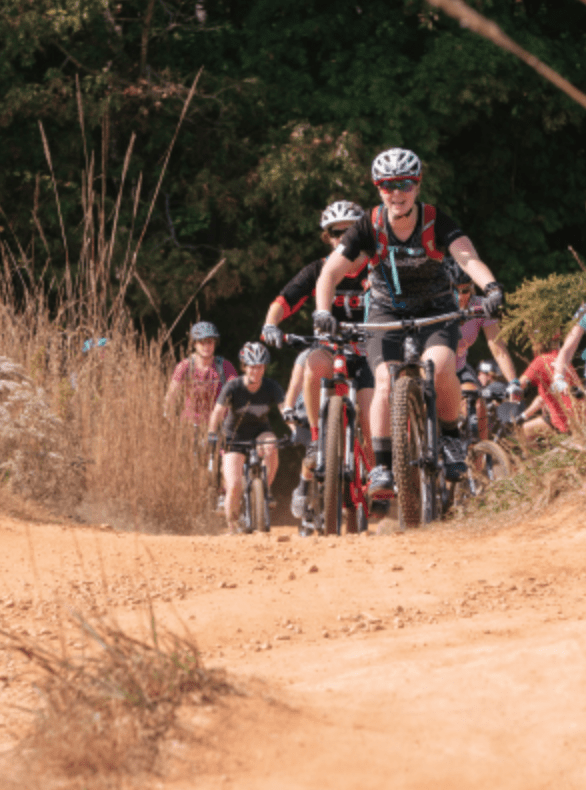 Electric bikes are not allowed, but few avid mountain bikers will find this a problem. You should also be prepared to bring your own water and you should know that there are no restrooms here just yet. There are six different parking lots that you can use to access the trails from. The berms, log rides, dips, and sharp corners will give you an amazing amount of fun, and this network of loops can give you more than enough to ride over a whole weekend without riding anything twice if you don't want to.
2. Tsali Left Loop – 11 miles – Intermediate
This loop is located in the Tsali Recreation Area and has some amazing views of both the lake and the nearby mountains. There are 3 other main trails that can be found here, all of which are long and intermediate, with one being easy/intermediate. There are a ton of nice features about these trails which are pretty much either singletrack with some doubletrack in spots.
Not only is there restrooms and water, but there is also a nice bike washing station and showers that you can use and night riding is allowed with some camping spots available nearby should you not feel like going home after your night ride. All in all, it is no wonder that the trails here are IMBA Epic trails.
You should know before going here though that the 4 main trails here are alternating, but I will refer to a mountain biker with the username of jodpan who says: "Well groomed, well maintained, flowy — what more do you need? Great views and no big climbs. Note that only 2 of the 4 trails are open to bikes each day, the other 2 are designated for horses and the trail days alternate so depending on the day you go, you will either be riding Mouse Branch/ Thompson loop or Right/Left trails. All of them are fun. Left and right are a little longer overall."
While this does limit the trails that you can go on, it also means that you can ride fast without worrying about spooking a horse as you go around a sharp corner. This is especially helpful since most of the trail follows the edge of the lake.
3. Kerr Scott IMBA Epic Trail – 33 miles – Intermediate
This trail is located in the Kerr Scott Trail system and it actually takes up most of the trails that you will find right here. There are both restrooms and water available here as well as a pump track, winter fat biking, and night riding, with maps available at the visitor center for you to use if you need them.
There are even more trails than this one, however, almost all of which is singletrack and which goes closely around the edge of the W. Kerr Scott Reservoir which connects to the Yadkin River. These provide some great views out over the water and is perhaps one of the reasons why this trail was named an IMBA Epic.
One of the things that is unmistakable and that you will never forget about this trail is the number of berms there are. They are literally everywhere you go here. As one mountain biker by the name of Colton L. puts it in his description of the trail here: "ROLLER COASTER TRAIL! BERMS….BERMS EVERYWHERE!"
You should know before you come that there is a trail closure policy during wet weather and other conditions that cause this area to be closed for safety, so you should check before you go on their twitter page. This will be a worthwhile trail for you to ride, with Joel D. saying about it: "This is one of my favorite trails systems in the whole state…Warrior Creek brings me back by itself, even without factoring in the other two. Awesome."
4. Brent Creek Epicito – 20.6 miles – Intermediate/Difficult
This trail is only a small part of the network of trails that you can find in the Brent Creek Experimental Forest. And if the many, many miles of trails that you can find here are not enough for you, you can check out the Carolina Panther Trail that is right here and which makes a 133.9 mile loop.
That being said, it should not come as a surprise that these trails cover a lot of area. To help you start off where you want to there are around a dozen different places where you can park at so that you can try to avoid some of the crowds of people who come here.
This is what one mountain biker with the username of bikeit has to say about the trails here: "Rode here on a weekday around noon. Was pretty busy for a weekday. On a trip from NY to FL and hit this on the way. Awesome trail in the Asheville area. Lots of reddish clay and rolling downhills. Nice rideable berms and great trail system.
"Pretty easy to find your way around. Plenty of parking and restrooms. Several creek crossings and plenty of beginner to intermediate and some crazy nice downhill sections. Some short climbs but no shame in walking. If your in Asheville area, don't miss this. Very busy trail. Pretty easy to bail and find your way back to your car."
5. Sherman Branch Loop – 10.3 miles – Intermediate
This trail has a lot of curves and loops in it in order for this amount of trail to fit in the Sherman Branch Nature Reserve. This one trail takes up most of the trails that you will find here, but it is definitely worth planning a stop around even if it is not worth a whole weekend trip like some of the other places on my list are.
One mountain biker with the username of MTBbasher gives a good description of what this loop is like when he says: "This trail is a very flowy and fast. There are plenty of features, natural and built to keep things interesting. Somehow the trail builders were able to keep you in the "sweet spot" of the Main Loop so as to make it feel like you were always pointed downhill. I highly recommend this trails system."
Meanwhile C-Lo says: "This trail has a great mix. Short moderate climbs, short down hills, Switchbacks, small jumps, and berms. There are a few obstacles that are not to crazy (not sure why they are diamond). You can ride around them if you are not comfortable riding them. One way traffic. May run into a few hikers with dogs."
6. Kitsuma Point Lookout Loop – 99 miles – Intermediate/Difficult
This is a great trail that is located in Pisgah National Forest along with miles and miles of other trails like it. Night riding is welcomed in this National Forest, which is not something that every forest can say, and there are plenty of camping grounds nearby with everything that usually comes with them.
This makes it very convenient so that you can spend the whole weekend riding these trails, though it will take a lot more time than that to make it through all of the trails that you can find here. One of the trails that shares some of the same singletrack as this one is nearly 50 miles long and black diamond level.
Tom M. has this to say about this trail: "That switchback climb was hard & steep, but really not that bad. Yes I hiked a bunch of it but I've hiked worse. My big problem was the views along the ridge. I almost wiped out a couple times checking out the awesome views rather than where I was going. The views are awesome, STOP & take them in if you like. The downhill was great, I need my brakes adjusted though, make sure your brakes are good."
Meanwhile another mountain biker with the username of oohoo says: "People aren't lying when they say the climb at the beginning is rough. It a real leg burner work your way up it, take breaks when necessary and you'll be alright because the ride down is completely worth it. Flying along the edge of the ridge at top speed with plenty of obstacles along the way to keep you grabbing the handlebars with all your strength!!!"
7. Moores Springs Trail Loop – 8.2 miles – Intermediate/Difficult
This is a great trail that covers almost all of the trails in this system and it makes a great place to stop at even if it doesn't offer bathrooms or anything. But one mountain biker with the username of Partspprof gives a very detailed description of what this place is like: "MST is a system of 5 connected trails and is part of Hanging Rock State Park. The trailhead is located at the barn for parking. There are no restrooms or other facilities, so bring what you need. The shortest loop is the 3-mile Original Loop, but you can connect to 2 other trails from it: Land of the Lost is a 1.7 mile trail filled with some technical features and Major Tom offers strenuous climbs/descents with some rocky sections.
"Both offshoots have creek crossings. These trails offer fun in both directions–try them all. The trails were built well, so they dry quickly after rain. The Rattler trail isn't yet on the printed maps, but it's a challenging, technical downhill — very short, but very fun. You access Rattler from the top of Major Tom near the ridge and it ends in the trailhead parking lot. Currently, there are no signs for it, so look for the less-traveled trail off of the southeast side of Major Tom near the top.
"Finally, the North Side trail is located on the other side of the road, or you can get to it by leaving the trailhead parking lot and following the trail down and through the creek… Overall, MST is a beautiful area with breath-taking views at the top of the ridge. Trails have great flow sections, good climbs, and a few little rollers and rock gardens. This is my favorite place for a weekend drive, and the roads leading there are also really scenic. It's also never that crowded unless there's a demo. Highly recommended."
Warren C. says about this trail: "It's a blast! The designer used the land well. Has that flow and keeps you pushing up the short hills to get the next downhill. Pretty cool way of getting to the top. The rocks are awesome and Swell Job! to those that built it. A lot of work there. We will be riding these trails when we can. Closer than Kerr Scott with better features and flow than anything around. I hope it doesn't rain tomorrow. I'm ready to go back."
8. Mayodan Trails Loop – 3.3 miles – Intermediate
This trail is located in Ferris Memorial Park and, though it is not a very big place, there is plenty to love about this place. There are bathrooms and water provided for you, but even better is the put-put, duck pond, and other things that you will find here to keep the little ones amused who might be too young for the trail.
Albert S. says: "I ride this trail a lot. This trail is becoming my favorite. I can't get enough of this trail, I rode it last Sunday and Thursday too. A couple things to watch out for is the 5 rock gardens that are natural (not hand laid out smooth) and you just can't carelessly fly though them, on most of these you have to tread and pick your way through or you may bust a rim or spokes.
"Next, be extra careful because the layout of the trail is almost a perfect balance of short climb and twisty flow allowing for super fast riding on super hard pack but most of the bermed up turns are kinda tight for the speed that can be carried. Also the last tight turn when riding clockwise isn't bermed, it's off camber, that's on the long main trail across the dirt road."
9. Wild Turkey Trail – 3.4 miles – Intermediate
This is a point to point trail that is a great option even if you cannot take your own mountain bike along with you, since there are bike rental shops that are not too far from this popular trail. As one mountain biker with the username of Bjzebrardw says:
"Wild Turkey is just plain fun!! Numerous twists, turns, berms, and hills make it that way. Great flow with a few climbs mixed in. Perfect trail for all in my opinion. One the great things about Wild Turkey is that it's centrally located and can be linked to Reedy Fork, Blue Herron, King Fisher, Owls Roost and Country Park. Getting 30 – 50 miles in on your MTB will not be an issue."
This is certainly true which is why you should give yourself plenty of time on these trails and should plan your route for a long point to point ride starting right here with this trail.
10. Jumanji DH – 0.4 miles – Difficult
If you are into trails that have a quick, downhill rush to them then this is a great place for you to visit. This trail is found in Bailey Mountain Bike Park and is strictly for mountain bikers only. When you have ridden to end of the trail you can take the fire road all the way up to the top where you can ride it back down again, but be warned that the trail up is rather steep.
One mountain biker who comes here often with the username of ittakes2freestyle says: "Steep, big berms and s-turns on the flow trails. Nice technical trails also that really make you choose lines. So much fun here to be had. Come with your long travel suspension and it will be much more enjoyable. The owners are involved in everyday operation and are just fantastic people. They make riding there fun. Many locals are there riding and are cool to chat with. Very willing to give tips and pointers on the tougher trails. My 12yr old is ready to move here!"
Meanwhile Peresite70 says: "If you love being able to ride DH MTB trails all year round this is the place to come in visit for sure. They have trails for all leveled gravity fueled addicts!! The Family who owns and runs Bailey's are a great group of super friendly people who know what's up when it comes to making a super fun spot to ride your mountain bikes. If you haven't been, I highly suggest you should."