New York is one of the smaller states in the U.S. yet it is also one of the more well-known states and one that many people make it a point to visit for a number of different reasons. When you think of New York state you are probably picturing a big city, but there is a lot more to this state than that, along with plenty of mountain biking trails that you can explore.
1. Gurney Lane Trails – 9 miles – Easy to Difficult
Located just outside of Queensbury to the West in between Gurney Lane Road and Interstate 87, this trail has a lot going for it. Though it is actually a system of trails and it does a bit of weaving back and forth, it can be ridden as one long trail to be a total of 9 miles in length. Or, if you preferred to do so, you could instead break these up into smaller sections and ride the trails in these systems individually.
In the latter case there are actually a total of 18 miles of trails in an area that is just over 150 acres, most of which is singletrack, but some of which is double-track. This place has a convenient parking area with both restrooms and water available, and it allows both night riding and winter fat bike riding so that you can enjoy these trails year-round.
There are 18 individual singletrack trails that you can choose from, most of them being intermediate with 1 easy and 7 difficult ones for a bit of variety. On top of this is the 4 miles of double track trails which are also clearly marked out for you on the convenient map of trails near the entrance.
There are wooden features on some of these trails, along with berms and rock features with an overall flowy feel to the trails. Ken H. sums up the trails nicely when he calls these trails: "A very nice combinations of flow and technical trails. The climbs are long, but mostly slow switchbacks. The drops are fast, flowing and lots of rollovers/jumps. Plenty of technical stretches with rock gardens and roots."
New trails are added to this system every year, which means that by the time you get to these trails there may be even more of them! One biker with the username of jstack11 comments on this: "It only gets better every year. Last year (2017), E-20 and Tango as upper intermediate trails. Now, a cool intermediate skills trail!(2018). Best trail network in NY hands down!!!"
2. Lippman Park Loop – 6 miles – Intermediate
The Lippman Park Loop mountain biking trail is located in Lippman Park which is in Ellenville, New York right on the edge of Warwarsing. The forest is lovely without being too thick for you to see through and yet thick enough to give a great amount of shade which can be nice if you are biking during the hotter months.
There are other trails in the Lippman Park besides the Loop, though the Lippman Park Loop does account for most of the best trails in the park. There are actually a total of 14 miles worth of trails here that are divided up into 9 different trails that you can enjoy from beginning to end or combine in order to make your own route.
These range from easy to difficult singletrack and make this a great place for you to go night riding at. The beginner trails are designed to help you progress with your skills and features both berms and rock gardens with almost all of the trails having some amount of raised boardwalks and wooden bridges. These last two are great features to have on a trail and can make these trails perfectly safe to ride even after a bad rainstorm when other trails would be too muddy or would even be washed away.
In addition to that, near the front where most of the beginner trails are there is also some picnic tables and a duck pond for you to enjoy, making this a great place to take the whole family to and you can make a day of it. There are even some local must-see things nearby.
All in all, one rider with the username cherisj sums this trail up by saying: "These trails are very well maintained. I think it's the best trail system in the area and perhaps in the tops of the state. Well marked and designed for all levels. Was able to sneak in a weekend New Year ride with the wife and warm weather and trails were perfect. The Renegades MTB are doing an awesome job organizing and maintaining these trails. And, yes, the New Paltz Brewery is a must go-to-place after the ride. They are by the entrance of the park. I always stop in with my wife. Had some awesome baked pretzels….Very friendly brewery owners. The whole area seems full of friendly people. Great weekend getaway! Awesome!"
3. Fred J. Cusimano Westside Overland Trail – 26.4 miles – Intermediate
If you are looking for a longish trail that is not part of a system of trail, then this option might be just the one that you are looking for. The trail begins in Brokenstraw State Forest and ends at the Chautaugua Gorge after going all the way straight through North Harmony State Forest during part of the trail in addition to cutting through part of Whalen Memorial State Forest as well.
You can ride this trail in either direction and there are water pumps at both ends with even two lean-to's being provided along the way where you can spend the night at if you want to do so. While you can ride the whole trail, there are other entrances in either of the State Parks that it passes through should you want to try out only part of the trail first or not have the time to do the whole thing.
Since there is no doubling back, this trail starts at one spot and ends somewhere else entirely which allows it to encompass a number of different scenes as you go through forest, meadow, and even near a couple of large ponds as you go. Because there is so much forest in this area there is also a lot of wildlife and you should especially keep an eye out for bears and porcupines in some areas.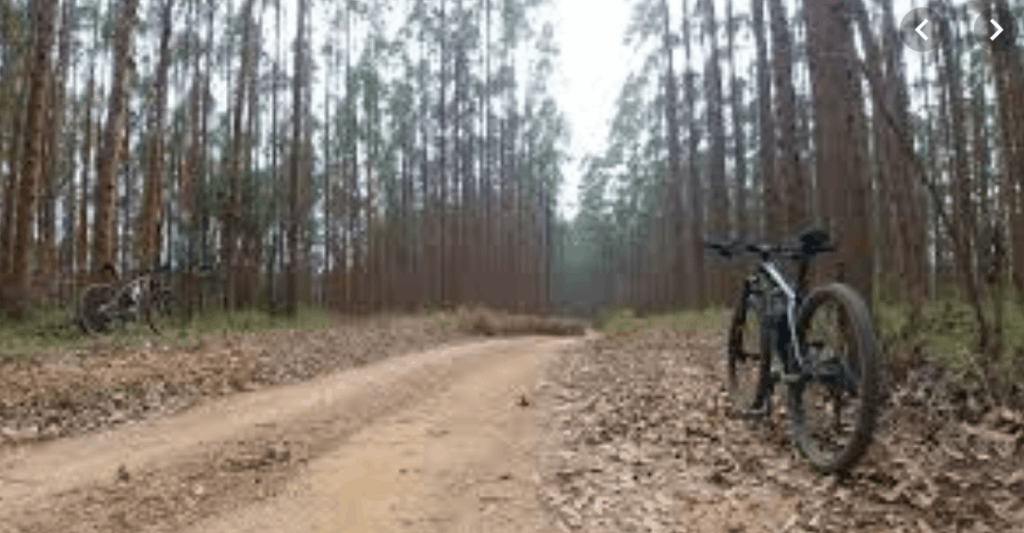 While there is nothing that is overly technical about this trail, there are steep ascents and descents as well as some gnarly root gardens and bridges. One mountain biker whose username is Plant-powered remarks: "Burn, baby, burn. This trail is not over technical, but it's fun and really challenges the legs. It has some long, grinding hill, but also many flowy sections. There are an abundance of roots and rocks, so bring you full suspension bike. Most section are two to four feet wide, but there is some great single-track on the L part of the trail. There are several locations to access the trail, but my favorite is RT 474."
Finally, there are maps available in kiosks along the trail or you can print out your own copy before you go. Some parts of the trail go through private property, but you are allowed to do this and there are even ladders for you to make climbing over the fences easier.
4. North Bethlehem Park Trail – 4.2 miles – Intermediate
This trail is a great option if you live or will be in the area just west of Albany, New York since this is where this trail is located. There is a playground near the entrance for kids to enjoy while the older members of the family enjoy the trail which is clearly marked and begins and ends just behind the playground.
These trail markings come in the form of flags that will stay always on one side of the trail to prevent you from getting turned around since the trail does have places where it crosses itself and nearly doubles back on itself as well.
This trail is made even better with the use of wooden features like raised wooden paths and jumps, plus some wooden obstacles that can be quite challenging but which let you go around all of the obstacles if you are hesitant to try them.
This, plus the fact that it can be divided into even smaller rides, makes it a perfect place to take young kids on their first mountain biking trail. There is also drinking water and restrooms near the playground as well, with winter fat biking being encouraged.
Doug E. comments about this trail: "This is a great ride. I am amazed how well it flows given the small area and the "spaghetti" layout. You never get the feeling you are riding the same space over and over. Even in late fall, covered in leaves, the trail was easy to follow and I never was confused which way to go or had to slow down to look for signs/markers. The trail itself is quite fast. Few rocks and roots to slow you down. However there are plenty of technical bits to make it fun. None are too challenging and the bigger features all have obvious ride arounds. Nothing here will take you by surprise and risk a trip to the hospital. Well done builders!"
5. Glacier Ridge – 11.6 miles – Intermediate/Advanced
This trail is located on Long Island on the outskirts of Farmville. It is one single loop that doubles back on itself and which is mostly intermediate with a few optional loops that are marked as being black diamonds which you can also take.
To explain how this works, I will refer to a mountain biker with the username of MJB_MTB who tells about this trail: "This place is about as fun as it gets for Long Island riding. At 12 miles, it's quite extensive for the area where it is located. There's a lot of flowy, sometimes twisty, trail packed into this spot. CLIMB has done an excellent job building, maintaining and expanding these trails. However, they are a bit liberal with the black diamond designations throughout Long Island. The black diamond sections here, like most other LI trail networks, are appropriate for most intermediate riders, with basically no technical features to speak of.
"However, the flow of this place, and the speed you can carry, makes it a real gem. The intersections can be a bit confusing your first few times here, as all of the "black diamond" loops come off of the main trail and return behind where you left the main trail, meaning you re-ride a small section of the main trail. What's good about this is that it is easy to repeat a loop if you want. Over the years the sandy spots in low lying areas have gotten a bit more extensive. This is a must-ride when on LI."
In addition to that there are some small logs that you can roll over, rocks of various sizes, and some rollers too along with moguls. Some say that this is a great trail to learn how to stand when you are riding and even when you are turning.
Since some of this trail is doublewide and not solely singletrack, there is plenty of room to maneuver your bike around and it is that much easier to either take you sweet time or race through the whole thing without being rushed or held up by any other mountain bikers who might be on the trail too.
6. Sprain Ridge Loop – 7.6 miles – Intermediate/Difficult
Located in Sprain Ridge Park in Yonkers, New York, this is the largest and arguably the best of the loops that this park has to offer. There are also other nearby trails and optional loops that you can choose to ride as well, allowing you to take a short ride or combine loops for a longer ride. Some of these are small and easy for the absolute beginners, but others like this one are only for those who have a bit more experience.
This trail, as well as the other ones in the park, are open 7 days a week from 8am to dusk all year round. It has a great amount of variety with some parts of the trail being cross country while other parts are more all mountain style with still others being free ride. The fact that these trails go up, down, and along the ridgeline in the park means that there are plenty of up and downs and some great views to take a picture from.
On the trail itself there are plenty of roots, rocks, drops, rollers, and berms and almost the entire trail is singletrack. Some of the more advanced places do have ride arounds for them, but you should still keep an eye out for the drops which can be 4'-5' or more. Another one of the technical features that you might find here is technical log crossings, with two or three of these all in a row and only a few feet apart to make them extra challenging.
This is what Martin M. has to say about this trail: "This is my favorite trail near me, it is very fun, technical fast…lots of speed with long descend and strong technical climbs that at moments will pull you off your saddle if you don't take advantage of the speed this is a very technical trail with small rock gardens, base jumps, rock & hill climbs some on switchbacks, yeah i said also on switchbacks which are also found on descends, it has a section we call the jump line, it's strictly for the well talented it starts at the top and rides you through the best jump line in the area to a 40ft drop to a water creek, it has plenty of rest spots to gather your thoughts on how your going to tackle the trails, very clean, and has BBQ pits which I use to make my lunch, Mickeys is also downstairs around the corner which you could ride to have the best MTB grease food in the world. This is worth the visit."
This park used to be owned by the Boyce Thompson Institute, which specialized in botanical research, so you will find a number of exotic plants if you look hard enough. Added to all of this is the picnic area, playground, and even a swimming pool all placed in the 278 acre park.
7. Nemesis Greek Peak Bike Trail – 0.7 miles – Extremely Difficult
If you are looking for a fast downhill challenge then this is no doubt the trail for you. Located along with other trails in Greek Peak Bike Park in Cortland, New York, this area is a great ski area in the winter. What this means for you is that there are ski lifts for you to use going up along with fast and fun trails going down.
While there are other trails going downhill besides Nemesis which are easy to do and not quite so steep, this is perhaps the best trail and is without a doubt the most challenging. It starts off with a wood ramp drop and from there the trail is both steep and technical with the berms being tight and the gap jumps requiring you to have some speed to your bike in order to clear them.
There is not only parking, the ski lift, restrooms, and water, but there is also a bike patrol keeping an eye out for anyone who gets injured, a pub and grill on site, and even a bike shop nearby where you can rent a bike if you need to so that everything that you could need to stay the whole day is right there for your convenience.
While it does cost in order to ride here and use the ski lifts, you can either pay the daily price or get a season pass which lasts from Just until the October snows transition this place back to skiing. This can be a great option considering there are a total of 17 different trails to explore here.
8. Elm Ridge Loop – 14.1 miles – Intermediate/Advanced
This is another great trail that forms part of a system which is called the Elm Ridge system and is located just east of Windham, New York in Elm Ridge Wild Forest. There are six mountain biking trails here including the Elm Ridge Loop, making for over 25 miles of trails that you can ride.
And, if you cannot fit all of that into one day, there is also a lean-to that you can use in order to spend the night with water next to it so that you can fill up and there are restrooms that you can use as well. Or if you prefer you can do night riding here, even fat bike riding in the winter is welcomed.
One person with the username of Hilltop Steve does a great job of describing what the trails are like: "Elm Ridge is by far some of the best mountain biking I've experienced on the east coast. I live in NJ and obviously here there are no shortage of nice places to ride and I frequent Colorado and Utah. I was blown away by how "out there" Elm Ridge felt and how nice the trails were, not only fun wise, but how well maintained everything was. Well worth the 2 hour drive. Not super technical except some roots until you get a little higher up in elevation where you can find some rockier sections, but there was a nice long rolling climb and it was super fun."
9. Ridge Road – 3.5 miles – Easy
This trail is located in Steward State Forest and is a doublewide trail that starts in one place and ends somewhere else. This, however, gives you the opportunity to either ride it back the other way or to try out one of the other trails.
Though the Ridge Road is an easy trail, there are actually a total of 21 trails in the same Stewart State Forest, all of which vary from easy with a few that are intermediate making a total of around 55 miles worth of trails. Some of these trails interconnect in spots, allowing you to create your own route.
There are a few mountain biking groups that bike here who are more than happy to show new bikers around the trails, and some even do night riding. While there are a few places that are doublewide, most of the trail is singletrack and no water or restrooms that are handy means that you better have what you need.
A biker with the username of mahoney072 sums this place up: "Great place to begin. You can do up to 20 mile loops. Very well maintained trail system… You can see almost exactly where you're going. Tough to get lost but it is such a huge play ground to have fun with. There are fire roads paved and un paved and single track branching off of them. 3-4 main parking lots on north, east and south west sides. This place really got me passionate about riding. Tons of friendly people that ride or run there also. Some nice views of ponds and some steep down hills that you have to search for."
10. Shindagin Hollow West Trail Loop – 6.6 miles – Intermediate
This trail is one of the highlights of Shindagin Hollow which is a 5,000 acre State forest near Ithaca, New York. There are over 20 miles of trails altogether which are well maintained by the CNY. Cycle-CYN has been expanding this trail system for around 10 years now and has made it into a great mountain biking destination.
This is so much so that every Autumn there is a Shindagin Shindig mountain bike festival that is held here so that mountain bikers can come and check out the trails with a lot of company and fun all around. These trails are mostly singletrack with plenty of dirt, roots, and some shale rock too.
However, you should be aware that during the rainy season the low spots on the trail can hold water sometimes. There is also pretty much nothing in the way of amenities, so bring your own water and be sure to use the bathroom ahead of time. The trails are labeled by color as well as by number with blue being the more difficult of the trails.
One mountain biker with the username of soezgg does a really good job of summing this place up: "Shindagin is a seemingly endless network of trails. So many that it is easy to get lost. Thankfully, the entire network is contained by a few recognizable dirt roads. Either way, Shindagin is peppered with skinnies, ledges, jumps and some newly built freeride obstacles. Lots of hills, lots of roots, might be a little wet at the bottom. Parking is decent near the top. You can come here, ride all morning, break for lunch, ride until dark and still not see every trail."