Michigan is a great state to go mountain biking in, with trails of all lengths and levels of difficulty and scenery. So grab your mountain biking helmet, encourage some of your friends to do the same, and get on your mountain bike to ride one of these awesome trails.
1. Potawatomi Trail Loop – 17.9 miles – Intermediate
This trail is located in the Pinckney Recreation Area and it is a great option if you don't like to ride anything but singletrack trails. You should know that this loop can only be ridden in one direction and not all of the nearby trails are open to mountain bikers, with some of the trails here being strictly for hikers.
This is a great place to go to even if you don't want to spend all of your time mountain biking – or have family members who are not quite as enthusiastic – since there are a ton of other activities here such as boating, canoeing, water skiing, fishing, camping, horseback riding, and more. Since swimming is a great to-do here, this is a great way to cool off after a long, fun ride.
The trail itself ranges from fast and flowy to having some challenging climbs and some jarring descents. There are wooden bridges and stream crossings, with the terrain ranging from sandy to full of roots with a few rocky places as well. The scenery of the park is some of the best and there are plenty of ups and downs to give you some great views.
If you don't have a bike, or if your bike breaks, then there is even an area where you can rent a bike at. Though these trails are only open during the day, there are open year round with restrooms and water nearby. One mountain biker with the name of Charlie P. says about this trail:
"Poto in my opinion is the best trail in the Lower Peninsula, at least in the southern portion. It has a little bit of everything, the climbs are technical and challenging, but the downhill sections are very rewarding. There are a few sketchy sections with rocks and roots so if you are a beginner, be careful. I would also recommend a full suspension bike if you have one. Yes people ride rigid bikes there, but it is certainly not as enjoyable. I usually register about 18.5 miles and around 1,200 feet of elevation on my Strava Android app. Several bridges with great views!"
2. Fort Custer Tour Loop – 15.1 miles – Intermediate
This trail is one of the highlights of the Fort Custer Recreation area in the Southwest part of the state of Michigan. Like the previous trail there are all kinds of other activities that you can participate in here if you want to do so and this trail and the other ones here are open year round. However, there is hunting in this area, so during hunting season you will want to be sure and wear bright clothing.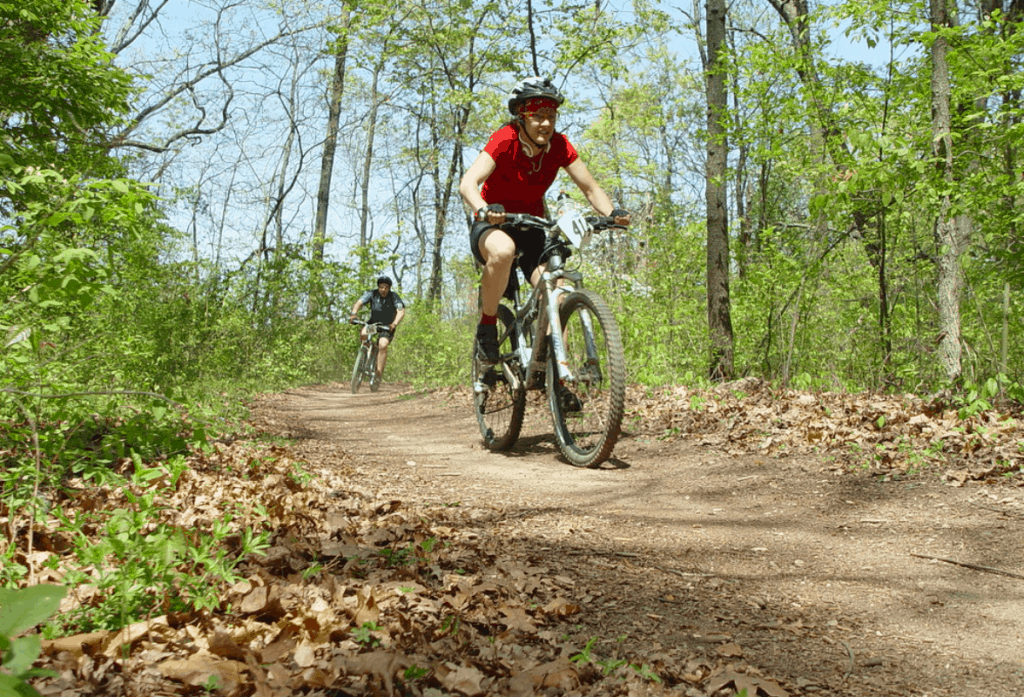 Another thing that you should know about these trails is that they are directional according to the day of the week that it is. On Tuesday, Thursday, and Saturday the direction is clockwise for the trails, while for the other days of the week you are supposed to do them counterclockwise.
However, trail runners and hikers are encouraged – though not required – to travel the trails in the opposite direction as the bikers are supposed to. You also are not supposed to go on the horse trails, but these are not fun to bike on anyway.
The trail itself is mostly singletrack and it goes through meadows as well as woods, with some sandy sections, stream crossings, log piles, and some technical sections that you can take a shortcut in order to miss is you prefer. There are miles worth of trails here that are nicely hardpacked dirt for the greater part of them and, though you will need to pay an entrance fee to get into the park, these trail draw mountain bikers from all over.
3. Red Trail To Stairway – 3.7 miles – Difficult
This point to point trail is entirely singletrack, with one end of a trail starting right from a parking lot and the other end of the trail dead ending into a different trail in the same system. Located in Copper Harbor, this trail has plenty of the red rocks and boardwalks that this area is very well known for.
While this trail can be ridden either way, if you are starting from the parking lot there is going to be more uphill work whereas if you ride it from the other way you will get more downhill fun. There are plenty of quick turns, roots, rock slabs, and more.
There are around 40 or so miles of trails right here. However, if this is not enough to keep you occupied then you can take the Keweenaw Trail that is 50 miles long all the way to another small group of trails if you want to do so.
One mountain biker with the username of TK34 says: "I save my 5 stars for truly epic rides (Sedona, Bentonville, etc.), and Copper Harbor is one of them. A great destination for a couple days solid riding – head over to Marquette if you need more. Just be sure you understand this is a pretty remote area – the town is small, but they have the basics covered including a brewery. Trails are awesome – the western side is more flow and engineered, the eastern side is more old school and rough. You can bike the uphills, but there is a limited shuttle available on some days. Be advised the wooden bridges can be slick if wet."
4. North Trails Loop – 11.1 miles – Intermediate
This singletrack trail is located in the Noquemanon Trails system which most would agree offers some of the best mountain biking around this area. There are miles more of trails that you can ride in this area, so it will take you a long time before you can ride all of these trails.
There is a pump track and, even better, there is also plenty of night riding opportunities and winter fat biking here as well. One mountain biker with the username of CaptainFalafel does a great job of saying why you should come here when he calls these trails: "Absolutely phenomenal riding here, there's so many trails throughout this entire system that it'd be near impossible to list. Everything from gnarly technical downhill runs to huge tabletops, some crazy big drops, and everything in between. Ride here asap."
Meanwhile, another mountain biker with the username of chilewings give a few nice details about this trail: "Amazing trail network…plan your ride or just start riding and find your way back (trailforks helpful). Drains water well so even after a lot of rain the previous day, was tacky and perfect (with very few wet spots). This area has a little of everything from green loops to double black jump lines (not on the map, but marked appropriately on the trails). Sports Rack in Marquette has some great bikes for rent/demo and very helpful so recommend. Lots of parking options, tools available and even nice shady picnic tables and changing rooms at the main trailhead…..overall just amazing."
5. Brighton Recreation Trail Loop – 13 miles – Intermediate/Difficult
This trail is actually a combination of many of the loops in the Brighton Recreation Area, and has a lot going for it. This loop has loads of short but steep climbs and descents with plenty of roots in them to make them interesting. There are other trails here too which allow you to shorten or lengthen your ride by combining them.
Even though there is not really any winter riding or night riding, there are restrooms that you can use, but be sure to bring your own water. The mountain biker with the username of CaptainFalafel has this to say about these trails: "Tons of trails here. Torn Shirt, Murray/Lost/Found/Ralphs, and Appleton/Appleton North.
"Torn Shirt is the jam, great turns, rooty downhills, a couple of good climbs, and generally really tight singletrack with some great flow. Murray is similar but a little easier in my opinion, still great fun though. Appleton is a better version of Island Lake, it's just a quick 2 mile warm up ride, while Appleton North adds another 2 or so miles, has a few fun sections in it but nothing hard. Overall, there is about 23~ miles of great riding here!"
Meanwhile another mountain biker with the username of jcrabtree says: "Brighton Rec has some of my favorite trails in Southeast Michigan. As other reviewers have stated, there are numerous trails here all ranging in difficulty. Highly recommend riding every trail here. Fast flow, technical sections, fun drops, brutal climbs, amazing nature scenery, and over 20 miles of trails; trust me, you won't be disappointed."
6. Michigan Tech – 2.4 miles – Intermediate/Difficult
This trail has a lot going for it, staring off with just a little bit of uphill followed by a long amount of downhill only to go back uphill again to the end. There are other trails in the Michigan Tech Trail system that you can ride, with everything that you might want for beginner riders all the way up to difficult trails as well.
"The trails are all in good condition and well kept. They are still adding more trails tithe current 20 miles they have now. Things on the trail include table tops, burms, jumps, flow trails, technical challenges, pump track, dual solem, bridges, and much more!" is what a mountain biker with the username of itsthatguy has to say, while ezPromQueen says:
"Just rode here and had a blast! Once I realized that it was pretty much impossible to get lost I rode almost every trail. There are a couple main trails and then a bunch of loops that bring you back to the main trail. Trails for literally any skill level and age, great trails to introduce kids to the sport without scaring them. Dragon trail loop was pretty cool, checked it out, rode some of it bypassed much in awe. Really, would love to see some bikes running some of those ramps! Fun fun! Goooooo."
7. Lakeshore Park Trail – 8.9 miles – Intermediate
This trail is unique in that it is located on a tree farm – Novi Tree Farm to be exact. But this trail is still amazing singletrack, with restrooms, water, a pump track, night riding, and winter fat biking all available here if you want to use them. A mountain biker with the username of spoonless gives some their opinion on this trail when they say:
"Probably the best trail in southeastern Michigan. Team Tree Farm, the club that maintains the trail is awesome and do a great job keeping it rideable and fun. New features and obstacles continue to pop up year after year, keeping the trail from getting stale over the years. Drainage used to be an issue in years past, but it looks like the vast majority of the problem spots have been addressed. This season I've seen almost no muddy spots or areas with excessive erosion. It is flat, but flowy enough to let you keep your speed. Lots of warning before technical features, and almost all have bypasses. Great for beginners to intermediate. Advanced riders might not find it challenging but will still likely find it a fun ride."
So, even though this trail is not a part of any huge network or anything it is still worth checking out, especially as new features are added almost every year and the park in general is improved.
8. Red Bridge Trail – 18 miles – Difficult
This trail is also called he North Country Trail and it is mostly doubletrack and is a point to point trail that goes from one city to another. Spencer L. does a great job of telling about this trail when he says: "The North Country Trail between Dilling Road and Beers Road is open to bikes, and it's a blast to ride! As it's a hiking and biking trail, you'll likely encounter foot traffic, especially on weekends, so be careful when coming around blind corners and blasting long downhills.

"The trail itself is not very tight or twisty, and the track is generally a bit wider than bike-specific singletrack, although there are very few sections of true two-track. But what the trail lacks in true technical challenge it makes up for in terrain variety. There are few level sections on the trail, and the climbs and downhills are usually long and at a moderate grade. The speed gained from flying down a hill can usually be carried into the ensuing climb, and the thin understory of the mature forest allows for riders to easily scan for what lies ahead. Those used to the lesser relief of the southern areas of the Lower Peninsula will definitely have their fitness tested on the NCT, but I'd venture to say I haven't been on a trail in the LP that's more fun than this section."
9. Iron Ore Heritage Trail – 49.6 miles – Easy
This long and east loop take you pretty much all the way around the Marquette Snow Bike Route. Even though snow bikes can be seen around the huge trail system in the winter, winter fat biking on mountain bikes is still allowed, as in night riding. They even have a pump station that you can use as well. A mountain biker whose username is trepanier says: "Hands down the best groomed trails in the state for fat bike snow riding."
Another person goridemike give a bit more detail: "The fat bike revolution is right at home on this 12 mile multi loop system of machine groomed carpet. Big climbs and long downhills wind through maple and hemlock stands with views of the city and local ski hill. Make it a goal to ride "freak n nature's" super flowy berms and "greywalls" bridges. There is also a new very fast trail down the south east side of Mt. Marquette but keep in mind that you may need foot packed trails to get you back to the trailhead. Marquette is also packed with other winter time trails that will keep riders stoked for days!"
10. Glacial Hills Outside Loop – 9.5 miles – Intermediate
This trail is a great way to explore the Glacial hills area, and best of all, besides the fact that there are more trails to explore nearby, is the fact that it is located only a very short distance from the Antrim County Airport in case you happen to be stuck there during a stopover.
One mountain biker whose username is runnergirltiff says: "Fantastic trail! This is probably one of the best trails in Michigan and certainly a hidden gem. The ride is fast, fun and flowy. The trail is mostly smooth with few obstacles and continuous change in grade. The trails were well maintained and well marked with maps at every junction. Certainly worth the drive!"
Meanwhile rmiller8262 is almost just as enthusiastic when he says: "Awesome fast flowing trail! It's rated as beginner, and while there are not any real technical futures, I would call this more intermediate. First time riders should use caution as there are tons of fast sections that go into sharp blind corners that you can be carrying way to much speed and could end up taking some very steeps crashes. Very cool trail though, can't wait to go again."