Women are just as capable of enjoying the sport of mountain biking every bit as much as men, however there are a few differences between women and men mountain bikers. Women mountain bikers, for starters, have to be slightly more careful when they are picking their camelbak.
While there are certainly a lot of details and things that you should look at when you are choosing a camelbak to take mountain biking, there are a few camelbaks that are undeniably good ones to have if you are in doubt at all.
Top Pick – CamelBak Women's 2016 L.U.X.E. Hydration Pack
This is a great camelback that is specifically designed for women and it is made to be worn in all different kinds of terrains. It comes in three different colors: Blue, black, and an orangish red color, however all of them have black padding and the blue an black options have red accents to them.
This hydration pack has a 3 liter reservoir which holds enough water to last you for hours out on the trail, and it also offers plenty of extra storage for anything that you might need to take with you. This includes spaces for your keys, phone, a change of clothes, your bike tools, and it even has a spot to put your bike helmet.
It has panels on the back in order to keep the air moving so that it does not make your back hot, and it has a waist belt that is removable so that you can wear it if you need to in order to keep everything in place or you can take it off if you do not feel that you need it or find it uncomfortable for any reason.
In order to be more comfortable specifically for women, the shoulder pieces are lined with velvetex and the chest straps are made to be comfortable even with a woman's curves in mind with an S-curve built into the frame.
To help make sure that it is not too big or bulky for a woman to wear, it has a narrow design and slightly shorter pack length. All in all, this camelbak hydration pack has a perfect blend of both plenty of room and plenty of water without being too bulky.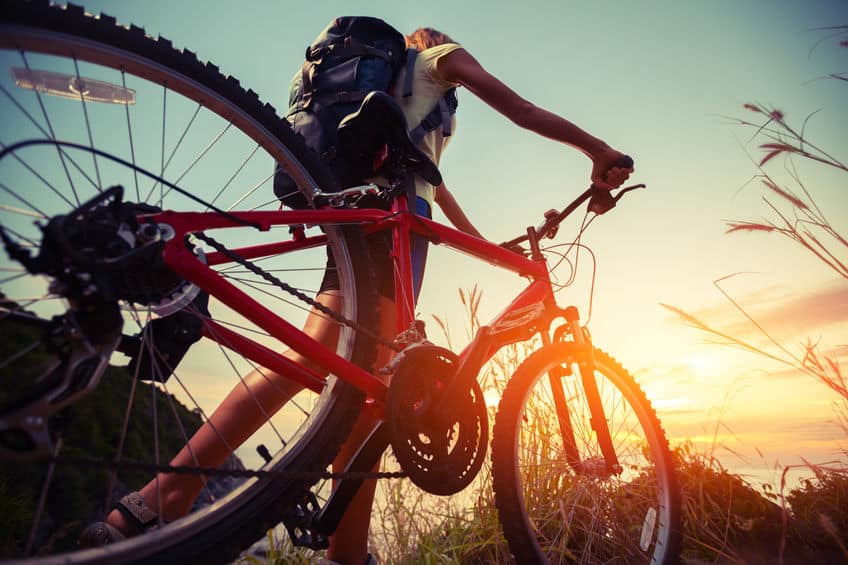 When it comes to the actual hydration part, the reservoir has a cap that is easy to open and close, a quick link system, a nice fill port, center baffling, and even dryer arms which are really convenient to use. Finally, like all of their products the CamelBak brand offers their lifetime guarantee which is a huge plus for a number of different reasons.
Alternate Pick #1 – CamelBak Women's L.U.X.E. LR 14 Hydration Pack
This one has a similar name to the top pick because of the fact that it is actually quite a bit similar. This pack however is different, for starters with the design which puts the weight further down towards your waist. This can help to keep the weight off of your shoulders and upper body which can be nice.
This does mean that the belt on this one is more load bearing and, unlike the top pick, cannot be taken off if you don't want to wear it. However, to help make up for this the belt is designed with wings that even have a small zippered pocket that you can reach easily and can put small things like car keys in.
The reservoir has a nice handle that makes it easy to refill, and there is an on and off lever to help prevent leaks. This option even has a magnetic tube trap so that you can reliably get a drink of water without your tube being jostled out of place where you cannot get to it.
Finally, the airfoil back panel does a great job of ventilating your back and keeping you comfortable and the reservoir has compression straps to keep it from moving around in your pack and messing with your balance.
Alternate Pick #2 – CamelBak Women's Solstice 10 LR Hydration Pack
This one is also a pack that rides low and more on your waist to help make sure that your shoulders and arms are free to control your bike throughout your whole ride. This being the case, it has the same unattachable belt that has pockets in it and a tool belt that will help you to keep your tools organized.
Not only are there plenty of compartments to store different things at, but there is also an attachment point for your helmet and even a couple of other attachment points for other things such as soft armor.
The water reservoir holds 3 liters with a nice handle to make refilling easier, a on and off lever, and a magnetic tube trap. It also straps into place in the pack to make sure that it does not move around on you.
Alternate Pick #3 – TETON Sports Oasis 1100 Hydration Pack
This option is actually a different company than the other ones that are in this list, but it is a great option for a camelbak hydration pack. The water reservoir holds 2 liters since it is a slightly smaller size and it features a push-lock cushioned bite valve to make sure that there are no leaks.
You can even put ice cubes in this reservoir which is also easy to clean and has a kink free tube. It has a bungee cord system for attaching your helmet or other things to it with. Finally, it also has a foam stabilizer with a mesh covering to help keep your back cool and comfortable.
How To Choose A CamelBak
While all of the above hydration packs are great options, you may very well want to choose your own for one reason or another. Should you wish to do so, there are certain things that you are going to want to keep in mind to help you make your decision.
The first of these things is how long your trips are going to be and what the temperatures are going to be like. If you are going to be going for really long rides in desert-like conditions then you are going to be needing a lot more water, and preferably your reservoir will let you add some ice to it as well.
On the other hand, if you are only going to be taking the shorter trails then you will not need so much water. You should keep in mind that water can actually weigh quite a bit, and is actually just over 2 pounds per liter, so you might not want to take more water than what you might need.
While the length of your rides is something that will affect the amount of water that you are going to want to take with you, it is also something that will affect how much storage space you will want in your camelbak for other things.
For a short ride you will probably not need a whole lot of space to put things, but for a long ride you are going to at the very least want to pack everything that you will need to fix a flat tire plus a small first aid kit if nothing else.
Some of the smallest of the water reservoirs are made to carry 1 to 1 ½ liters of water, and these are best suited for the short trails that only last an hour or two. One size up from that is the 1 ½ o 2 ½ liter size which is better even for the same short rides but in situations where the temperature is quite high and there are plenty of technical features that will require you to work a bit more.
The 3 liter size is perhaps the most common, and this one holds enough to last for the moderately long rides even in fairly hot conditions. However, while these are the sizes of the bladders, there are also different sizes of storage space as well.
The smallest size of pack is a 5 liter pack or smaller. These ones only have the smallest of water bladders and they can hold only the essentials like your keys, phone, patch kit, multitool, and a couple of other small items.
Next up is the 5 to 10 liter pack which can have a larger bladder in it and can carry other things like a spare tube and maybe even an air pump and a small snack in addition to what the other can carry. Above that is the 10 to 20 liter pack which is usually quite sufficient to carry everything that you might need.
While there are camelbak packs that can hold even more than 20 liters of stuff, one this large are usually not needed unless you are going to be on the trail for a full day or more than a day. With all of that in mind, there are a few things that you should look at to help you pick your camelbak. Besides how much space you have, the first thing that you want to make sure about is that you have the right water reservoir that has certain features to it.
Easy To Drink From
One of the things that you are going to want to look for in a hydration pack is a water reservoir that is easy to drink from. In other words, you want one that is not going to leak out and leave you with no water, neither do you want the tube to bounce around and out of reach so that you have to let go of the handlebars with one hand to search for it and bring it back into its place.
This last problem is most commonly fixed by using a magnet or something on the shoulder of the pack, with the other part of the magnet being on the tube somewhere so that it holds the tube in place near your mouth. The best of these are designed so that you can get a drink without having to use your hands at all.
As for the leaking, there are a number of widely different solutions to help prevent this, though of course having a good seal is quite handy. Something else that can be useful in order to help prevent leaks is an on and off shutoff valve.
Easy To Fill And Clean
The next thing that you will want to look at when it comes to your hydration pack is if the water reservoir is easy to fill up and to clean. In order to fill up your reservoir you first have to get to it, and there are few different ways that you can do this.
The first way is for the reservoir to have its own compartment which nothing else goes in, while the second option is to simply have it so that it stays upright on the back wall of the pack with the top of the bladder easy to grab.
When it comes to filling it up, you are going to want to make sure that this is easy to do even if you are trying to fill it up under a shallow hotel sink faucet where there is not exactly a whole lot of room to fit the entire bladder under the spout.
As mentioned, you will also want to be able to put ice into it for those summer biking trips. However, this feature is actually not a necessity. If the reservoir that you get has too narrow of a mouth to allow you to put ice in it, you can simple fill it a third full of water and put it in the freezer the night before, topping it off in the morning just before you leave in order to give your water that icy temperature.
However, you do not usually want a water reservoir that is too hard to get ice into because you will then also be far more likely to also have a problem with cleaning it. Being able to clean out the water reservoir thoroughly on occasion is an absolute necessity.
Over time your reservoir can get dirty on the inside due to a number of different reasons, and not being able to clean parts of it or really get into every nook and cranny of it can lead to a buildup of bacteria. Once his happens then it can become really unhealthy to drink water from the reservoir anymore.
Sugary drinks in particular are absolutely necessary to clean your reservoir after, and these can be very hard to clean out entirely. Leaving any of the stickiness in the bladder though is something that is almost sure to grow bacteria.
You will also need to clean your tube out on occasion, and after every time you have anything other than water in your hydration pack. There are narrow, long brushes that are actually made for cleaning out tubes and which have a flexible wire to them so that you can push them in.
To help prevent bacteria from growing in either your bladder or your tube, one thing that you can do is to store both of these in the freezer at least occasionally so that the freezing temperatures can kill or at least stunt their growth.
Comfortable To Wear
One of the key things that you want to look for in a camelbak is comfort. After all, if it is uncomfortable then you are less likely to wear it and then there would be no point in even having it. While you may not be able to truly know if a camelbak is comfortable until you actually try one out, there are a few things that can help with the comfort and that are nice to have.
What is perhaps the most important of these things is ventilation. With a pack on your back on a hot day it can make you feel even hotter by trapping the heat up against your skin that you are putting off by working hard. This will make you sweat even more and lose more water which rather negates carrying water with you to drink in a way.
Ventilation is also something that is needed for your shoulders since these can get just as hot under those shoulder straps, and this need is most often met here by the use of a breathable mesh.
Has Support
Generally speaking, the larger your pack is and the more you are carrying, the more support you are going to need. Support will help make sure that your camelbak is securely fastened to you so that your pack is not moving around and rubbing you raw somewhere as you are moving around on your bike and pedaling.
Support can come in the form of a waist belt, which can be as thin as a strap or be thick with wings, and shoulder pads which can also vary quite a bit. In larger pack the back pad should also offer some support as well.