If you are considering taking part in an Xterra race then one of the first things that you are most likely to think about is what bike you should have for the race. Since the Xterra races prohibit the use of cyclorcross bikes in any of their races, whatever bike you choose will need to be a solid mountain bike.
What most people agree to be the best mountain bike for Xterra mountain bike races is a 29er hardtail mountain bike. If you are too short for a 29er to feel comfortable, then you should go with the next size down.
There are a few reason why this is so, though there are exceptions to this. However, before we get into why a 29er hardtail mountain bike is a great option for these races, perhaps it would help if we first took a quick look at exactly what an Xterra race is so that you can know a little bit more about it.
What Is An Xterra Race?
An Xterra race is a form of triathlon race which is a literally kind of race where three different sports are included. An example of this, and what Xterra races use, is where one stage is swimming, a second stage is trail running, and a third stage is mountain biking. The Xterra triathlon races take place around the world and first began in 1996, having its first race in Hawaii which is where it has held a yearly championship race ever since as the last triathlon of the year.
It is one of the most well-known triathlon race series and is often considered to be the world champion of triathlon racing. The season begins in September of one year and goes all the way to August of the following year. These races are divided into two main categories. The first category is for those who wish to compete, but only for the fun of it and who have no real desire to become professional athletes.
The second category is for those who do intend on being or who already are professional athletes. These compete for cash prizes and just as often for sponsorships as well. Either category is both ranked the same and is given points by placing in the top 15 positions for any Xterra race they participate in.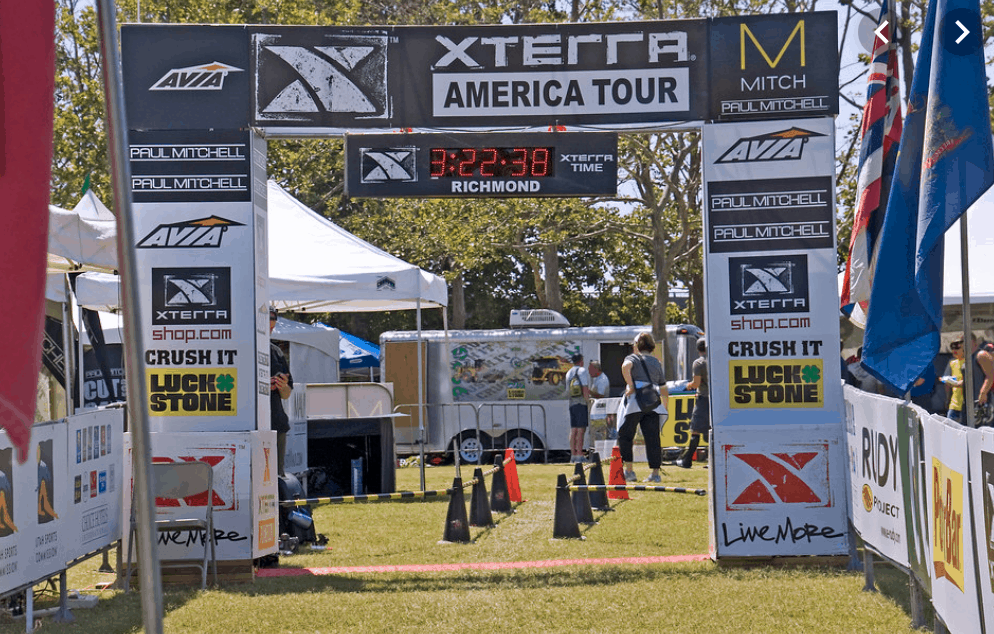 There are also "Championships" held in various places around the world, and in each region of the USA, and these offer more points to those who place high. They also have what is called a sport version which is just for fun and which is usually around half of the length in the three different sports.
As a general rule the regular races are made up of 1.5 km of swimming, 30 km of mountain biking, and 11 km of trail running. The smaller sport version only has 500 km of swimming, 15 km of mountain biking, and 5 km of trail running.
Some of this depends on the terrain that the contestants will have to be going over however. Often if a trail is really rugged or challenging for whatever reason the distance that will be required can be a little shorter. Xterra races can vary quite widely in their locations and terrain. For example, one race that was held in Maui featured over four thousand feet of near vertical climbing that had to be done on a mountain bike.
What is perhaps the biggest difference between the Xterra triathlons and regular triathlons is the fact that you are mountain biking 30 km on sometimes challenging trails instead of 40 km on roads like you usually see. The fact that you are doing a trail run is also different from running down a road in a lot of ways itself as well.
Why Should You Consider Going With A 29er Hardtail For Your Xterra Race?
A 29er mountain bike is one that is built with wheels that are 29". These big wheels are great to have, not only for Xterra races but also for mountain biking in general on all but the most technical and bumpiest of the cross country trails. Hardtail bikes also have a few advantages, though to be fair full suspension mountain bikes seem to be doing a good job of overcoming these in order to compete with them.
Most Xterra races do not have a whole lot of technical features, so the smaller wheel is not nearly as useful as a larger one is when it comes to going over these. Also, a number of races tend to have a lot of climbing to them sometimes, meaning that you will want to cut down on the weight that a full suspension bike would have and choose a bike that is as light as you can so that you aren't having to fight as hard uphill.
With all of that being said, dual suspension 29ers are a great option as well now that they are being made to be lighter and faster than ever. But the catch is that you will really want to cut back on any other weight you can, especially by going with a carbon frame and lightening the weight in as many other small ways as you can.
However, these bike frames are much more expensive and you will likely be wanting to get a carbon frame anyway to cut back on the weight even if you are going with a hardtail mountain bike, so you will still be adding weight to your bike with a full suspension.
Because Xterra races can be in so many different areas and over so many different kinds of terrains, this is one of the things that you should take into consideration when you are choosing a mountain bike. For example, since bumpy trails are a given and you do not want to end up with a pinch flat, you should also make sure that you have your mountain bike set up with tubeless tires.
With any mountain bike you should give it a thorough going over before you plan on using it for the race. While you can race on a friend's bike, this is not necessarily advisable since you will get the nest results from a bike that has had all of the adjustments needed to suit you. For that same reason you should have ridden a new bike at least a few times before the race.
What Else Do You Need For An Xterra Race?
As mentioned, mountain biking is only one branch of an Xterra triathlon race. For this branch you will need to have both your mountain bike and a good pair of mountain biking shoes. However, you will also need a pair of shoes that you can do the trail running in. While you do not have to wear shoes that are specifically trail shoes, these will be the most comfortable since biking shoes are really not made for running in.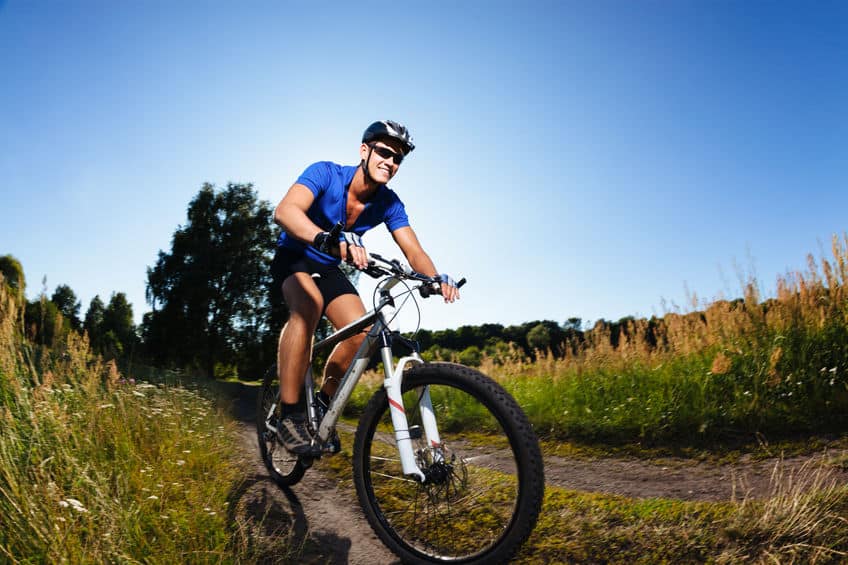 You will also need a swimsuit which you will be doing the swimming part of the triathlon in. Bringing other things like a first aid kit is not necessary since there will be aid stations all along the course. These aid stations will also have both water and Gatorade, so you do not need to weigh yourself down with a camelback for your water.
However, when it comes to your mountain bike you will still want to carry a few things like a plug kit in case you get a flat and things of that nature. Though someone there may have these items, it will be much faster if you have them handy so that you can fix your bike yourself as quickly as possible without having to walk your bike to the nearest aid station to see if by any chance one of the volunteers there has what you need.
Finally, if you know that you will need it, you should also take a protein bar with you. A cloth or washrag that you can wet with some of the water and put around your neck can also be something that you can have, and if the climate is a hot one you will be glad to have it.