If you are considering starting mountain biking, then one of the most important things that you will need is a mountain bike. If you have already started looking at buying a mountain bike, then you have likely noticed that many bikes can be quite expensive.
Before we dig into the details here are the top 5 bikes for a beginner under $500:
| | |
| --- | --- |
| 1. Ziloco Road/Mountain Bike for Men and Women | $185 |
| 2. Schwinn Bonafide Men's Mountain Bike | $500 |
| 3. XiongBuy Mountain Bike | $185 |
| 4. Raleigh Bicycles Talus 2 Recreational Mountain Bike | $300 |
| 5. Schwinn S29 Men's Mountain Bike | $300 |
However, not all mountain bikes are expensive. Some can be quite affordable even if you are on a very tight budget. When you are looking at a cheaper bike though, one thing that you do not want to skimp on is quality.
As a beginner mountain biker, you are far more likely to crash into things and hit all the bumps in the trail, so it is vital that you get a good bike to start with even if you are on a tight budget. In fact, in a way it is even more important that your first bike that you are going to learn on is a good one.
If you get a cheap bike that is cheaply made as your first mountain bike, the likely scenario is that something will go wrong forcing you to spend more money on it. If this happens more than once, it will make mountain biking a less than enjoyable experience for you and you will be far more likely to give up.
Hopefully this list of the top 5 mountain bikes for a beginner under $500 will prove to you that you can get a good mountain bike and not break the bank. At any rate, some of these bikes are even capable of riding on roads allowing you to use them for that purpose is you find you don't like mountain biking.
As you might guess from the title, this mountain bike is actually a hybrid between a road bike and a mountain bike. This allows you to use it for both which can save you many and help you get more use out of it.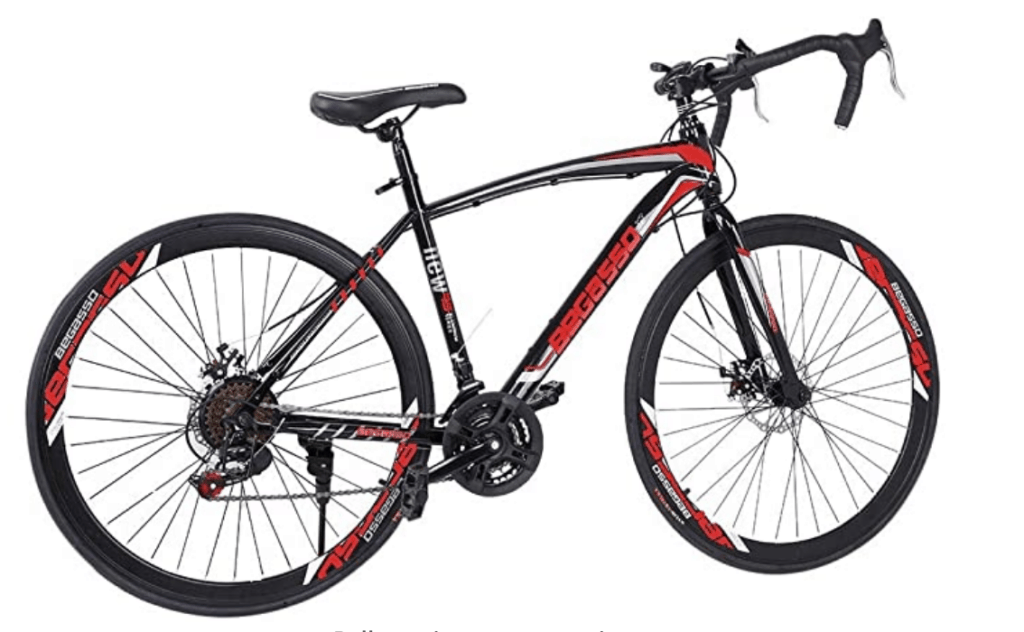 The wheel size is 26" and it is a full-suspension bike so that you get the most comfort possible. Meanwhile, there are 21 speeds and mechanical disk brakes to help you go fast and stop when you need to.
The frame is made out of a high carbon steel which is a little heavier than aluminum but generally more durable. The wheels are made out of aluminum though and, all in all, it is not as heavy as many full suspension mountain bikes tend to be.
It only comes in black, but this is a classic color. Not only is it exceptionally cheap in order to fit your budget, but it also comes with free pedals. Since not every mountain bike that you order comes with these, this saves you even more money.
This mountain bike is what is commonly referred to as a 29er which means that the wheels are 29" in diameter. It is very sturdy and has pretty much everything that you might need in a mountain bike when you are first starting out.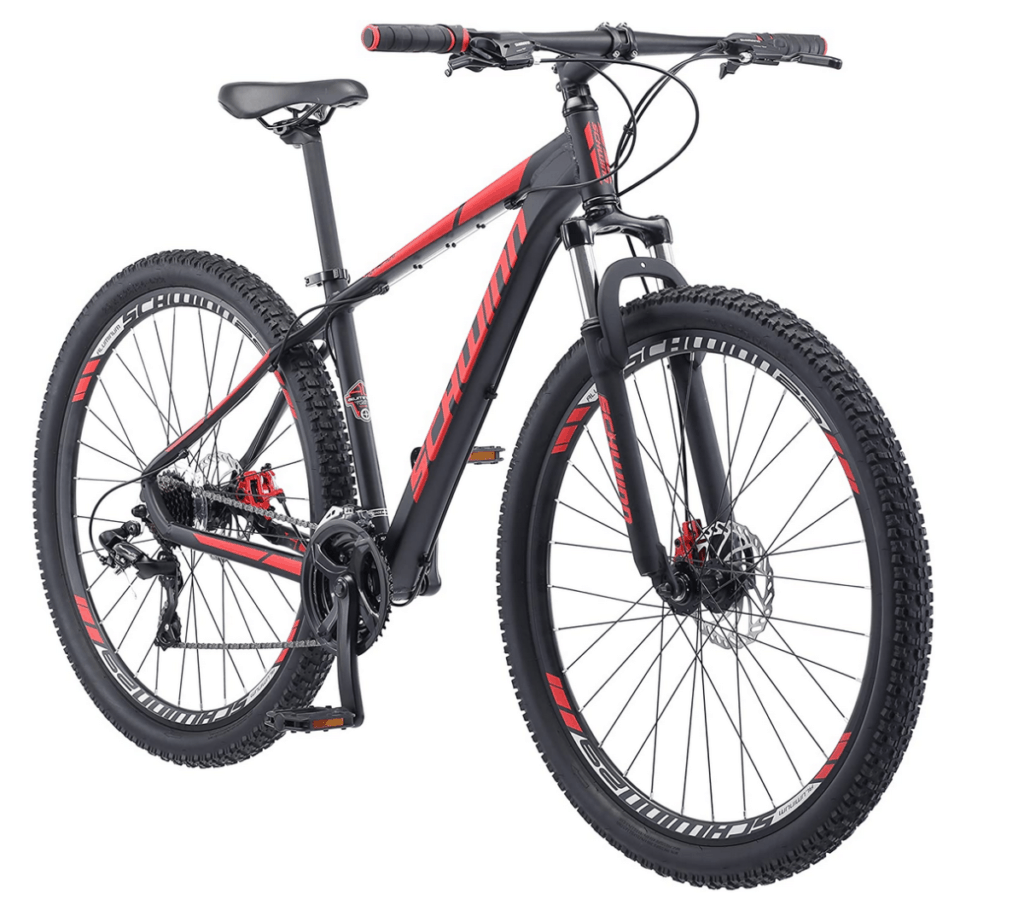 It has 24 speeds which is enough to seem a little overwhelming if you are not used to speeds but which is a really good amount to have if you like having lots of speed options. The disk brakes are on the front and back wheels so that you have equal braking on both sides of your bike, and this is another plus.
Its frame is really durable and it is made to last even after crashes to help it cope with the rocky terrain that you sometimes find on the trails. If there is one con to this bike it is that it is so suited for the trail that it does not do so well on the road if you are looking for a bike that does both.
It comes ready to be assembled in a matter of minutes and the front suspension fork does its job quite well. All in all, this bike is better than some of the more expensive options out there and it even comes with a limited 5-year warranty.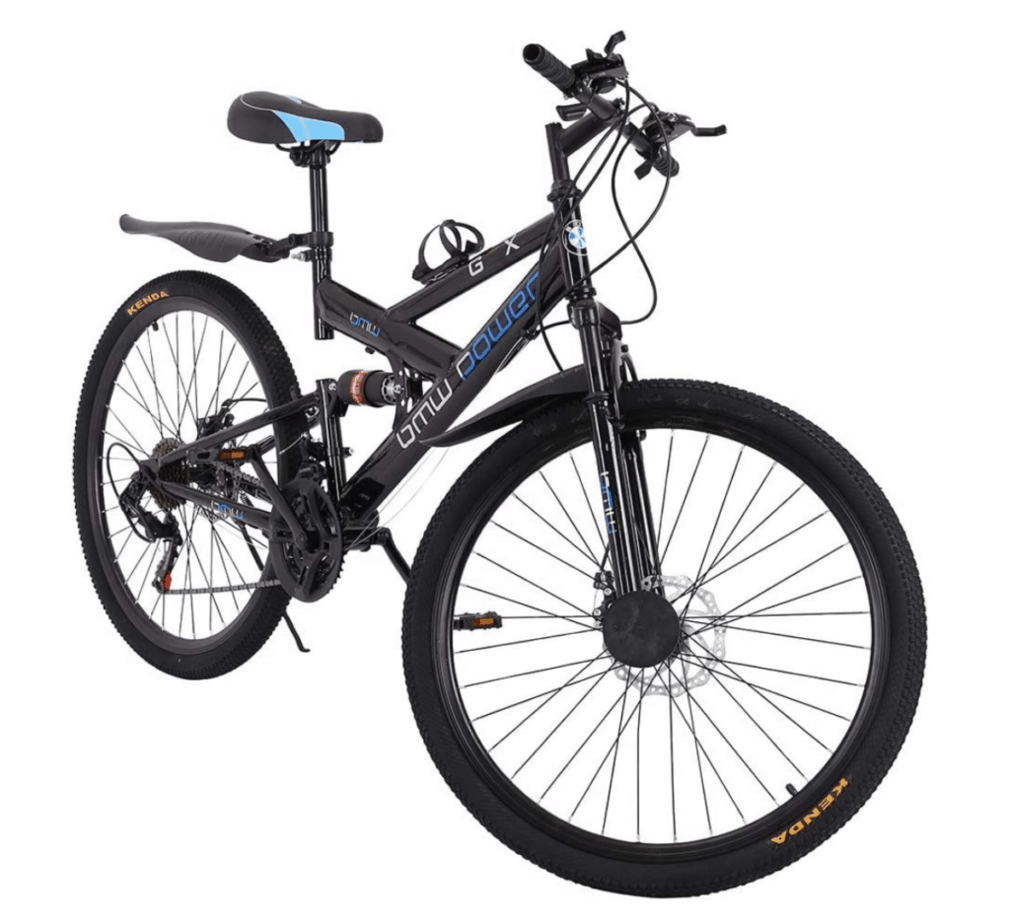 If you are not quite as tall then this mountain bike that is only 26" will likely be your best choice. Unlike most other mountain bikes, the frame of this one is made of a carbon steel instead of aluminum. Another unique feature about the frame of this bike is the fact that it actually folds up which can be very handy if you do not know where you are going to put a full mountain bike.
It has 21 speeds and is a full suspension bike so that you can keep going all day if you feel up to it. The Magnesium wheels are perhaps a little more on the lightweight than the durable side, but this is easy to switch out if you like the bike and the extra spokes help keep it stable.
This bike only comes in black and the steel in it does make it weigh a little more than some other mountain bikes, coming in at just over 40 pounds. It can hold nearly 200 pounds of weight and the brakes are on both the front and back.
Finally, there is an added strap on the top bar in front of the seat which is made to hold a water bottle so that you can stay hydrated. It also comes with its own pedals which not every mountain bike you get does.
This mountain bike is another great option if you are on a tight budget. It is a 27.5" bike that has an aluminum frame. One of the things about this bike is that it is suited to both riding on the cross country trails and riding on roads.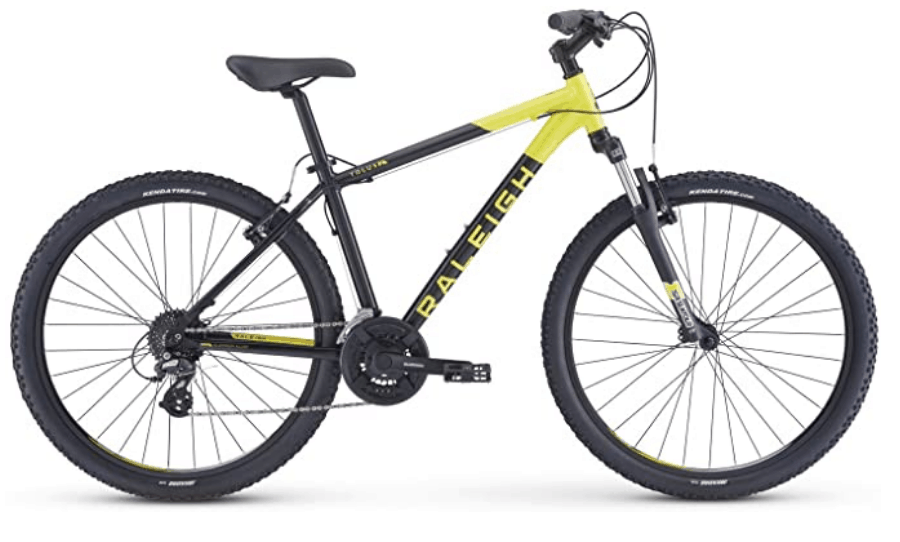 There are even built-in eyelets to the back that give you the option to add a fender and rear racks to it. This allows you to carry a picnic lunch when you are out on the trails or you can carry your briefcase if you are using it to commute to work.
However, you should know that because it is suited for both road and trail use it is not compatible with tubeless tires. These tires are nice and wide without being the width of fat bikes and the alloy brakes get a good grip on them to bring you to a stop easily.
There are 24 different gears to choose from which is a bit more than most mountain bikes have. The hardtail design gives you some suspension without adding too much weight to it while the aluminum alloy frame is also balanced between being both durable and light.
Finally, the frame is designed to let you be more upright which lets you see around you better and is more comfortable. If you like this bike but not this size, you can sometimes find it in other sizes though you have to hunt for them.
This mountain bike is another 29er option and you can get it in both black and red or black and blue. Surprisingly, this bike has full-suspension which is usually quite expensive but in this case is still under $500.
This double suspension makes the trail much less bumpy if you like your comfort or simply live somewhere where the terrain is really rough. The aluminum frame does great over rough terrain too and can take a beating.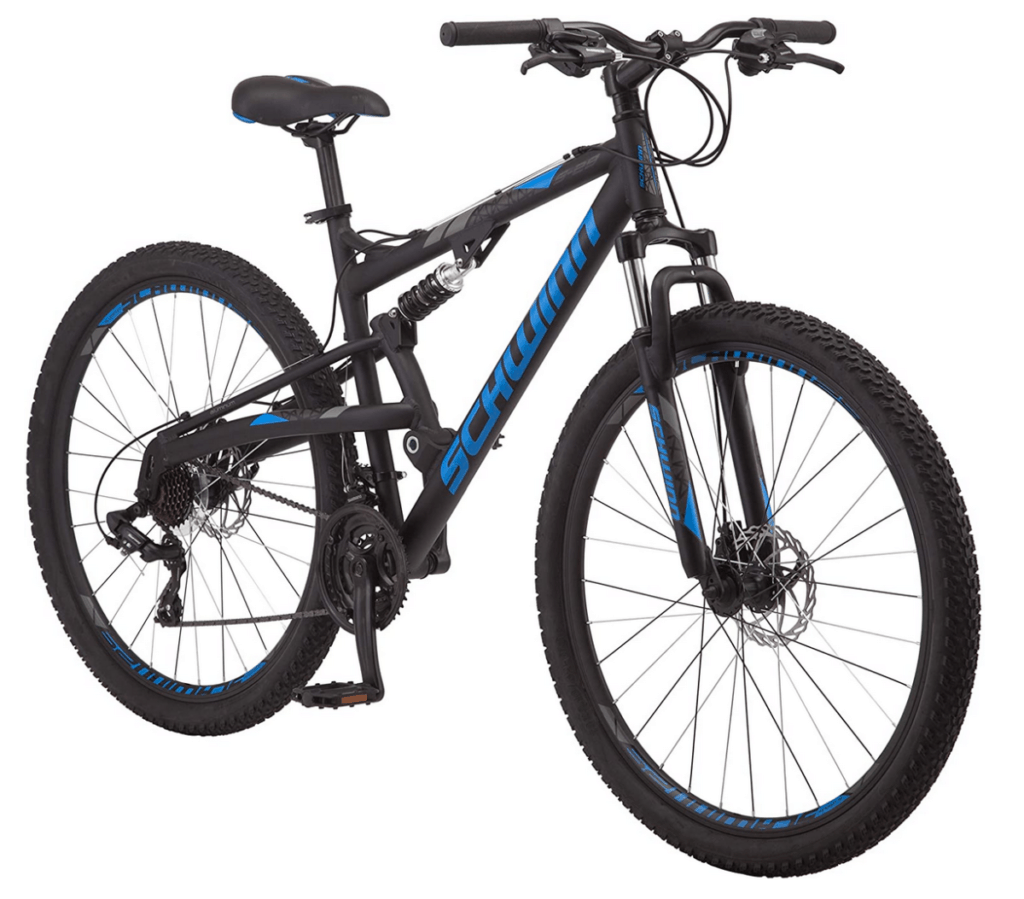 The 21 speeds are all you are likely to need and the shifting is nice and smooth. Meanwhile the mechanical disk brakes on both the front and the back help you to stop even when you might be going downhill.
It comes with instructions and it is very easy to assemble with very few tools needed. Finally, one great thing about the bike is that it comes with a lifetime warranty which is always a nice thing to have. All in all this company has been making bikes since 1895 and this Schwinn bike is another one worth looking at.