All kinds of people get into mountain biking and all ages as well, so perhaps you are considering doing the same. However, if you have been looking at getting your first mountain bike you may have noticed that some mountain bikes are really expensive.
Before we dig into the details here's a list of our top 5 mountain bikes under $2,000…
| | |
| --- | --- |
| 1. Diamondback Bicycles Overdrive Hardtail Mountain Bike | $1,400 |
| 2. Royce Union Men's Mountain Bike Lightweight Carbon w/ Shimano DEORE | $1,399 |
| 3. SAIGULA 26″ MB1 Mountain Bike | $1,600 |
| 4. Raleigh Bikes Tekoa Mountain Bike | $1,000 |
| 5. 29″ Carbon Frame Mountain Bike Shimano SLX 30 Speed Manitou Suspension Fork | $1,728 |
It is understandable that you won't want to pay an outrageous sum of money for a mountain bike when you are not even certain that you will enjoy mountain biking. Fortunately, you do not need to buy the most expensive mountain bikes to end up with a great bike that will hopefully last you for years.
How To Decide On What Mountain Bike To Get
If you are serious about getting into mountain biking, then the first thing that you will need will of course be your bike. This is the single most important part of mountain biking and a bad bike can ruin your whole experience.
It is for this reason that the number one most important thing when you are deciding what mountain bike to get is your comfort. If you are not comfortable on your bike then you will not enjoy mountain biking, but if you are comfortable on your bike then it is easy to tweak small details.
There are a number of different things that can contribute to your comfort. The first of these is the size of the bike. A bike that is too small will make your legs cramp while a bike that is too big will be difficult for you to handle.
Other than size and comfort, you may want a bike that can take a beating. Beginners are much more prone to crashing into things no matter how careful they are in addition to the fact that you won't yet know how to pick your "line" so that you miss the bumpiest spots of the trail.
Along this line of thought, as a beginner you will want at least a hardtail if not a full-suspension mountain bike. A rigid mountain bike that has no suspensions is likely to be bumpier and less comfortable for you, though you should know that some believe that this helps them to learn the trail better.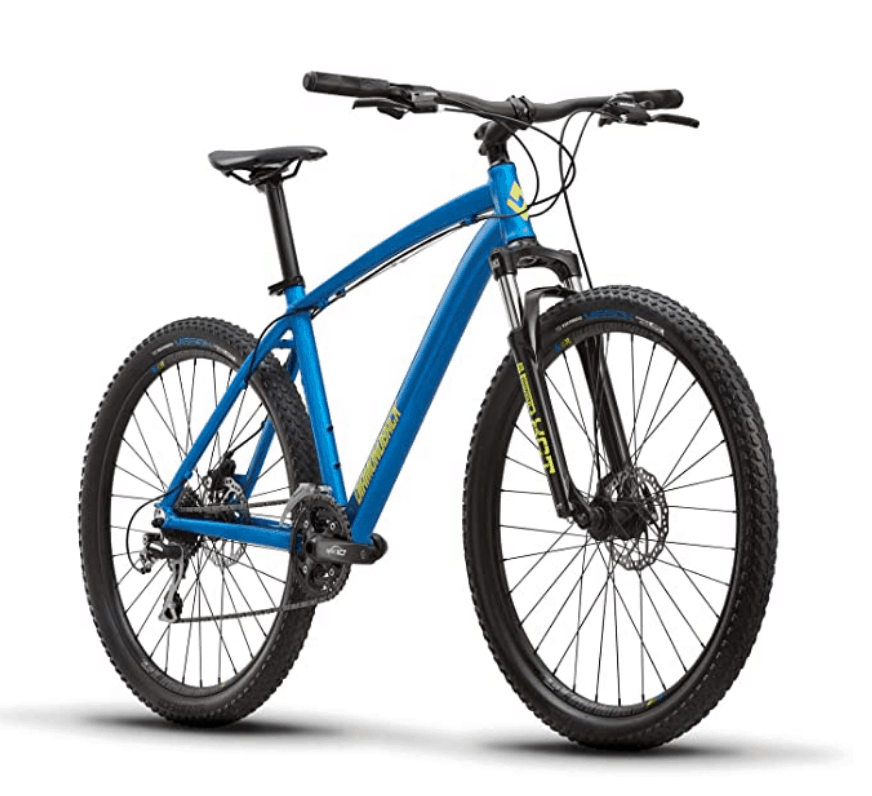 This is a great all-around mountain bike, making it a great option if you are not entirely sure yet what you are looking for in a mountain bike. It is a hardtail design which means that it has suspensions on the front but not on the back which is quite enough for the average mountain biker.
If you want to make your bike rigid while you are still learning, it is easy to lock the suspension so that you do not use it. The frame is made out of a type of aluminum in order to be durable without being too heavy. This is good for beginners who might possibly crash into things while they are still learning.
It comes in black and red and in both 27.5" and 29" sizes so that you can pick the size that best fits you. The wheels are also compatible with tubeless tires which many mountain bikers prefer.
You can also get this bike "ride ready" which is where it is shipped 95% assembled for you so that all that is left is the last few finishing touches and then you can hit the trails. Finally, its 11 speeds are a good place to start learning your gears without being overwhelmed by them.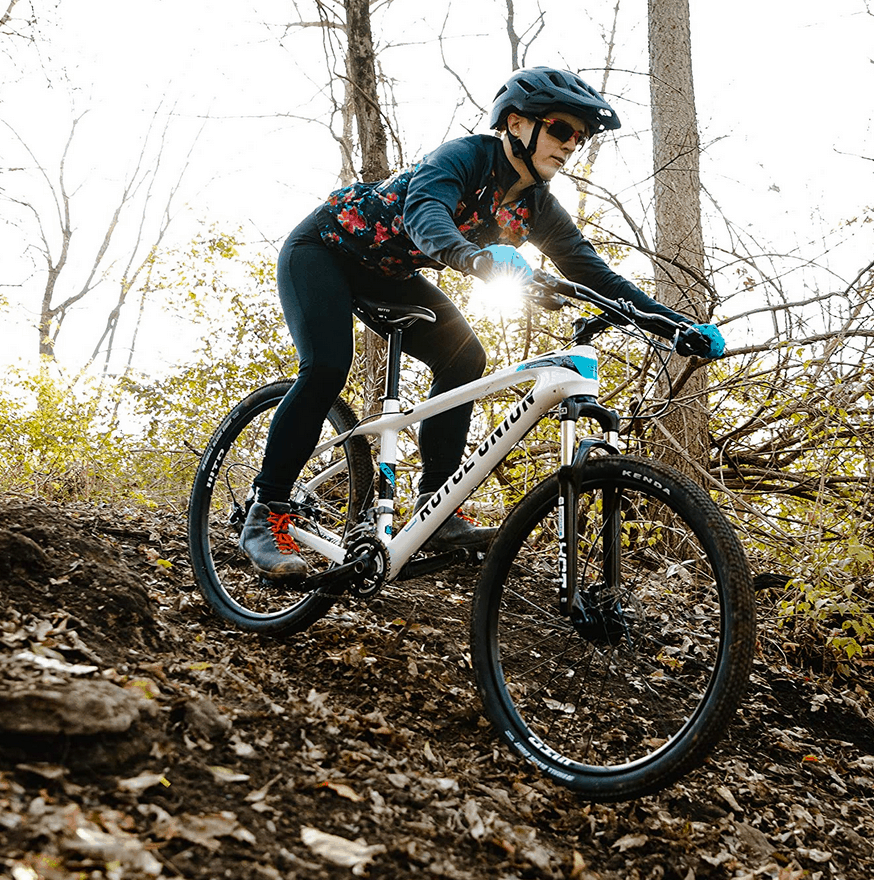 This mountain bike has a 29" size and it has an aluminum frame that is lightweight in order to cut back on the weight of the bike as much as possible. For this reason, the design is also a hardtail so that it gives you the suspension in the front but not the often heavy suspension in the back.
Royce Union has been making bikes since 1904, so they have a lot of experience at making great bikes that last. This bike, like most of their others, can be ridden on the trails or on the roads so that you can get the most use out of it as possible.
There 22 speeds to this bike which comes only in a wine color. There are 4 different frame sizes so that you can get the best fit possible and a sizing chart to help you pick the right one for you. The hydraulic disc brakes provide you with plenty of stopping ability too.
Finally, one really nice feature about this bike is that you can get it professionally assembled. What this means is that you can have it shipped to a store instead of to your house and the store will assemble it for you and tell you when it is ready for you to pick up and ride which can be great if you are not confident in your ability to put it together.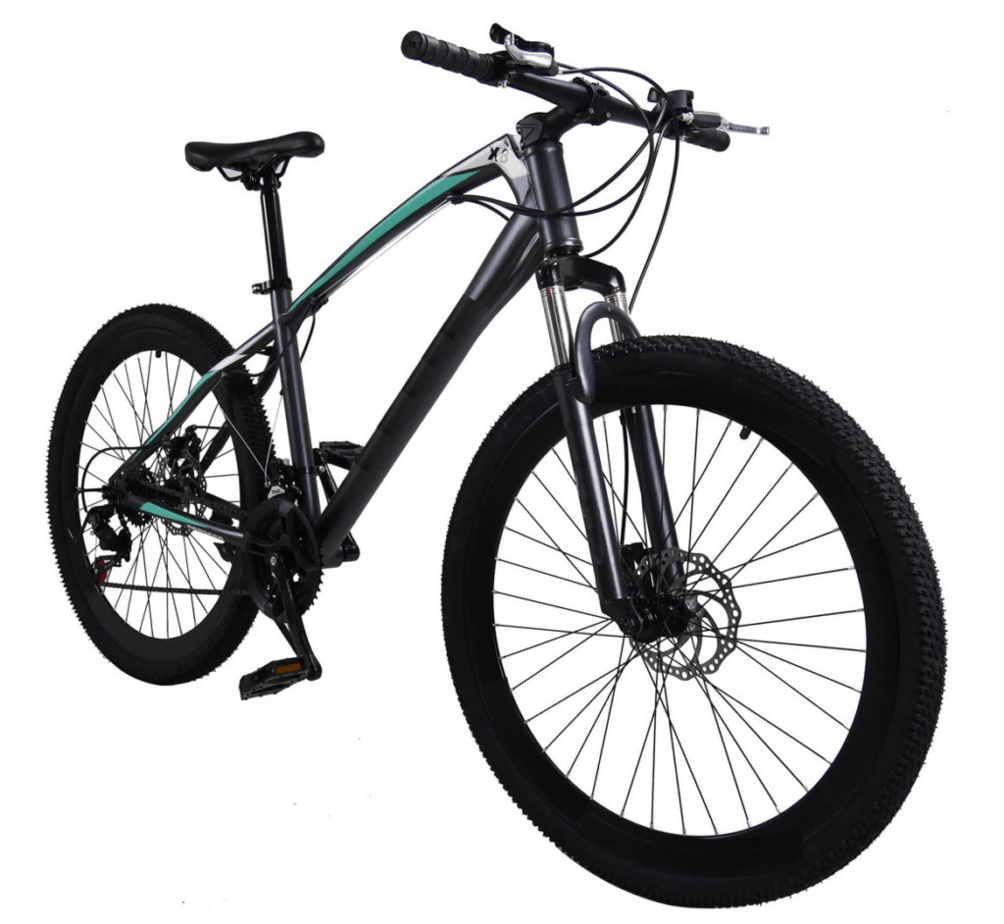 This mountain bike has suspensions on both the front and back for your comfort and a steel frame that can take whatever hits and crashes that you send its way. While both of these things do make it a little on the heavy side, you can be sure that this bike will last you.
It weighs around 40 pounds and can hold over 200 pounds of weight. The design of the frame helps to keep you a little more upright so for your comfort. This bike has 21 speeds and dual disk brakes and it even comes with a built-in kickstand which is a nice feature as well.
This mountain bike also comes with an option to have it professionally assembled. This means that instead of having it shipped to your home for you to put together, you can have it shipped to a store near you for them to put together. All that is left if for you to pick it up when it is ready for you to ride.
However, even if you get it delivered to your home it still comes already 85% assembled so you do not have a lot to do to get it ready to ride. It also comes with instructions that tell you exactly what to do so that you don't make a mistake.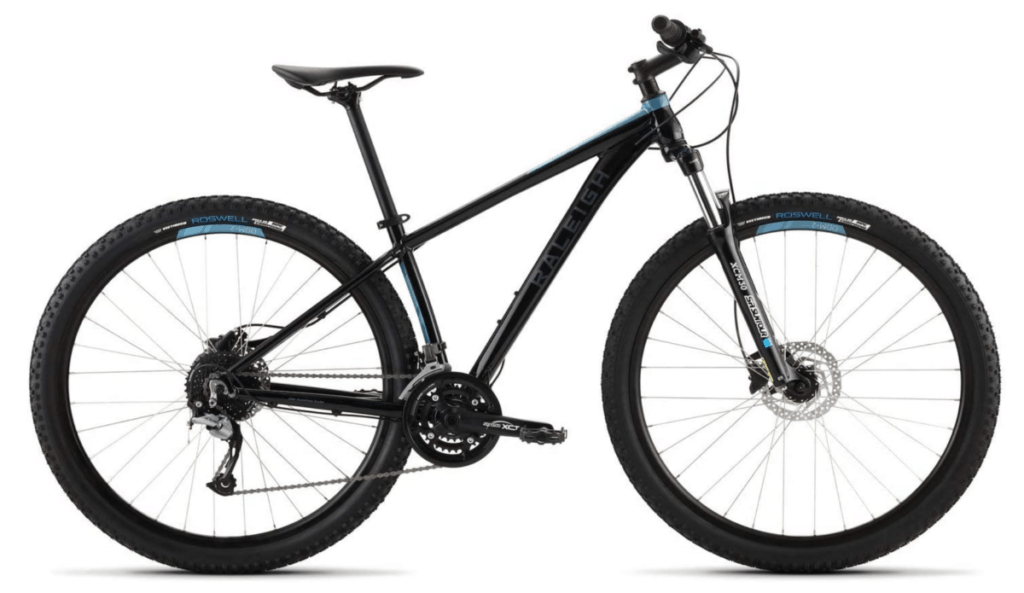 This mountain bike from Raleigh is a good choice if you are a beginner. It has a 29" wheel size and there are three different frame sizes so that you can get a good fit for you. It also comes in black and in blue and in two very slightly different models.
The disk brakes are hydraulic and work nicely with the 3×9 drivetrain that gives you 27 different speed options which is as much as you are likely to need. The hardtail design has a front fork that has the lockout feature if you do not want to use the suspension in front.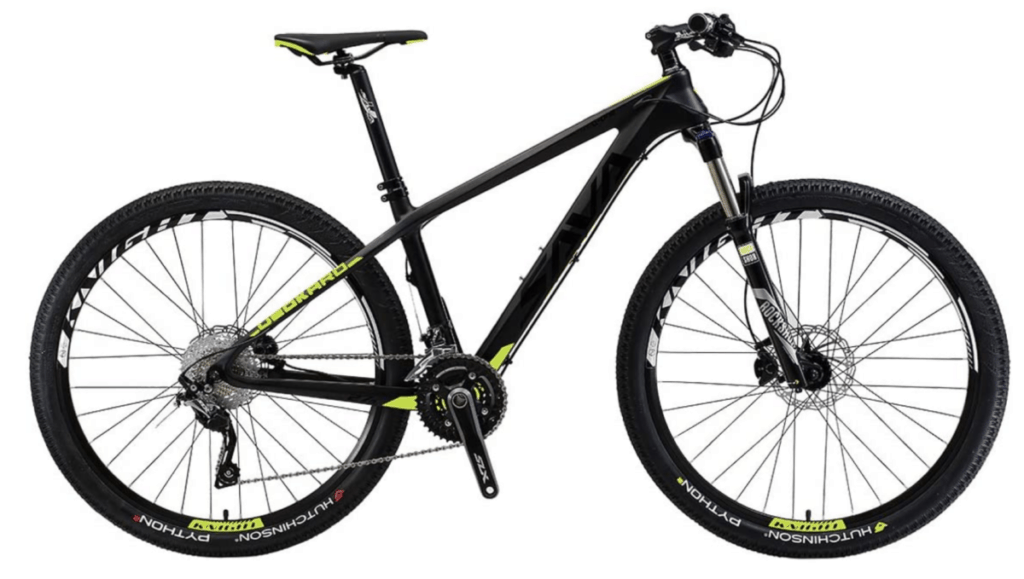 Also, this mountain bike comes with free bike pedals for you so that you can get right on the trail. Finally, there is a limited but lifetime warranty if you are the one who bought the bike new, so getting it used will come with no warranty.
The SAVA mountain bike is the last good option for beginners that is on my list. As the name suggests, it is a 29" mountain bike and it is made out of a carbon frame. The design is a hardtail like most mountain bikes are.
The brakes are hydraulic disk and are connected to both the front and back wheels. It has 22 speeds for you to choose from and the color that this bike comes in is a mixture of black, silver, and a little bit of a reddish-orange color.
Finally, if you don't like the idea of putting together your own bike, this is another option that allows you to get it professionally assembled if you prefer it. All in all, it is a lightweight mountain bike that would be great for almost anyone.