When you are looking for a mountain bike, it can be important to know which brands are the most reliable that you can count on to last you for years. Good brands will always back their products and often have much better mountain bikes in general than newer mountain bike brands or ones that have no brand to them at all.
The top 9 mountain bike brands that I recommend are:
Giant
Trek
Specialized
Santa Cruz
Cannondale
GT Bicycles
Yeti Cycles
Scott Sports
Kona
These are brands that stick out from the rest with their outstanding service, amazing bikes, and awesome warranties.
Mountain biking was first started as a sport around the 1970's with few bike options and even fewer companies. Today there are a wide variety of companies from the poor to the great which are competing with each other on who has the most that they can offer you.
The Giant Bicycles brand was founded in 1972 by King Liu and was located in Taichung, Taiwan. The company was formed with the one sole goal in mind: of making mountain bikes better and more available to everyone all around the world. With this goal in mind, they were the very first company that made a carbon fiber bike that was still of good quality while being priced lower so that more people could afford to buy it.
In 1977 the Giant brand teamed up with another company named Schwinn in order to focus more on the manufacturing side of things. The company has expanded so much since then that some believe that they are the world's largest bicycle manufacturer that there is, all of these being high-quality bikes.
The first of the craftsman and engineers that designed the first mountain bikes for Giant set themselves three guidelines that they wanted all of their company's bikes to meet. These guidelines were innovation, craftsmanship, and inspiration. It was these three guidelines that played a role in their line of Trance bikes. Giant's line of Trance bikes is perhaps their most well known, and this is doubtless because it is a great all-purpose mountain bike that can virtually do it all.
They also have launched a sub-brand called Liv Cycling in 2008. This is a women's only cycling brand that has a collection of bikes and clothes designed for women by women. Of course, these mountain bikes have the same standard of quality you can expect from Giant.
Trek was founded in 1975 by two friends named Richard Burke and Bevil Hogg. They vowed from the very first that they were going to give only the best level of quality and craftsmanship to everything they made. They started out in 1976 manufacturing in a carpet warehouse that was called the Red Barn with a payroll of five workers in Waterloo, Wisconsin which is the city that they are still based in.
At the time they were having to compete against the mid to high-end bicycle market which was totally dominated by Japanese and Italian made models. Still, they persevered and within three years Trek sales approached two million dollars. Now 99% of Trek bicycles are manufactured outside of the United States in countries like the Netherlands, Germany, Taiwan, and China and Trek is a household name in the mountain biking community, being one of the most popular producers of mountain bikes.
One thing about Trek is that they use their specially designed features on all of their bikes. This is different from other brands that often save their special features for their higher priced bikes. They produce a huge range of road bikes, mountain bikes, women's bikes, and hybrids. Trek's Cross-Country Mountain Bikes are claimed to be the lightest, smallest, and fastest bikes on the trail.
One of their most well-known mountain bike models is the Fuel E which has been around for 10+ years and is a jack of all trades mountain bike. Trek has always stood behind their products with a lifetime warranty on all bike frames. You can even customize your own bike on their Project One online bike builder.
Specialized Bicycle Components, Inc. is most often simply called Specialized and was founded in 1974 by Mike Sinyard. When this company started its top priority was actually simply off-road tires. Gradually, however, they began to importing bike parts from Italy that were difficult to find in the United States and selling these to their customers.
Then, in 1976, they made a small jump and started making their own parts to sell, starting with the Specialized Touring Tire they designed. This went so well that in 1981 they made the jump to making their own full bikes, starting with one road bike and one bike that had a sports touring design. It was not too long before they made a mountain bike however, and they are actually the company which can take the credit for being the first one to mass produce mountain bikes.
This first mountain bike they made was called the Stumpjumper and even today Specialized still has its Stumpjumper line of mountain bikes which come in hardtail and full-suspension models. So historic is this bike that an original Stumpjumper is displayed in the Smithsonian Institution in Washington, DC. In 1989, Specialized introduced the world's second mass-produced carbon fiber mountain bike called the Epic.
The team at Specialized is passionate about making the bike that will give you the best rides that you will ever experience. From pedaling hard uphill to racing downhill, and through all types of terrain, their mountain bikes cover all the bases. Finally, they have a women's line that is designed by women who ride bikes and they even give a lifetime warranty on all their frames.
Santa Cruz Bicycles was founded in 1993, and is located in Santa Cruz, California. It was founded by three men whose names are Rob Roskopp, Rich Novak, and Mike Marquez. Each of these men had different abilities and histories that clashed at times but which came together well to make a great mountain biking brand.
Rob Roskopp was a skateboarding legend, Rich Novak was the owner of Novak's Santa Cruz Skateboard Company, and Mike Marquez was a bike engineer who had particular experience when it came to bike suspensions. They started the business in a Seabright Cannery in a space that was only about 288 square feet. From that they grew to the point that they now manufacture a wide range of high-performance mountain bikes.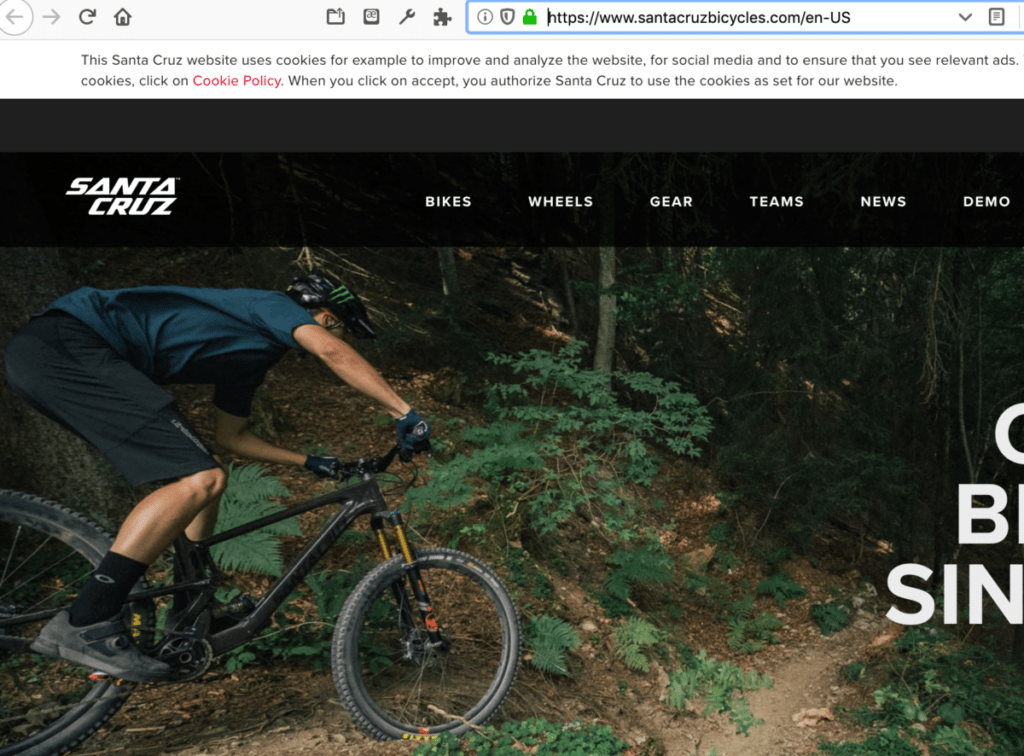 Their first bike was called Tazmon and was a single-pivot dual suspension bike that was made for all mountain biking. This was quite unique because at that time full-suspension bikes were not normal yet, so an all mountain bike that also had a rear suspension was an oddity.
Since then they have continued to forge forward, with their bikes being designed with a VPP- (Virtual Pivot Point) suspension since 2001. They also give a lifetime warranty on not just their frames and wheels, but also on their bearings which practically no other company does. Their carbon wheels are built on the highest quality carbon rims on the market, and they have such confidence in the design and strength of them, that they even give a lifetime warranty on these.
Cannondale was founded in 1971 by Joe Montgomery and Murdock MacGregor and has is headquarters in Wilton, Connecticut. They started out working what was actually the loft in the top of a Pickling Factory. Now they are one of the top brands of mountain bikes, and they have production bases both in Taiwan and in China.
One of their biking innovations was the world's first bicycle trailer which they called the Bugger. However, what really sets this brand apart from the rest is their use of oversized aluminum tubing. They incorporate carbon and aluminum into their bike frames to give them the lightness and the durability that mountain bikers look for. They even go so far as to use the numbers 3 and 6 in the model names as a direct reference for the atomic numbers of these two elements so that their customers know what they are getting.
In the 1980s when all the other companies were still using steel frames, Cannondale specialized in giving the cyclist a 2in1 super bike which can master the descents and equally loves to climb. Another of their innovations is a technology they use called 'Hallowgram' that allows the crank and bottom bracket to weigh 8 grams less and also be 10% more stiff.
They have never been afraid to try new things, and to prove it they invented the one-sided Lefty fork suspension and the unique Headshok unit, both of which replaced standard suspension forks on some models. You can even use tools on that are available on their website in order to compare bikes side by side to help you easily decide between the different bikes and know which features are for you and which ones are not.
Founded in 1979 primarily by Gary Turner and his friend Richard Long, the company has its headquarters in Santa Ana, California. The idea for the name of the company is actually from Gary Turner, since GT is his initials. What started the company was that Gary believed that BMX frames weren't durable enough.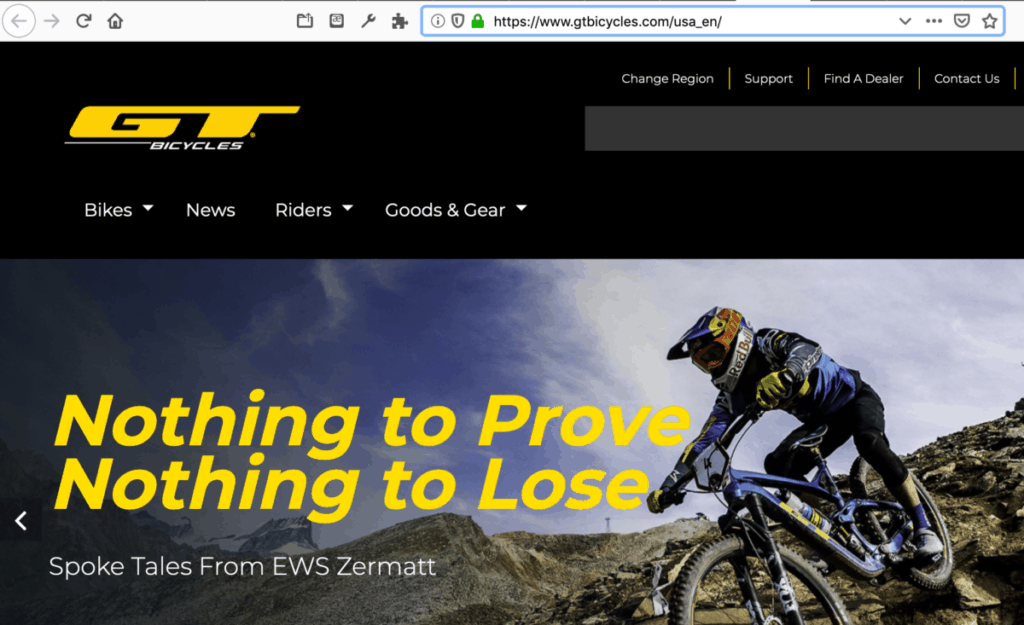 This was a particular concern to him since he wanted his son to be safe racing, so he built the first GT frame for him to use on the SoCal BMX race circuit. He did this by using the skills he had from welding drag race cars since he was a welding engineer and had already made some custom bikes.
It wasn't until later that Richard Long, who was a bike shop owner at the time, co-founded the GT company with him. These two worked together and helped to put the GT brand in a memorable spot in a number of different ways. One way was that they made the GT company the pioneer of full-suspension RTS and LTS frame mountain bikes. In 2003, they introduced IT-1 mountain bike which was the world's first downhill full-suspension bike with a gearbox design.
They also changed the future of mountain biking by creating the "Triple Triangle" hardtail frame design. This design reduces the vibrations transferred to the seat from the rear wheel, thus ensuring a more comfortable and durable ride no matter how rough the terrain is.
GT Bicycles have strong frames that can handle weight and a couple of other features include thick and cushiony brake handles, which are both great for balance and comfortable when gripping, while the brakes are placed in such a way that the brakes are allowed to spin freely. Finally, the forks on these mountain bikes have a tapered bale which helps to keep weight down and maximizes the rigidity of the bike.
The Yeti brand was founded in 1985 by a man named John Parker and now has its headquarters in Golden, Colorado though it was originally started in California. John Parker was a welder who actually built movie sets in Hollywood, later becoming a mountain bike designer and racer.
All in all, this company has had quite a history. As mentioned the Yeti brand was founded in California, but it only stayed there for a few years, moving to Durango, Colorado in 1990 after the first mountain bike World Championship took place there. This was in order to be closer to where there was more mountain bikers and mountain biking taking place.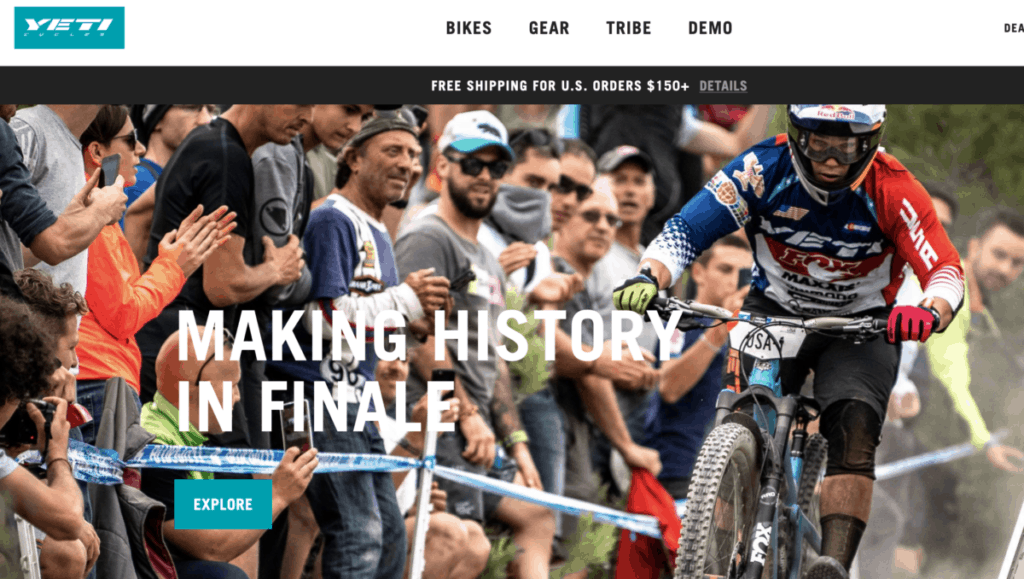 A few years later, John Parker sold his company to Schwinn in 1995, and a few years after that in 1999 they in turn sold it to another company named Volant. However, the final change of hands took place not that long after that when in 2001 a group of Yeti employees bought the Yeti company from Volant with Chris Conroy as the company's president and Steve Hoogedoorn as the vice president.
In spite of all of those changes, the Yeti brand has made a lot of progress over the years. One of the things that they have done is to develop and patent their own suspension system designs which they called "ZeroLoss Technology" and "Switch Technology".
Yeti makes a variety of mountain bikes that have many features. These mountain bikes can handle challenging terrains on the downhill and are able to maneuver nimbly around the sharpest corners. The 180mm rotor rear brake design that they use will make the bike stop even when going down a very steep hill. Finally, Yeti started producing women bikes in 2015 called Yeti Beti that is made for women with smaller sized frames and lower standover height.
This mountain biking company has its current headquarters in Switzerland and was founded in 1958 by a man named Ed Scott. While it was originally called Scott USA, it also originally started off as a company that manufactured ski poles! However, today Scotts Sports SA produces bicycles, winter equipment, motocross gear, and sportswear and they have branches around Europe, in the United States, in South Africa, and in India.
Ed Scott was an engineer and skier from Sun Valley, Idaho which is where he started his company. In 1958 he invented an aluminum ski pole which was an amazing success since at that time ski poles were being made from bamboo or steel. This new ski pole did great and it almost immediately replaced its competition.
They did so well, in fact, that Scott expanded to Europe in 1978, putting roots down in Fribourg, Switzerland. However it wasn't until 1986 that they introduced their first mountain bike. Once there though there was no slowing down.
In 1989, Scott made the clip-on aerodynamic handlebar which is one of the most important creations in the history of cycling. In 1991, they started producing the Unishock which was their first full-suspension forked mountain bike. Scott mountain bikes are designed to be light due to the use of carbon frames and these bikes have broken records in 2001 for providing the lightest carbon frame on the market.
Scott has ten separate lines in their mountain biking range alone and these come in a variety of options. Their mountain bikes include categories for Racing, Trail, All-Mountain, Freeride, and Downhill. Their international distribution for mountain bikes is in 77 countries, and their goal is to be available to everyone around the globe.
Kona has a great variety of bikes with a long history of durability. I still love riding my Kona Hei Hei even though its almost 7 years old.
They also pride themselves on innovation and are constantly pushing the envelope on new technology.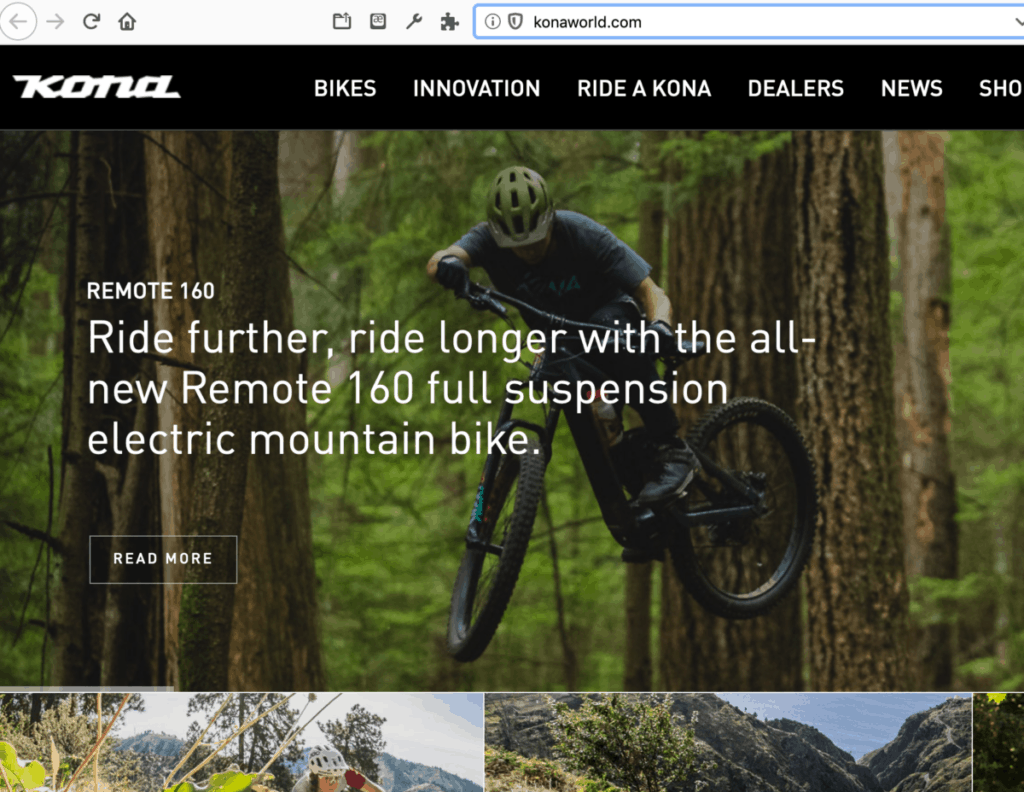 Conclusion And Honorable Mentions
I have no doubt that you can probably name a few mountain biking brands that were not on my list, but if I were to name every good mountain bike brand out there then I would never get done with this list. That is especially true since new brands are regularly being made and sometimes they do have great bikes.
However, I do have a couple of honorable mentions that almost made the cut. Diamondback Bicycles has over 40 years of experience and does their best to make long-lasting mountain bikes at pocket-friendly prices. Mongoose is another great one which focuses primarily on durability and lightweight designs.