Teens can often be quite hard to shop for when it comes to mountain bikes. By this age they likely already know how to ride a bike, but they are still likely working on getting the finer nuances of mountain biking mastered.
Depending just how much experience your teen has on a bike, they may still be a beginner or they may already be an experienced mountain biker who is ready to tackle any trail. This should be something that you should take into consideration when you are choosing a bike to get them.
Getting your teen out in the open air and exercising is good for their health as they grow and, who knows, you just might find yourself out on the trail with them more often which will be good for you as well.
How To Pick The Right Mountain Bike For A Teenager
The first thing that you must look at when you are trying to decide what mountain bike to get is the size. Most teens can fit small adult bikes, with taller teens usually being able to easily ride on adult mountain bikes. You do not want a bike that is too big or too small.
Starting out with what size bike you need, you can then weed out some of the other options based on the other things which your teen wants or does not want. The more you know about what your teen is looking for in a mountain bike, the more you can narrow down the dozens of options that are available, and the easier it is to make your final decision.
A teen is usually old enough to want different speed settings, but your teen may want the simplicity of a single-speed bike. Another thing to think about is suspensions. Most of the time hardtail suspensions are perfect, but if your teen is looking into doing a lot of rough downhill riding then they may need a full-suspension mountain bike.
Other than these things, there are the little details such as the overall design of the frame and if your teen has a favorite color that they would like their bike to be. It is best to write down a list of all of these things so that you can glance at them to see how the various mountain bikes compare to the ideal mountain bike you have in mind for your teen.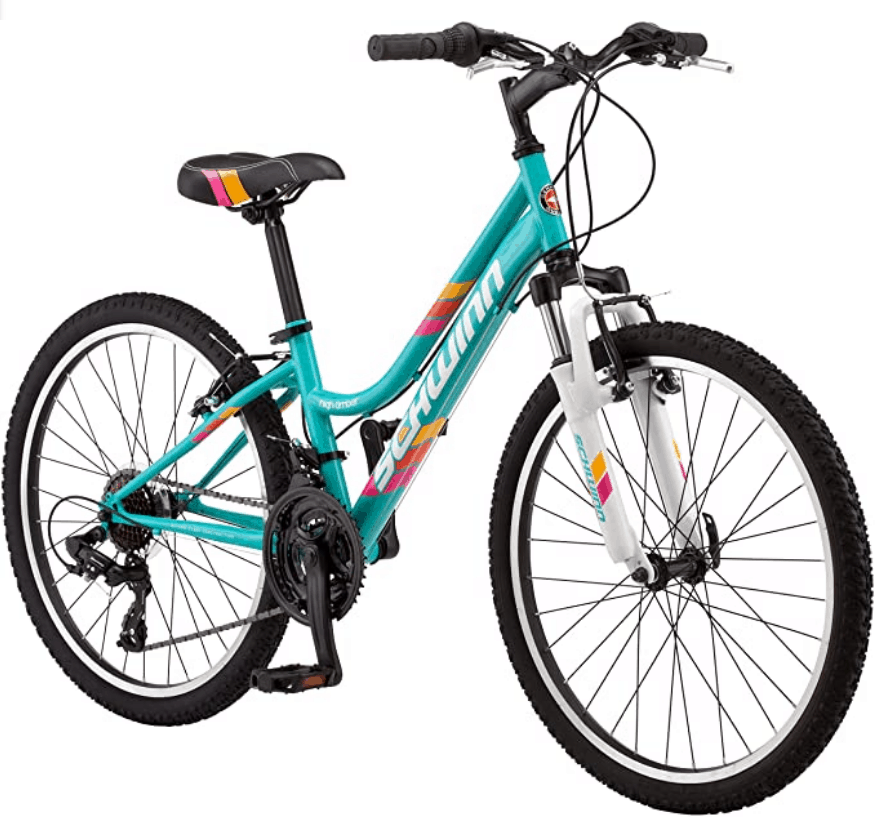 The Schwinn Mountain Bike is a great option for all but the smallest teens, coming in 24", 26", 27.5", and 29" in size in order to fit even the tallest teens whether boy or girl. It is a hardtail bike, meaning that there are suspensions for the front but not the back tire, but most teens do not need suspensions in the back anyway.
This mountain bike has seven speeds which is a great amount for a beginner to start learning with. The few amount of speeds also means fewer parts which makes for little care. The brakes are also really reliable with both a front and rear brake system to make sure that your teen can stop when they need to.
One of the best things about this option is that you can get this bike with either a steel or an aluminum frame. You can also pick the color that your teen wants thanks to the seven different color options that are available. These colors are: black, silver, red, coral, orange, yellow, and blue.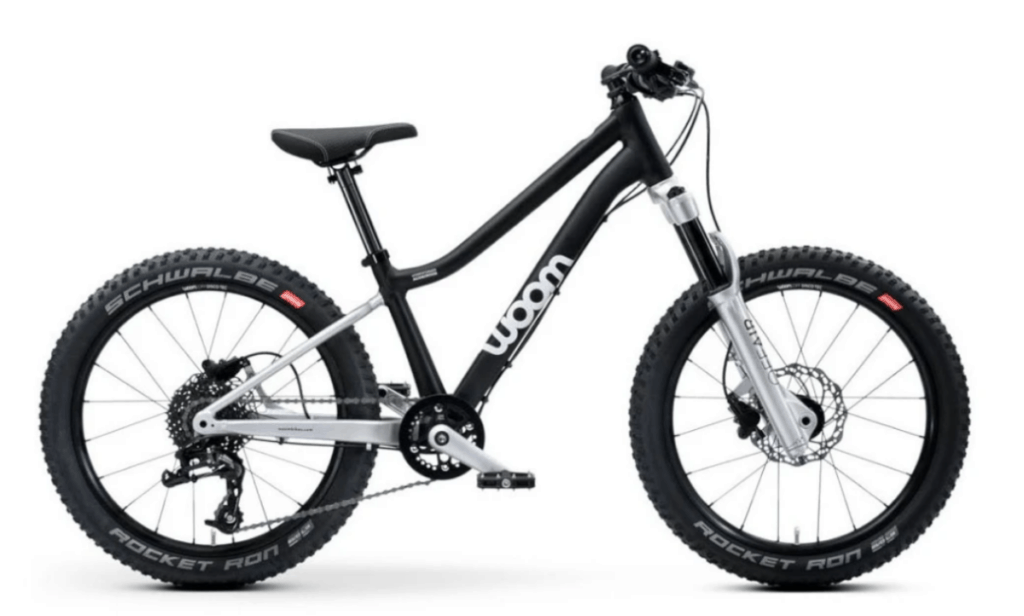 This mountain bike comes in 20", 24", and 26" sizes, so you can easily get the one that best fits your kid even if they are a little taller than most. While the Air WOOM OFF Mountain Bike does have a suspension in the front, there is another option that allows you to get a rigid mountain bike that has no suspensions on it.
Getting a bike without suspensions is a little cheaper if it does make for a bumpier ride. Both options are made to be as lightweight as possible so that your kid doesn't have to manage a bike that weighs half as much as they do. This is in part thanks to the lightweight aluminum frame and the carbon forks.
This bike has nine speeds and hydraulic disc brakes, making it perfect for beginners. In fact, WOOM is a brand that primarily focuses on designs and sizes that are best suited for kids who are getting into mountain biking.
With that in mind, the bikes are made to handle the beating that new riders often put a new bike through while they are still learning how to ride their bike. The tires are wide to help give your kid plenty of traction even on the sharp curves making this an all in all great option even if it doesn't come in different colors to choose from.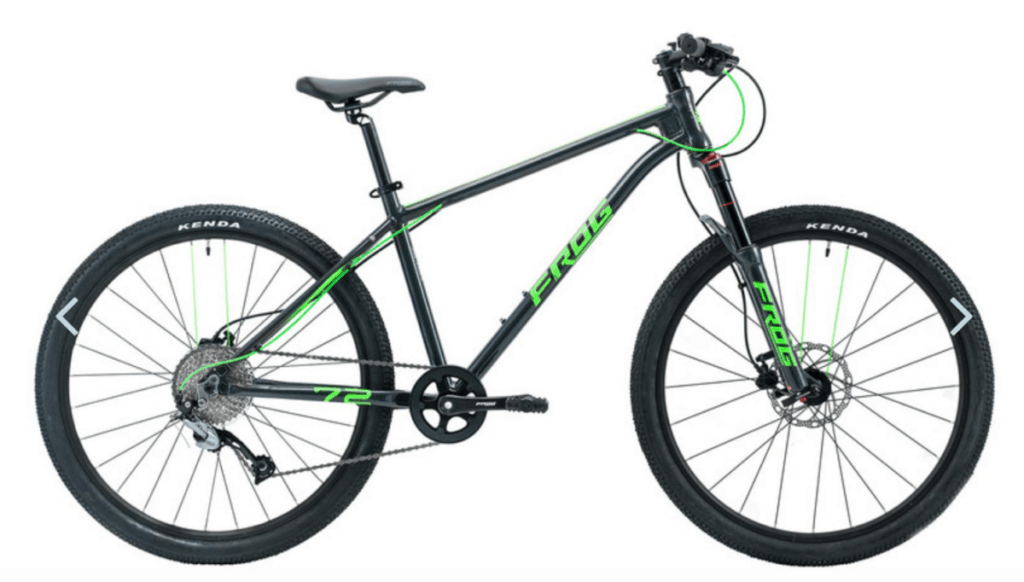 This 26" mountain bike is a great option for most teens no matter what the terrain is that you plan on riding on with them. The air suspension fork in the front is a really nice feature and it is made specifically with a teen's weight in mind so that it will work even with a lightweight teen.
The hydraulic brakes are made to be easy to reach for those with slightly smaller hands. It also has nine different gear settings for your teen, which is quite enough for most teens but not too many. The frame is lightweight, coming in at just over 11 pounds fully assembled.
This bike also comes in black and green or black and red. Finally, the frame comes with a 5-year warranty, so no matter what your teen is doing on their bike you only have to worry about them getting hurt and not the bike getting damaged.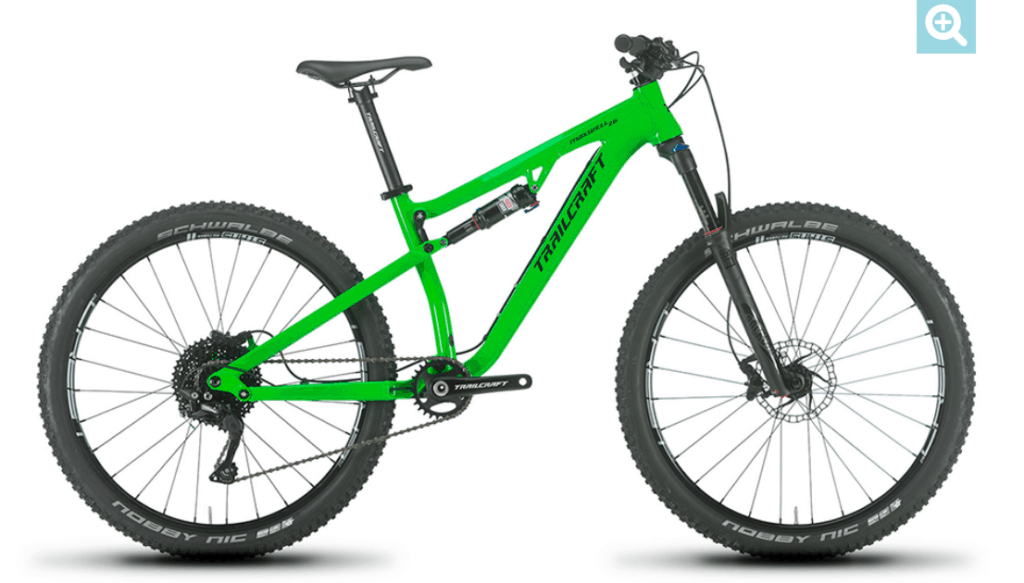 This is another 26" mountain bike, but it is also the only one with full suspensions on both the front and back. It comes in green, blue, red, and orange and it has a lot of potential upgrades that you can choose to get it with.
Two of these optional upgrades are that you can get it with is a dropper seatpost for one and you can choose to get a tubeless wheel setup for the other. You can even choose the chainring size that you want and the exact frame, making this a truly customizable option for your teen if they love mountain biking.
Each of these options is going to have 10 speeds and all are made for the teens that might want to ride those tough, technical trails at high rates of speed. Because of the double suspensions, it does weigh more than many other bikes this size.
Finally, if your teen is more interested in building their own bike, you can choose to get just the frame at a reasonable price. Trailcraft's aluminum frames come with a three-year warranty and one-year warranty overall while the titanium frames come with a five-year warranty on the frame.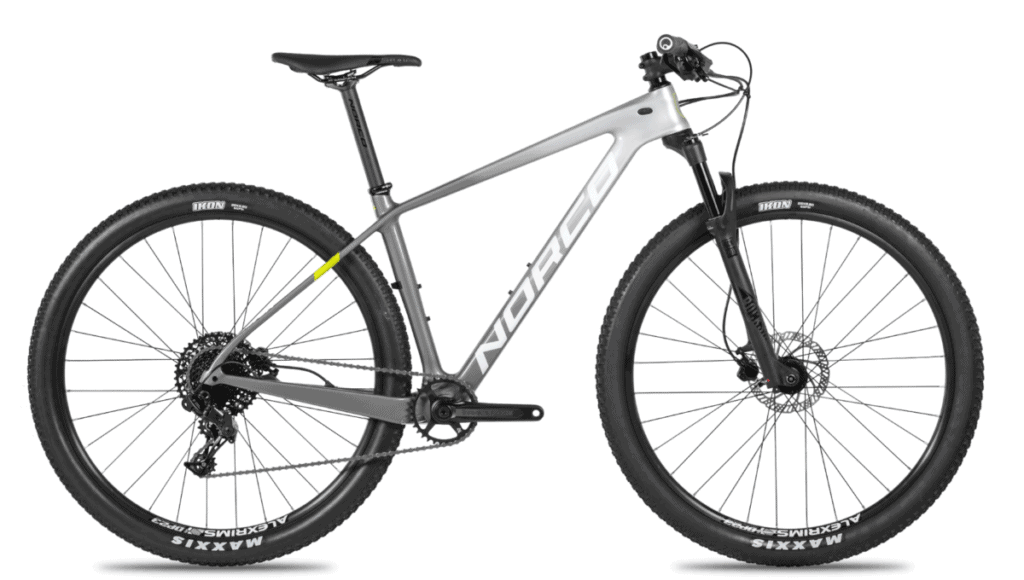 This 27.5" mountain bike has a hardtail frame and it is made for cross country. In particular, it is made to be lightweight with XC racing in mind. This being the case, if your teen is interested in cross country racing themselves then this would be a great option to help them exceed at that.
It comes in silver and grey, red and white, or green and yellow and it also comes in a 29" size if your teen happens to be really tall – or if you want a bike big enough for you to ride yourself on occasion.
The geometry of the bike is great for racing, especially over hilly terrain, allowing your teen to get uphill as easily and quickly as possible. The lightweight carbon frame does mean that this bike is lightweight. However, it also adds a bit to the price tag so if you are on a budget you may need to look elsewhere.