You may think that because you are already getting on in years that you are too old to start mountain biking, but this is really not the case at all. Mountain biking is a great way to exercise if you are getting older and it is actually much easier on your joints than running or walking.
How To Choose A Mountain Bike If You Are A Senior
There are essentially two different kinds of old people: ones who feel every year of their age and ones that don't feel old at all. In the latter case, you can often get a regular mountain bike and then make some simple adjustments to it.
So here is a quick price chart of our top 5 mountain bikes for a senior. We dive deeper into each of these bikes below:
| | |
| --- | --- |
| 1. Kemanner 26 inch Electric Mountain Bike | $1,000 |
| 2. NCM Moscow Plus Electric Mountain Bike | $1,600 |
| 3. Aceshin 26" Electric Mountain Bike | $1,300 |
| 4. ANCHEER Adult Electric Mountain Bike | $1,200 |
| 5. MZZK 500W Electric Mountain Snow Bike | $1,500 |
Some of these adjustments include getting a more comfortable seat that is wider and has extra padding, making sure that your handlebars are high enough, and getting wider tires that will absorb the impact of bumps better. Then there are even such things as recumbent bikes that change your whole posture.
However, if you are feeling your age and you get out of breath easily even on the short trails, then you would likely be best suited by getting an electric mountain bike. While you may not be aware of them, there are true mountain bikes that have electric abilities.
For the most part, these mountain bikes allow you to pedal just like with a normal mountain bike and have a motor that can take over if you need it to so that you keep going. While these bikes do weigh a bit more, their frames are really sturdy and this makes them quite durable. All in all, if you are a senior and you are starting to feel your age, you should definitely take a look at the bikes on this list.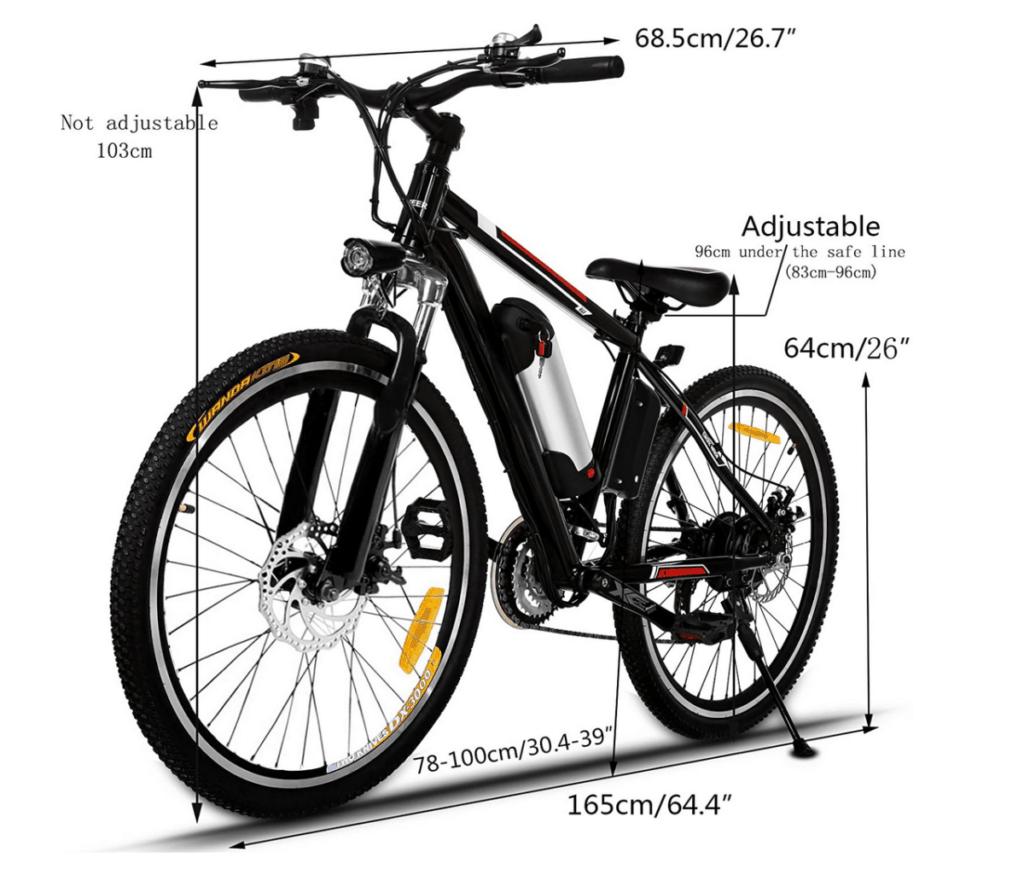 This mountain bike is perfect if you are feeling your age and yet you still want to be able to pedal yourself. It has 21 speeds and 3 different modes. You can use it as an e-bike, use the pedal assist mode to help you get more out of your bike when you pedal, or you can pedal the same as you would for any other mountain bike.
The lithium battery takes 4 to 6 hours to charge and lasts for around 20 to 40 miles of trails which is usually plenty of help. This battery is easy to be removed and charged and it does not add a whole lot to the weight.
This mountain bike has a 26" wheel size and the bike is made to hold up to around 300 pounds of weight. Even if you are not in good shape this is more than enough to hold your weight. The front suspension fork is also great for your comfort.
There is also an LED headlight so that you can do your mountain biking safely even at night. The brakes are on the discs on both the front and the rear so that you can stop in all weathers. Finally, there is even a safety horn so that you can alert others to your presence.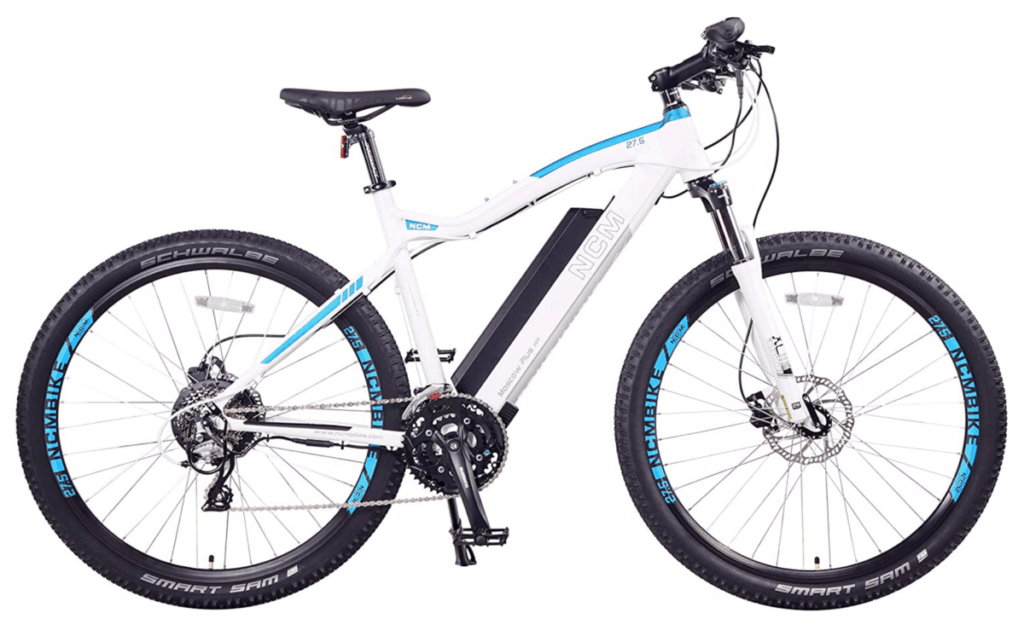 This electric mountain bike is compatible with both 27.5" or 29" wheels which is great if you happen to be on the tall side or even if you simply like the bigger tires. Since most e-bikes are 26" this is both unique and useful.
The battery is easy to charge and it can last between 30 to 60 miles depending on how much of it you are using and how much you are pedaling. There is even a screen that is securely attached to the handlebars and which tells you the exact battery life you have left.
This screen also tells you the level of assistance the battery is giving you and the speed you are going. The battery is made so that it can be charged while still on the bike or you can remove the battery and use the charger that it comes with.
There is even a USB port on the battery which you can use to charge things such as your cell phone while you are out on the trail. While this does mean that the battery won't last as long, this can be very useful in an emergency.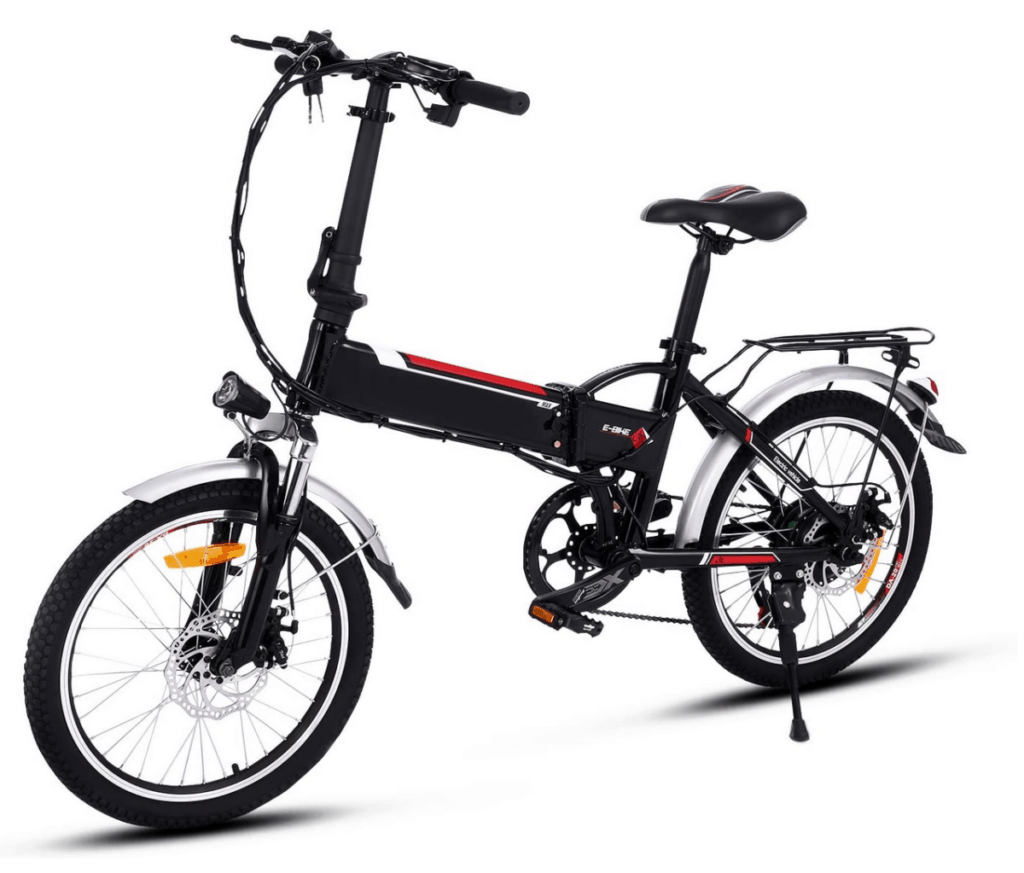 As the name suggests, this electric mountain bike is a size 26" and it has an aluminum alloy frame that is a hardtail design. The battery does not last as long as some others, only lasting between 15 to 30 miles, but it is also a little lighter than some of the other batteries out there.
It takes the usual 4 to 6 hours to charge and you can use the three different modes which give you little, moderate, or a large amount of help with your pedaling. This bike also comes with a throttle that allows you to have a burst of speed which can be nice as you start up a steep hill for instance.
The front suspension fork is made to be comfortable as possible and the 21 different speeds let you get in the right gear to get the most out of your pedaling. This e-bike has an LED headlight so that you can ride at night and a horn as well.
Finally, the display is easy to see and understand, with lights that indicate exactly how much battery is left and which of the assist modes that you are currently using.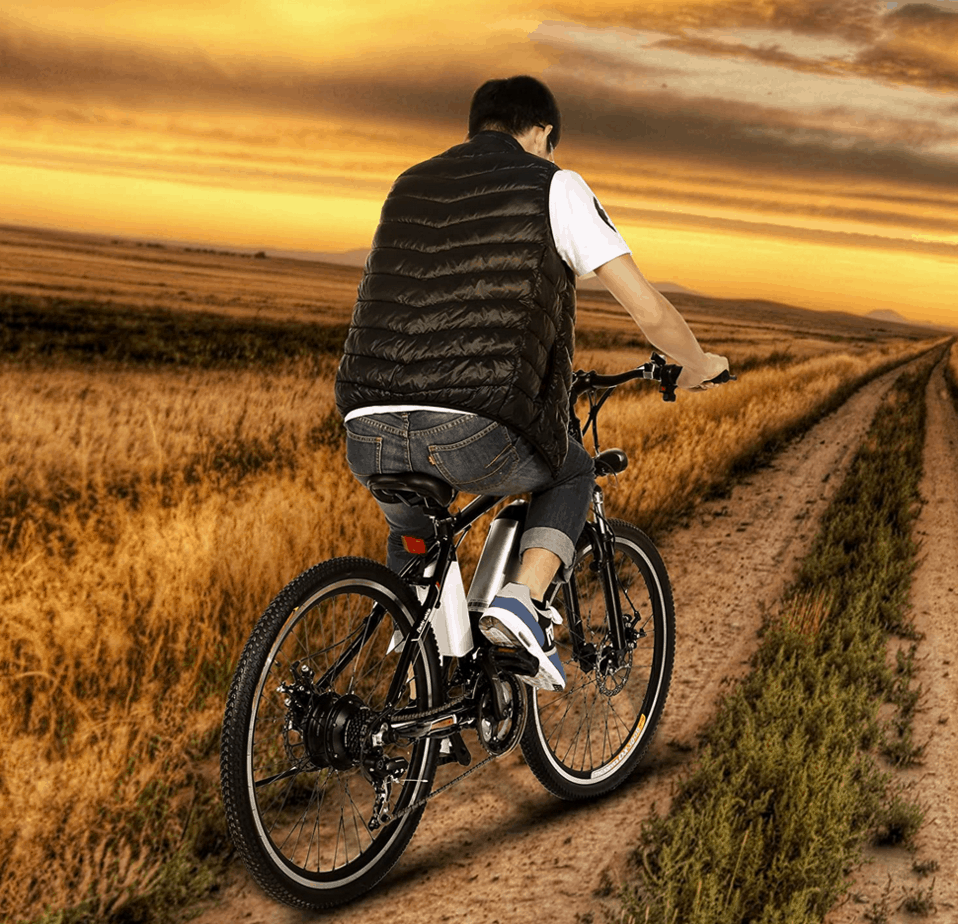 Like most electric bikes, this option has a frame that is made out of an aluminum alloy. This makes it very sturdy and gives it the ability to handle the roughest of trails without being too heavy. It is equipped with 21 speeds with the LED headlight and a loud horn also just like most e-bikes have.
The three different modes are: e-bike, assisted bike, and you can pedal on it just like you would a normal mountain bike. The battery is easy to charge and can be removed from the bike if you find that easier. It can last anywhere between 15 to 30 miles depending on how much you are using it and the terrain.
The display is easy to read, telling both the battery left and which mode you are using. In addition, the throttle is a pretty nice feature to have. The tires on this mountain bike are great for the trails too and are the 26" size.
Finally, a great thing about this mountain bike is the fact that there is a 1-year service offered for the electric motor, the battery, and the charger if anything goes wrong with them. However, you should also note that if you do not request it to come assembled then you will have to assemble it yourself.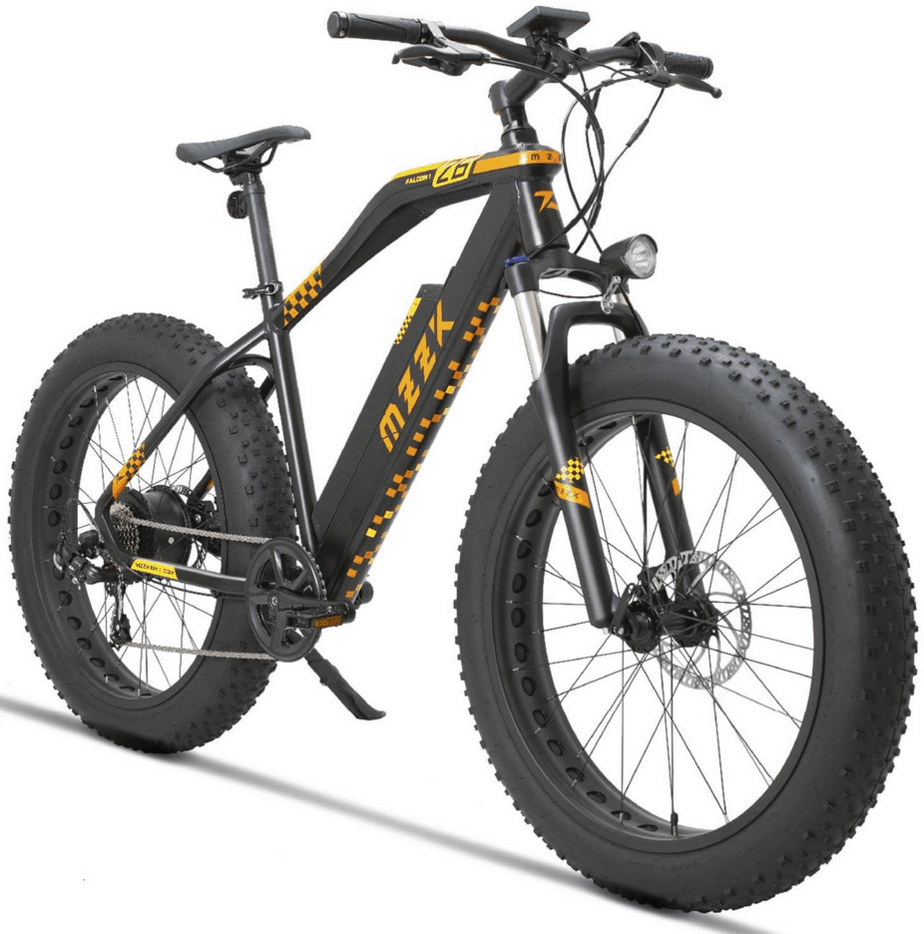 This electric mountain bike is a little more expensive than some of the other options on this list, but it is well worth taking a look at. The reason why the bike is called a mountain snow bike is because of the extra fat tires that it comes with.
These 26"x4" tires are not only great for riding in the snow, however, but they are also great for your comfort as well to help you avoid getting jostled as much even on the bumpiest of trails. This also gives your tires a better grip when you are riding on loose dirt like sand or small rocks, helping you to ride with more confidence.
This e-bike also has 6 different pedal assist modes, which is double what the average e-bike has, in addition to riding it like a normal mountain bike. The digital panel makes it easy to see
The battery can be fully charged in 4 to 6 hours and can get you up to 25mph as well as being waterproof for those rainy days and wet trails. Meanwhile, the aluminum alloy frame can hold over 250 pounds of weight and it comes 75% assembled so you can get on the trail in no time.