South Carolina is a great place to go mountain biking at, especially as road biking is not something that is very welcomed in many parts of this state. These great trails will get you outside and enjoying the wide open spaces that you can find in this state.
1. Brown Wave – 4.8 miles – Easy/Intermediate
 This trail is found in the Long Cane Ranger District of the Sumter National Forest and is a great start if you are here for the trails. It is more specifically in the Forks Area Trail System, which is often shortened to FATS. This trail is thought by some to have gotten the name of brown wave because of the fact that in some ways this trail can feel like surfing.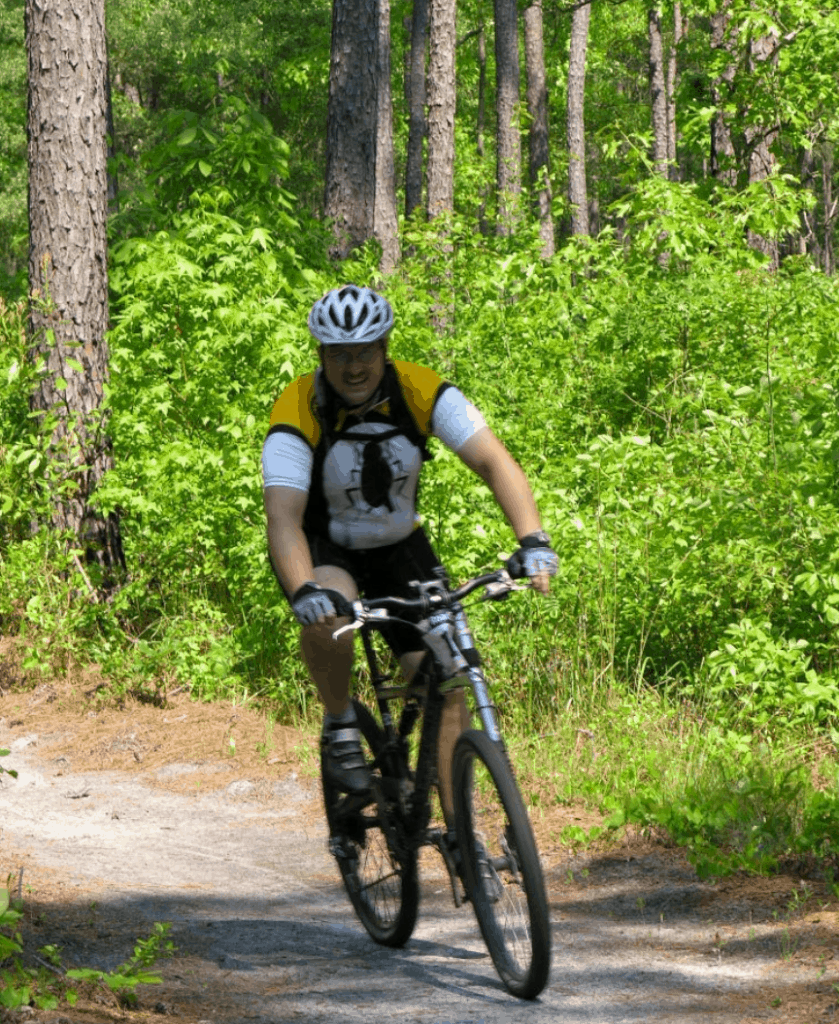 Brain W says about these trails: "Second easiest loop at FATS. Fast flowing, smooth singletrack filled with dips, whoopie-dos and tons of fun. All the thrills of a rollercoaster with out the lines. A few rock gardens just to keep you honest with the bike skills. Watch out for "brown wave proper" a series of quick, fast, dips that have drawn blood form in experienced and expert riders alike. I recommend trying BW counter clockwise the first time out (hit the dips with speed) but the trail is awesome to ride both directions."
This is also a great area to go night riding at if you are interested in doing so. Just be sure that you bring plenty of light on your bike so that you can see the caution signs that warn you ahead of the potentially dangerous areas. This is important because some of the sharp turns of the trail have trees right by them that you should watch out for.
2. Knot Bighill – 1.3 miles – Intermediate
This trail is part of the Knot trails located in Poinsett State Park. Like with most state parks there is camping places available, but unlike other state parks you do not have to pay a fee in order to use these trails. Part of the reason why is because the parking place for the trail is closer to the edge of the park and not right in the camping area.
Though the knot trails are all in one general area, they are still well connected to some of the other trails that you can find here. One mountain biker with the username of C-Lo says: "This is probably one of the best trails I have ridden in SC. Well maintained. The park rangers gave me all the information I needed. It is free. The trail connects to a lot of other nice trails in the area. It was well worth the 50 min ride to get there."
Meanwhile jaybird57 says: "One of the newest trails in the Palmetto State, the Knot is certainly a pleasure to ride! This trail has good flow with a few nice climbs, but nothing too insane. Great singletrack with some nice tight & twisty spots. There are a few neat overlooks where you have nice views of Poinsett Lake & the surrounding forest. There's also a creepy, but neat, old shelter at one point on the trail which the locals refer to as Jacob's skinning shed. Kind of reminds you of something out of the Texas Chainsaw Massacre, haha! But really it's about the ride & the Knot does not disappoint! When combined with nearby trails Campbell's Pond, the K3, Hardcore & sections of the Palmetto Trail, one could easily spend a day reveling in the fun & beauty of this area of the state!"
3. Paris Mountain Loop – 11.5 miles – Intermediate/Difficult
This trail, as you might have guessed from its name is right by Paris Mountain in Paris Mountain State Park. This is part of a network of trials and hits the best portions of the trails that you will find here. Brad B. who rode these trails gives some really good information about them when he says: "Fantastic trail system very close to Greenville. Park is closed to bikes on Saturdays and there's a $5 per adult fee but the trails are really fun and technical.
"There's a lot of other trail users (hikers, runners, etc) which can make it challenging. A lot of roots, roots all over the place, big rocks too. There's a significant amount of elevation change too, seems like you're usually either climbing or descending so it can give you an enduro style experience, as long as you don't run into traffic, you can hit some long descents, like from the top of firetower down to kanuga to the road at the other side of the park."
Meanwhile another mountain biker whose username is onondagarunner says: "I love this trail so much that I got married here!!! Sure, it doesn't have as many miles to ride as regional trail networks like Dupont or Pisgah, but don't take little Paris Mtn for granted. It offers a lake, rocky technical upper Brissy, and I learned the definition of "puckerfactor" on Big Kanuga (L from Firetower). Paris Mtn offers the opportunity to nightride on Tues., shelters to hide out from a lightning storm, rangers nearby should you need them, a solitary black bear, and the rare Hincapie siting. Go check it out!"
4. The Hulk – 6.4 miles – Intermediate
This trail is also sometimes referred to as the Horry County Bike Run and it is a great and fairly quick trail that you can ride. Even though it is not a part of any system or network of trails, it is still something that you should spend a few hours at if you are passing through.
One mountain biker with the username of oxyfiretech has this to say about this trail: "This place has grown a lot in the last year. now there are more than just smooth XC trail with some drops and small jumps mixed in. They made some seriously sticky berms a nice drop off, table top jumps, and plenty of shoots, climbs, and a Pump track. This place can be ridden by the newest riders to the most advanced XC riders. Trail riders will like it for its fun flowy aspects. This is my local trail and its definitely in the top 5 in the state in my books."
Meanwhile BMAC37 says: "Great trail system. Nicely laid out. I was visiting from VA. and seen the reviews were good so checked it out and had a blast. The pump track is almost worth it on its own. Props to the design and maintenance crews. Watch those red ants when changing a flat….they're relentless."
There is quite a bit of sand here, since this is on a beach after all. There is also not really anything that could be termed an actual canopy, so it is best ridden in the morning during the hotter months. Still, tis is certainly a great place to go to.
5. Tour Of Issaqueena – 10.3 miles – Intermediate
Located in Clemson Experimental Forest, this trail is a part of a huge network of trails that you can only catch a small part of when you do this loop. This trail system is perfectly able to be ridden by night riders, but one thing that you will want to think about in this area is hunting season, so where bright colors if it is that time of year.
One mountain biker with the username of Tseug says: "I have ridden almost every trail here for the past 2 years, all 4 seasons. My overview is "narrow trails, technical, lots of steep climbs." There are a lot of rocks & roots in trails. Almost every ride starts with a decent, and ends with a climb. The lake trail is pretty, but keep your eyes on the trail not the lake or you may end up in the water, as there are many steep drops from trail to lake!
"In summer, the density of trees & brush create tunnels, and obstruct your view. There are many different trails and most are connected by fire roads. You can ride a long time if you know your way around. Or, you can get lost… Expect creek crossings. Expect hikers and occasional horseback riders. There is even a BMX area with man-made wooden jumps and a high-bank wall. Don't go out within 24 hours of a rainfall or else you will encounter a good bit of muck & mud, not to mention the trail erosion you will create!"
6. Jorge F. Arango Trail – 5 miles – Easy/Intermediate
This is a great trail to ride at Pleasant Ridge County Park and takes up most of the trails that you will find in this network. One mountain biker named Porter W. gives some great details about this trail when he says: "Easy – Moderate. I rode this for the first time early on a Sunday morning. Gates were open at 7:45, and there was not a soul around. The trail head info board says to ride clockwise in even months and counter in odd months.
"Clockwise, it was a moderate climb to begin but not too bad. It goes up the ridge into hardwoods for about 2.5 miles before heading back down. It's probably a steeper climbing riding the loop counter-clockwise…Hat's off to the trail builders. You can always tell when a trail is built by people who know what they are doing. It's all flowing lines and rolling bumps. Berms are in corners and roots have been avoided when possible. Pure Bliss! My only gripe…it's too short!"
Meanwhile, another mountain biker with the username of Mourning Sage says: "Was a fun ride. I was going counter-clockwise and you definitely have a decent climb for about the first 2 miles. There are a few short sections of downhill to give you breaks but it is mostly uphill. I do like that you have the option of doing the whole trail, which I would rate as intermediate, or taking sassy's pass which keeps it as a beginner level all the way. I was the only one riding and during the summer it is constantly shaded by trees. Definitely check this trail out."
7. Long Cane Figure 8 Horse Trail – 31.7 miles – Easy/Intermediate
The Long Cane Horse trails that are a part of the same system as this trail are a great option for a weekend trip. Even though there are several creek crossings these trails still manage to drain quickly, meaning that after a rainstorm you will not have to wait as long as other trails to ride these.
When it comes to the horses, PSUtuna says: "These are my local trails. Right now the trail is in fantastic condition despite the wet summer we've had. These trails don't offer anything real technical, but does have more climbing than most trails in this area. Trails have great flow. I park at the North end (behind the Baptist Church on 505/506) there is no fee here. If you park at the Fell Hunt Camp at the South end there is a $3.00 day use fee.
"Regardless, the better parts of the trail are the North end, more horse use out of the Fell Hunt Camp. Just be aware that if you jump on a road thinking you can ride out that way more quickly you may be in for a surprise. A lot of the forest roads lead to dead ends, or no where near the parking area. Wear orange during hunting season, and leave the dog at home. This is a popular area during the hunting season. I even hunt in this area. Bring bug spray in the summer months and plenty of water. Overall, a great trail system."
8. Lost Creek – 4.5 miles – Intermediate
This is a great trail that is located in Harbison State Forest. There are over 20 miles worth of trails in this system, so plan on staying here a while so that you can try them all out. That is what one mountain biker named Leroy S. did, and this is some of what he says about it: "I ended up in Harbison because I was at USC teaching a summer class. The local bike shop pointed me there. When arriving the parking lot was full so I expected the trails to be packed. They were not. I rode every trail in their system and had a blast.
"The trails are very well maintained and marked well. I rode all of the loops, some of them twice, over the course of the weekend. I am not sure how SC rates their trails but ALL, with the exception of Spiderwoman, were very easy, flowing and fun. Spiderwoman has two or so small rocky technical sections but other than that, was fun as well. I gave this system a 5 star."
Meanwhile Russell T. says: "Harbison is a great place to ride. It is truely a intermediate trail. It has a little bit of everything…single tracks, skinny's, drops, switchbacks, even a bike wash station." There are also restrooms and water here for you.
9. Swamp Rabbit – 16.1 miles – Easy
This is a great point to point trail, with both points having something of interest for you to do. While one side is near a small network of other trails, the other end is near Gateway Mountain Bike Park. This setup is awesome since this way you can work on your skills in this bike park and then go out and try to find a spot to try them out on the trail.
One mountain biker with the username of turtlepower864 says this about this area: "Great park for all levels, from beginner to advanced. Varying practice jump heights to work your way up, cool two sided pump track, and pretty gnarly but kinda short jump track with some nice banks, table tops, and rolls. In the woods below the jump track is a slew of different trails with various terrains, including some cool rocky concrete chunk sections, some cool log balance runs, and a cool little deck ride weave section.
"Most of the trails interweave and all sorts of runs can be created by the riders. Also two cool lil deck board hilltop drop in features to shoot you down to base level in the woods and it's up to you decide which route to take. Definitely enough things keep one occupied several hours if not more."
10. Palmetto Trail Swamp Fox – 47.2 miles – Intermediate
This is a nice, long point to point trail if you are looking for a long trail to spend a whole weekend bikepacking down different mountain biking trails. Though this trail alone might not take you a whole weekend, it does connect to other trails.
J. Matt is one mountain biker who made a trip out of it, and this is what he says about it: "This is a deceptively challenging and rewarding route. There's no coasting. I did a 3 day consisting of this: Day 1: Start at Buck Hall Rec Area, did Awendaw Passage (beautiful) and Swamp Fox to Nicholsen Creek Campsite. Approx 33 miles. Day 2: Out and back to the end of the SFP at Lake Moultrie. Approx. 44 miles. Day 3: Combined gravel and trail to return to Buck Hall. Water is a challenge. On the Palmetto Trail Conservancy maps, water is listed as available several places but I couldn't find spigots. There is a store a couple of miles from the end of the trail and aIso a couple of permission/forgiveness spigots along the way."