While Pennsylvania may not be the most mountainous state in the USA, it still has some incredible scenery in PA that will make you want to bring your camera along with you when you go mountain biking there. With plenty of trails that you can choose from, it only makes sense that you should try a few of them if you happen to be passing through this state.
1. Quebec Run Odyssey – 27.4 miles – Difficult
This amazing singletrack loop trail is located in Forbes State Forest in Pennsylvania. Some of the trail is maintenance roads as well in addition to a few other trails, all of which range from intermediate to difficult and make these trails not for the faint of heart. If you are looking for long and challenging rides then this is defiantly the place to be.
There are places to park at either end of the trails and the trail can be ridden as a complete loop from either of these spots and in either direction. There are rough climbs in the somewhat mountainous terrain, rock gardens, streams to cross and to go alongside at times, and beautiful overlooks that signal breathtaking descents.
A couple of things to keep in mind about these trails are that they are very remote and, while this means that you can have the trails pretty much to yourself, it also means no bathrooms and no water, though there is a picnic area that you can use. There is also a hotel and a restraint really close to part of the trail which can be handy if you plan on doing some riding one day, staying the night, and riding some more the next day before leaving.
Also, these trails are in a hunting zone, so you may want to keep track of the season or plan to ride only on Sundays since this area has a longstanding law against hunting on Sundays. Gabriel F. says about this trail system: "June 1st, warm and humid. Came in on some back roads from Rt 381. Began at Wirsing Rd parking lot. Took the connector trail from the lot to get to Tebolt Trail. This little connector has rough (hike-a-bike) sections once you get in to the woods. I biked clockwise on Tebolt to Hess to the pk lot at the north end of Quebec Rd.
"The first half of this pedal had a lot of variation in terrain. Smooth singletrack, rock gardens, roots, stream beds, stream crossings, ups, downs. In other words, good stuff. I had to stop and look around at one point on Hess. It was a carpet of fern covering everything between the trees as far as I could see. Very green and vibrant. From the northern pk lot, I came down Miller Trail, which has some speedy descents and a few steep portions. Hooked a right on Rankin across to Quebec Rd and back to my vehicle."
2. Mick Jaggers – 0.5 miles – Easy/Intermediate
While at first glance this might not seem like much, this trail that is located in Alameda Park in Butler, Pennsylvania is a great place to check out if you are in the area. This particular trail has one bridge, a number of great banked turns and even some pump-track-style bump sections to keep things interesting even though the trail itself may not be that long.
Scott N. sums all this up quite nicely when he says: "Great job. Thanks to the efforts of the volunteers on the Alameda Park trail. This is a well hidden gem and well worth the effort of checking it out. Professional job, banked curves, well thought out trail, skid free bridges. Challenging enough for all levels with plenty for the beginner and intermediate."
There are two different parking areas compete with restrooms but no water, however these trails are located so close to city that there are plenty of places you can stop at to eat and get some water from or you can even go shopping in Butler city after your ride.
In addition, the system of trails which connects to the Mick Jaggers Trail has layers of loops to ride that range from easy to intermediate. The way these loops are arranged forces you to ride parts of the easier inner loops in order to get to the outer loops that tend to be more challenging. This also means that you can make you own route with ease and see how many miles of trails that you can cover without riding the same section twice.
A biker with the username of bagtrg3 says about these trails: "Thanks to the work of a great core team and a wide network of volunteers, the Alameda trail system continues to grow. Recently added are two incredible downhill trails in the west section as well as two skinnies and excellent connectors along the ridge. Fun for all skill levels, you can take this slow and easy, or fast and airborne."
3. Best Of Laurel Trail – 20.4 miles – Difficult
This trail is partially in Laurel Ridge State Park and in Forbes State Forest and it is one of the most challenging trails in the area. In fact, along with this trail there are other trails connected to it that range from being intermediate to difficult – nothing for the faint of heart. Part of this is due to the rocky terrain which includes rock gardens, log piles, rock walls, roots, rock crevices, bridges, and more rocks.
Charles L. sums up this trail nicely when he says: "This is my home trail system. I've been riding this for years and hopefully one of these days I will actually find the trails hidden beneath all these rocks. Seriously, this is a very technical trail system. Rocks and boulders abound. There are a lot of technical features just off the main trails if you know where to look. Some of the trails like Outcrop, Hemlock, and Rocky Gap are extremely rocky and nearly impossible to clean even for those who have ridden them for years. Fun and challenging with few climbs, definitely not beginner material. Spruce Run provides a nice, if somewhat rocky downhill and Black Bear provides a rocky but doable challenge."
However, right on the other side of a county road nearby there is miles and miles of trails that range from easy to intermediate. So, even if you are not quite up to the challenge of these difficult trails, there is still plenty for you to enjoy in this area.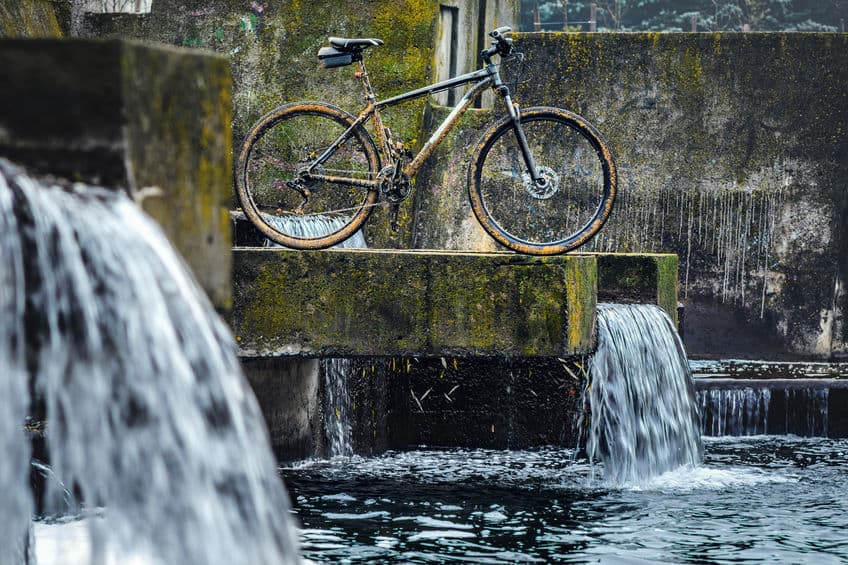 You should know that these trails are closed to biking when there is deep snow on them, since it is used for cross country skiing instead. During the warmer weather, on the other hand, you should be aware that rattlesnakes happen to love the rocky terrain here, so you should keep your eyes peeled for them. This is especially true when you stop to take a break since the snakes enjoy sunning themselves on the many rocks.
As for other matters, there is even a warming hut here since it does tend to get cold. There are also restrooms available as well as picnic tables should you care to make a day of it. Finally, you should also know that, while a fair portion of the trail is singletrack, there are some pieces that go on actual pavement roads. When you get to these portions you will have to watch out for vehicles.
4. Coopers Gap Road Trail – 8 miles – Easy
This is a very nice trail that is easy to get to and that has some great scenery. It is located in Rothrock State Forest and is right beside Thickhead Mountain. Best of all the start of the trail is only a few miles away from the Mifflin County Airport, making it very convenient if you happen to have a few hours of time to spend here due to a stop over.
There is, in fact, quite literally hundreds of miles worth of trails that you can explore around this mountain. Some of these trails are easy like this one, but others like the Coopers Gap Epic are nearly 30 miles of difficult trails that range all over the mountainside.
Almost all of the trail is made up of singletrack and there are no restrooms or water available, so make sure that you pack everything that you will need. There are so many trails that you will want to stay all day and then come back the next and a lot of people love these trails.
Chuck H. says this about this trail: "Rode they Coopers Gap Highlights system with my son. We made a diversion for some great trail riding on our trip from Wisconsin to New York. These trails did not disappoint! Great trail system! TONS of rocks, and lots of roots to boot! A real challenge. But fun as heck. We both loved it. Super rocky. Super rooty where it is not rocky. Some fun flow bits. Great views. A real fun trail. Huge kudos to the folks who make this trail happen. A great trail looks like it is natural and just flows, even when it is difficult. It takes a lot of work to get this kind of quality. Thanks for all your work!"
Meanwhile Brent R. remarks: "Cooper's gap has it all. Heart pounding climbs, rock gardens, hair raising descents, beautiful views and more. Check it out–Pennsylvania Mountain biking at its best!"
5. Settlers Cabin Trail – 6.2. miles – Easy/Intermediate
Located in Settlers Cabin Park, this trail is great for beginners to get their feet wet by starting to do the more difficult things. It only has one fairly easy climb and a handful of technical features for you to try. However, the trails in this area are almost constantly being expanded, with new trails being planned to make things a little bit more challenging for those who don't like to take things easy.
The trails in this part are very clearly marked with signs and with blazes on the trees. Each of the loops that you will find here can be either ridden individually or combined into one large loop of the whole park. While most of the trail is singletrack, there are also some jeep lines that have hard packed dirt.
There is a convenient place to park, and there is even a tennis court near one part of the trail. Both restrooms and water are available for you to use, and winter fat biking is something that is encouraged here.
When it comes to terrain you should be aware that most of the year there is a mud bog in one area unless the weather has been really dry, so be prepared to get a bit muddy. There are also some lovely streams that you can sometimes cross and a mini waterfall or two that you can see from the trail. Other than that you will be passing through relatively new forest growth and some meadows as well.
All in all, there is plenty of space for these trails to keep expanding, since this park is comprised of over 1,500 acres of land. This area used to be a coal mine before it was bought by the county which began to re-forest the area and it is intended to eventually be one of the largest parks of the region for people to come see. The location is certainly a plus, since it is right between the Greater Pittsburg International Airport and Pittsburg itself.
6. French Creek Loop – 11.3 miles – Intermediate/Difficult
This lovely trail is located in French Loop State Park and is a trail that you definitely should ride if you have the time and you are in the area. There are a whopping total of seven different places that you can park at spread out all over the park, and this helps no one place be too crowded with other bikers or hikers.
This State Park does have camping, complete with restrooms and water of course, making it easy and convenient for you to stay for a few days to check out all of the trails in the area. There is also boating and other things that are in the area just in case you do not want to spend all of your time biking – or, more likely, in case you want to spend all of your time biking but other family members want a little bit more variety.
The trails are very nicely marked with some technical rocky sections and it runs around the camping grounds, the nearby lake, and the Hopewell Fire Tower in one spot as well. You can either go to the park offices for a map of the trails, or you can print one out yourself to plan your route out ahead of time.
There are also some wooden bridges and maintenance roads in the trails with a few technical steep areas. You should note that some of the park trails are for hikers only and should respect that rule.
One biker with the username of Caskass97 says about this place: "Great place to start riding, as long as you're in shape! The many lakes and creeks in the park make it an enjoyable ride. Check to make sure the bike you will be riding is capable of doing lots of rocks. Although there are several steep parts, the majority of the inclines are moderate but rocky. The landscape is almost all deciduous trees which makes it easy to spot fellow bikers on the other trails while riding in winter. Some of the trails are hard to follow but most are well marked. Swatara State Park has more log hops and switchbacks, sharp turns and drops, but not nearly the level of rocky fun you'll encounter at French Creek. Very fun place to ride."
7. Jake's Rocks True Green Loop – 4.2 miles – Easy
This lovely single track which along with the other nearby trails are called the Trails at Jake's Rocks are a great place to go mountain biking at. While it is easy enough for beginner mountain bikers to do, the fact that you can go night riding and winter fat biking here still make this a great place even if you are more experienced of a mountain biker.
There is only a mild amount of climbing here with most of the obstacles having ride arounds. There are also places where you can cut through the loop if you do not have the time or the energy to ride the whole thing – or remember that you forgot to lock your car or something and need to get back.
While you can ride this loop in either direction, riding it counterclockwise will have you going downhill through the rocky area on the trail. Another thing that you should keep in mind is that this is a hunting area, so you probably want to be aware of this and wear bright clothing and make noise as you ride if nothing else.
The terrain is lovely, with some great overlooks, a water reservoir, some fern meadows, some slick rock, some rock gardens, and a really old shack of a building that used to be a fire tower. This area has some really neat historical markers that are a great place to stop and catch your breath as you take a closer look at them and there is even a nice picnic area next to the parking lot for you to use.
Michael S. sums this place up by saying: "This network keeps getting better. Classic IMBA style stacked loop system with super well built, hard packed shale trails. Amazing rock mosaic sections and wood-work at all water crossings. Plenty of climbing with enough grade reversals to make it pretty easy. Fun new gravity trail called "Ursula", great views over the Allegheny reservoir and massive blocks of moss covered rock to ride past and between. Riding the whole thing will be about 2 hours if you keep it moving. A couple of the downhills have sharp switchbacks and could have been designed for more flow, plenty of little jumps, some doubles to keep you interested and everything is super user friendly. Have lunch on the patio at the marina overlooking the reservoir to finish."
8. Twisted Furnace Ride – 19.3 miles – Intermediate/Difficult
This trail is located in the Michaux State Forrest and takes in some of the best scenery of the over 85,000 acre Park. There are other trails besides this one, making over 37 miles worth of trails that you can explore. This trail has everything that you might want when it comes to challenging climbs, fast descents, and technical areas that will challenge you and slow you down.
However, though this trail is a great tail to ride, there are a few things that you should know about it before you come here. The first thing that you should know is that the trail is not exactly well marked, so make sure you have a map and that you refer to it fairly often if you have not ridden this trail before.
You should also know that very little of this trail is singletrack, with most of it being 4×4 ATV doubletrack instead, with a little bit of dirt road that the nearby loggers use. Speaking of which, you will want to keep an eye out for logging activity and the logging trucks while you are out here.
You will also want to bring food and water, since this is a long, tough trail that will take you a while to do. Depending on where you start from, you may want to have warmed up ahead of time since you may end up starting off with an uphill rock garden.
9. The Great Allegheny Passage – 152.4 miles – Easy
The Great Allegheny Passage is a very long, but easy, trail that goes from Pittsburg, Pennsylvania all the way to Cumberland, Maryland. At the end of the route you can choose to keep going even longer if you wish to do so with another trail that picks up right where this one leaves off and which goes 184.5 miles more to Washington D.C.
Most of the path is crushed gravel, with some of it being pavement as well, so it is easy enough for even the least skilled biker to do, yet the sheer length of the trail can make it fun for more experienced mountain bikers as well. There is some uphill and some downhill, but only at very mild grades.
This part of the trail mostly follows a couple of different rivers, and there are also a few bridges to cross. With this being such a popular route there are both bathrooms and water fountains along the route as well as some campsites in places where you can spend the night. There are even some places to eat at and some bike shops where you can get repairs done near the parts of the trails that go close to towns.
One mountain biker with the username of rangelinenaturepreserve has this to say about this trail: "We rode our mountain bikes from Pittsburgh, PA to Washington DC. We started downtown Pittsburgh on the Great Allegheny Passage (GAP) and rode southeast to Mile 0 in Cumberland, MD (backwards according to the mile markers). The trail follows the scenic Youghiogheny and Casselman rivers. We then picked up the end of the C&O Canal Towpath (in Cumberland) and followed the Potomac River to mile 0 in Georgetown, Washington DC (backwards again per the mile markers). There were so many great sites to see along the way. It was truly a beautiful ride full of history… This is a must-do ride."
10. Rattling Creek Trail – 22.3 miles – Difficult
This is a great loop to ride if you happen to be in the area, or even one that you can make a trip just so you can bike. There is quite a bit of debate as to whether this loop should be ridden clockwise or counterclockwise, but either way it is a great trail. There are a few different spots where you can access this trail, giving you even more choices to make.
There is a ton of spectacular country side to see, and even a hang glider launch near one part of the trail which you can watch. There are a lot of rocks on the trails, with short reprieves in between them, and tough uphill climbs with exhilarating downhill sections.
The trails are made and maintained by a man named Keith Whitcomb who lives in this area and started making a small loop back in 1999 that has eventually grown into the large loop that it is today. There are still parts of the small loops there that you can use as cut through trails if you do not want to ride the whole loop.
Mike K. says about this trail: "The rocks'll get ya, but Rattling Creek trail by itself is one of the best in PA – a long gradual downhill (west to east) interspersed with a couple challenging rock gardens, but not so much that it takes fun out of it for those with less experience. It makes a great climb too (east to west), as it never gets too steep."