Missouri is a lovely place to go mountain biking with plenty of trails that you can choose from and also lots of wildlife in places. Hopefully these trails will give you a great place to start, so get ready to get on your mountain bike in Missouri and to go for an adventure, but be sure to take care of the trails and nature while you are out there.
1. West Loop – 6.6 miles – Intermediate
This loop is a part of the Two Rivers Mountain Bike Park system of trails and there is a great variety here, not only on the trail but off of it as well. There is a skills area, a pump track, restrooms, and water for drinking as well as a bike washing station. The trails can be ridden either way and have plenty of technical features, switchbacks, and rocks for you to enjoy and to make it interesting.
Drew P. says this trail is: "Possibly the best trail system in the midwest, with plenty of challenges for everyone." Off of the trail there is a barn to hang out at, a golf course for kids to enjoy, and even a wifi signal booster so that you can still get good reception should you need it to pull up a map or anything else.
2. Rancho D-Lux – 3.3 miles – Easy/Intermediate
Located near Kansas City in Swope Park, this is a great trail in this area. This trail has restrooms, but you will need to bring your own water. The night riding on this trail is great, or you can night ride on the other trails in this system, most of which are in the form of loops.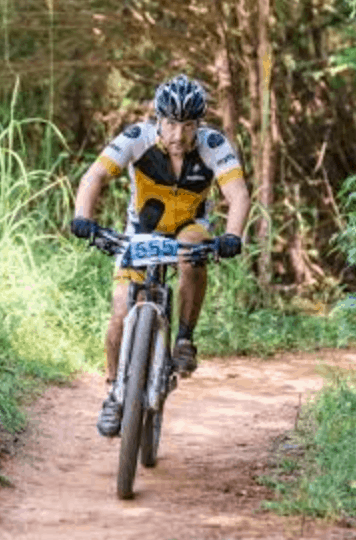 If you are looking for something that is a black diamond level trail, then Swope Park has you covered for that too. One mountain biker with the username of nachoride says about the difficult trail near this one: "What a blast! Like others have mentioned I have been lucky enough to ride all over the country and who knew there was a technical masterpiece in KC? Rocky with plenty of twists and turns make for a white knuckle ride." However, this easy trail is a great place to start off and to get your feet wet a little.
3. Matson Park Hill Loop – 8 miles – Intermediate
This singletrack trail is designed for bikers only, though occasionally hikers do use this trail as well. This area is heavily wooded, very hilly, and has some creek crossings that are rocky and fun with even a few lovely small waterfalls that you might want to stop at for a picture.
One mountain biker with the username of illini81 says that this is the: "Best mtb in STL area. Flow, technical, climbs, fun creek crossings, and some challenging rock sections." Meanwhile hetchtman says: "Best ride in the St Louis area. It has it all."
4. KATY Trail – 240 miles – Easy
This long and easy point to point trail connects Clinton and St Charles with enough miles on it so that even an experienced biker can be challenged do to the length of it. This doubletrack trail was converted from what used to be a railroad track and, this being the case, has a lot of crushed stone.
It goes past some great scenery along the way, and it has certain places where you can stop at to spend the night. It also goes really close to some other trails, which a mountain biker whose username is Tutts mentions when they say: "In St. Charles County, you can use the Katy to connect quite a few trails such as Klondike, Matson Hill, Lost Valley/Hamburg. You can get some serious climbing in on those great trails."
5. Ozark Trail South Karkagne Section – 28.2 miles – Difficult
Located in the Mark Twain National Forest, this trail is absolutely amazing when it comes to exploring this area. It is a point to point singletrack trail that starts near State Highway P and then curves around in the shape of an elbow noodle as it goes to the side and then up all the way to State Highway J.
You can choose to end your trip here if you want to, or right where it ends and on the other side of that highway you can get on the next of the Ozark trails and go for another 20-something miles. This Ozark trail is called the Middlefork section and, though there is a parking lot near the end of it, it actually dead ends into the side of another of the Ozark trails that is also over 20 miles long. This trail in turn can be ridden either way, down going to end at a parking lot while up takes you to still many more miles of trail.
6. Lake Vista Trail – 4 miles – Easy
This is a great trail that is located in Fleming Park and which follows the shoreline of the nearby lake. There are three different parking areas in Fleming Park, and this trail takes a point to point route between two of them.
There are miles more worth of trails here, ranging from easy to one difficult one, but all of the trails follow the shoreline. From this trail you can see the Blue Springs Lake and the East Fork Little Blue River that runs to Lake Jacomo. There are restrooms here and some great places to both take a lot of pictures and to stop for a picnic.
7. DeClue Trail – 5.4 miles – Intermediate/Difficult
This is a great singletrack trail that is a part of a network of other trails on the west side of St Louis. There are four parking areas that you can park at for this network, but this trail is a point to point trail that actually does not begin or end at any of the parking areas, meaning that you will have to ride more than the 5 miles in order to ride this trail.
Still, it and the other trails here are definitely worth checking out as one mountain biker with the username of cjsutterer says: "This killer trail is part of a network of trails at Greensfelder County Park. There's so much good riding there, it's worth it every time I go."
8. Binder Lake Trail Complete Loop – 13.2 miles – Intermediate
This trail is actually a combination of all of the trails that you can find at Binder Lake. You can ride this either way and you can start from any of the five available parking lots right next to the trail which follows the edge of the lake, turns around on itself, and follows the edge of the lake back.
The views are excellent as you might expect and one mountain biker with the username of walker87a says this trail is the: "Best trail system I've found in mid Missouri."
9. Wudchuk Run – 5.7 miles – Intermediate
Located in Swope Park and right next to the Kansas City Zoo, this trail is a great place to go mountain biking at. Though not part of a huge network, there are other trails with both bathrooms available and night riders welcome. There are also plenty of drops, jumps, and berms.
Simon L. says about these trails: "I've been around the country and ridden hundreds of trails and this trail system has some of the most technical trails out there. If you want to become a good mountain biker in the woods this trail will definitely get you in the zone. Awesome for a trail bike such as a camber and a couple sections would be nice to have a stumpy fsr, but it's rideable on xc bikes no doubt!"
10. Deer Run – 3.8 miles – Intermediate/Difficult
This trail is an outer part of a network of trails found in Rock Bridge Memorial State Park. This being the case, the only way you can get to either end of this trail is by first going through some of the other, easier trails here first.
This area has a lot of roots, rocks, and hills for you to enjoy and offers both restrooms and drinking water. Bret N. says about this trail: "A really fun trail with decent climbs and descents, flats, creek crossings, etc. Had a great time. Pay attention to how/where you entered the loop!"