You want to ride off-road, and you can't decide between a mountain bike and a fat bike? Unlike deciding between a road bike and a mountain bike, this is going to be a little harder. Two bikes with similar objectives, and similar styles how can you possibly choose?
Once again you will have to ask yourself, what do you expect from the bike? What type of landscape will you be most consistently riding? How much can you spend on a bike? And in this case ask yourself are you going to be biking 12 months out of the year of just half a year?
A fat bike is a mountain bike on some really good steroids. The fat bike has fatter tires that are generally anywhere from three to five inches wide. A fat bike will allow you to take your mountain bike season from five months to 12 months. If you live in a climate that has snow/ice and cold the fat bike is outpacing the mountain bike in value.
On doing any good research you want to be objective. But is it possible to show objectivity when discussing the merits of the fat bike versus the mountain bike? Spoiler alert…no.
Reasons for Choosing
There is always a good reason to buy another bike, or your first bike. You want to commute to work to make yourself healthier. You want to go to the mountains to make yourself more serene. Or you just want to wear bike shorts because they look so cool. Whatever your very good reasons are, a new one has entered into the fray, reasons for buying a fatbike.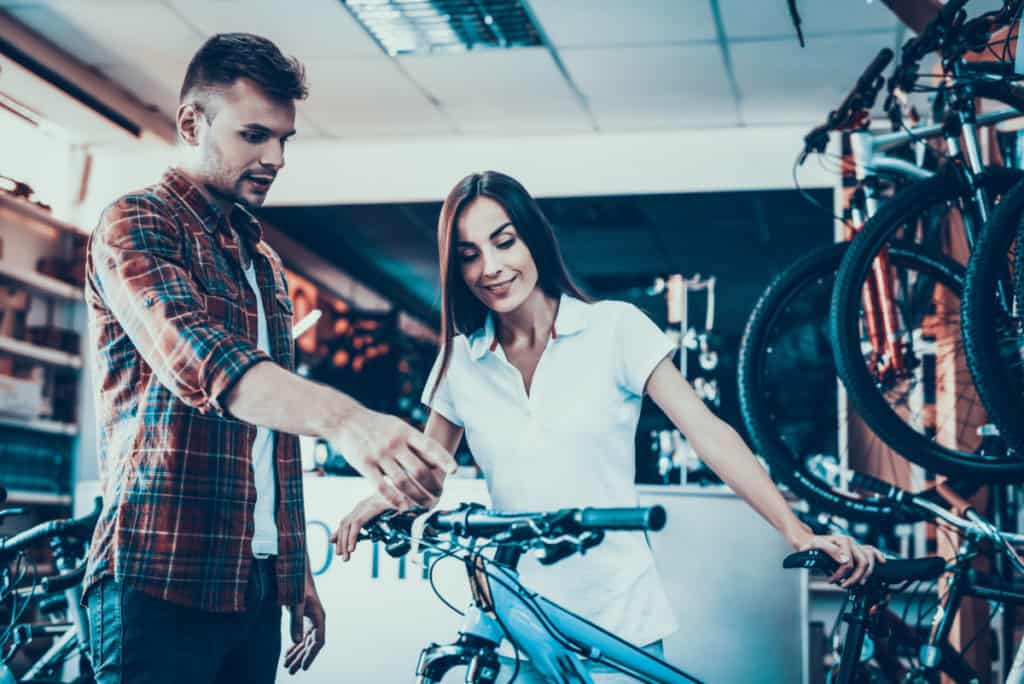 The question is whether to buy a fat bike or a mountain bike? Let's look as objectively as possible at both and see what happens:
Fatbike Versus Mountain Bike
Mountain bikes are all-terrain bikes. You get a mountain bike so you can ride over rocks, ride up trails and ride through dirt and gravel. In some cases you get a mountain bike to make that commute to work or school, especially if the route is littered with potholes and debris.
The fat bike is an all-terrain bike. The fat bike will ride over rocks, ride up trails and ride through gravel and dirt. But you know what else, the fat bike will ride through snow and sand. So whether you are experiencing the frigid winters of Colorado or the decimating heat of Arizona the fat bike will be ready for you.
The fatbike does fail in the commuting department, especially if you are riding on smooth pavement. However, an added bonus to the fatbike is that most models come with the ability to change from the fat tires to mountain bike style tires. So while technically it fails as a commuting bike, if you change the tires it equals the commuting of the mountain bike.
History of the Fatbike
The fatbike was born almost simultaneously in Alaska and New Mexico. In Alaska, in 1987 the first Iditabike event happened. This event challenged riders to ride the 200 miles of Alaskan backcountry following the snowmobile and dog mushing trails. The course retraced the first section of the Iditarod dog mushing trail to Nome, another 1000 miles further. It was what you would expect in the winter in Alaska, frozen crust, soft snow, ice and water overflow. There was a lot of walking alongside bikes. This experience challenged the riders to improve their equipment for the next year. A wider tire footprint was essential.
Around the same time, Ray Molina was riding sand dunes and arroyos in southern New Mexico and across the border into Mexico. Ray began manufacturing an 82mm wide rim in Mexico, along with a 3.5" tire to match, called the Chevron. He tested his creation at the Samalayuca sand dunes in Chihuahua, Mexico.
In 2000, Mike Curiak of Colorado won the first official Iditasport Impossible race in Nome, riding and pushing his bike over 1000 miles in 15 days. He rode a custom Willits frame made by Colorado builder Wes Williams, designed around Remolino rims and 3.0" tires. This was the greatest proof for the concept of fatbikes.
Thanks to Nicholas Carman for the history lesson on fatbikes. For the complete story look him up. His stories and photographs can be found gypsybytrade.wordpress.com
Advantages of Fatbike
1. Traction
Traction on a fatbike is better. This is especially true for traction in climbs. Fatbikes tires allow you to ride on lower pressure. The lower pressure allows the tires to grab the terrain. So when you are climbing the bike is doing a lot of the work for you.
2. Flexibility of the frame
The frame on the fatbike lets you run fat tires, but also 29er and 27+ wheels and tires. This allows you to convert your fatbike to a mountain bike if the occasion calls for it. It also allows you to have two bikes in one.
3. Wheel Volume
The large volume of the wheels and the low pressure on the wheels can make it feel like you are floating over the terrain. Rocks and roots that bump you on a mountain bike are barely felt on the fatbike. The large volume and low pressure are also an asset on the corner turns that you sometimes have to make when going downhill.
Disadvantages of Fatbike
Depending on the type of terrain the large tire size can also be a disadvantage. If you are riding over loose or muddy terrain, the fat tire will not dig into the ground. It tends to "float", this makes the fatbike more likely to washing out or loosing traction.
Has more rolling resistance. But that is more prominent on smooth pavements.
Cost
Bicycling Magazine has listed "The 15 Best Fat Bikes You Can Buy Right Now" and here are a few of them with buying suggestions:
Suspension: A hardtail with a rigid fork is the most affordable and most common type of fat bike. If your riding surface is particularly uneven, littered with roots, rocky or you want to run your tires at a higher pressure for less squirm, consider buying a fat bike with full suspension. Note that full suspension will add to the cost of the bike.
Wheels: Some fatbikes are designed to accommodate both fat tire rims and standard mountain bike rims. If you don't want to ride fat tires all year, buying a frame with multiple configuration options lets you have one bike with multiple personalities. And although you will be paying extra it will still be less than buying two different bikes outright.
Tires: The fatter the tire the cushier the ride.
Tire Pressure: Tire pressure is the best tool you have to fine-tune the performance of your fat bike.
Now for a few of the bikes and their suggested price:
Beargrease: The updated and redesigned Beargrease is a stable, dependable snow-riding machine that comes with rack, pannier, and bag mounts for backpacking and long-haul racing. $1839.83
KHS 4 Season 500: The KHS 4 Season 500 has an aluminum frame with reliable name-brand components, including a Shimano Deore 1X drivetrain and Shimano MT2000 hydraulic disc brakes that perform well even when it gets sloppy outside. It is not the cheapest or the lightest bike on this list, but it might be the best value due to its quality components and competitive price. $1099.00
Mongoose Vinson: This bike is listed under "Entry-level option for trying out new terrain". A great bike to get you rolling, the entry-level aluminum Vinson has 4-inch wide tires, a SRAM X4 and Shimano Alivio groupset blend, and mechanical disc brakes with 160mm rotors. The setup gives you plenty of options for hill climbing, and the brakes are trustworthy in winter, with stopping power to keep you on track all year long. $579.99
LES Fat: Released in November 2018, Pivot's new LES Fat makes a lightweight and versatile fat bike even more customizable. The stock bike comes with 27.5 x3.8-inch Maxxis Minion tires on 80mm rims. The frame accepts up to 5-inch wide tires. Pivot's Swinger II dropouts, which move up and back simultaneously, compensate for tire size changes (with help from interchangeable lower headset cups) and allow you to shorten and lengthen the chainstays to fit your tire clearance needs and riding style. $4250.00
Diamondback El Oso Nino 20: This is a fatbike for kids, this 20-inch wheel cruiser will let your child explore whatever the weather. With monster size 4-inch wide tires on a high-tensile frame, the El Oso Nino sails over everything. $449.99
The cost of fatbikes fluctuate wildly going from mid five hundred to the high six thousand and anywhere in between. Consider that in most cases you are purchasing a fatbike and the potential for a mountain bike, so you are buying two bikes in one, (this can also be a selling point to the partner who wonders why you need another bike) as most fatbikes with a wheel conversion can be turned into a mountain bike.
Plus there is a fatbike specifically designed for kids, coming in under five hundred dollars. The family that rides together can now do so 12 months out of the year.
Which brings us back to the question, should you buy a mountain bike or a fat bike?
This is almost like deciding between fat Thor (Endgame) and Thor (any movie but Endgame), almost. I mean fat Thor has a great sense of humor and a great personality and you know that the "hot" Thor is in there somewhere. But you also know that there is something very similar and much better within your reach. So fat Thor is the mountain bike and the fatbike is Thor. Everyone loves a man with a great sense of humor…but look…at…Thor. It is almost that simple.
The fatbike is a mountain bike that excels. It is an all-terrain bike that knows no limitations. Mountain biking season ends when the snow falls. But if you are riding a fatbike the season for riding never ends. Bring on the snow, which is exactly the reason fatbikes were designed.
Mountain bikes with great uncertainty can be ridden on the beach in the sand, if you go towards the water edge where the sand isn't that deep. And even then, you have to worry about losing traction in the sand/water combination. Fatbikes attack the sand and then look for sand dunes to conquer.
The disadvantage of fatbikes is also an advantage. Depending on the terrain, the floatation of fatbikes can be bad or very good. You are either succumbing to the mud in which case the fatbike is losing traction or rising above the rocks, in which case you are cycling over rocks without the feeling the teeth jarring sensation of riding over rocks.
Why Would You Choose a Mountain Bike?
If you are getting the bike to commute to work or school or the local bar, the mountain bike would most likely win over the fatbike. The caveat being that your job is a lifeguard and you live on the beach, the I got nothing.
Otherwise a mountain bike will offer you a smoother commute if your job necessitates going over smooth terrain. Noted that neither the fatbike nor the mountain bike are ideal on smooth terrain, but the mountain bike is better.
But wait, can't you own a fatbike that can convert its tires to mountain bike standards? The answer is yes, most fatbikes come with rims that allow you to change the tire size so that you are riding on mountain bike size tires. But if you don't want to be bothered with having to change tires just to commute to work, then the mountain bike narrowly wins.
Personally, given the choice between a fatbike and a mountain bike, the fatbikes wins every time. When you buy a bike you want to be able to ride it all year around (especially if you are paying over $1000 dollars for the bike) with a fatbike you can feel like you are getting your money's worth.
For those who live in areas that don't see the changing of the seasons, ala Arizona, there are still benefits to owning a fatbike over a mountain bike. These destinations have sand lots of it and the fatbike is sand friendly.