OK, so you are ready to pull the trigger and get a new mountain bike. I spent countless trying to figure out what type of mountain bike offers the most bang for your buck. In the end, I narrowed it down to the Rocky Mountain Instinct Alloy 50.
When I Searched For A Mountain Bike I Looked For…
A durable bike that wouldn't require a lot of repairs.
A safe bike so I wouldn't be flying over the handle bars.
A diverse bike that could handle all terrain including downhill & cross country.
A bike that I could use for an Xterra Race.
A bike that didn't require a bunch of upgrades right after I purchased it.
So after evaluating lots of bikes and consulting with a bunch of bike shop owners I narrowed it down to the Rocky Mountain Instinct Alloy 50.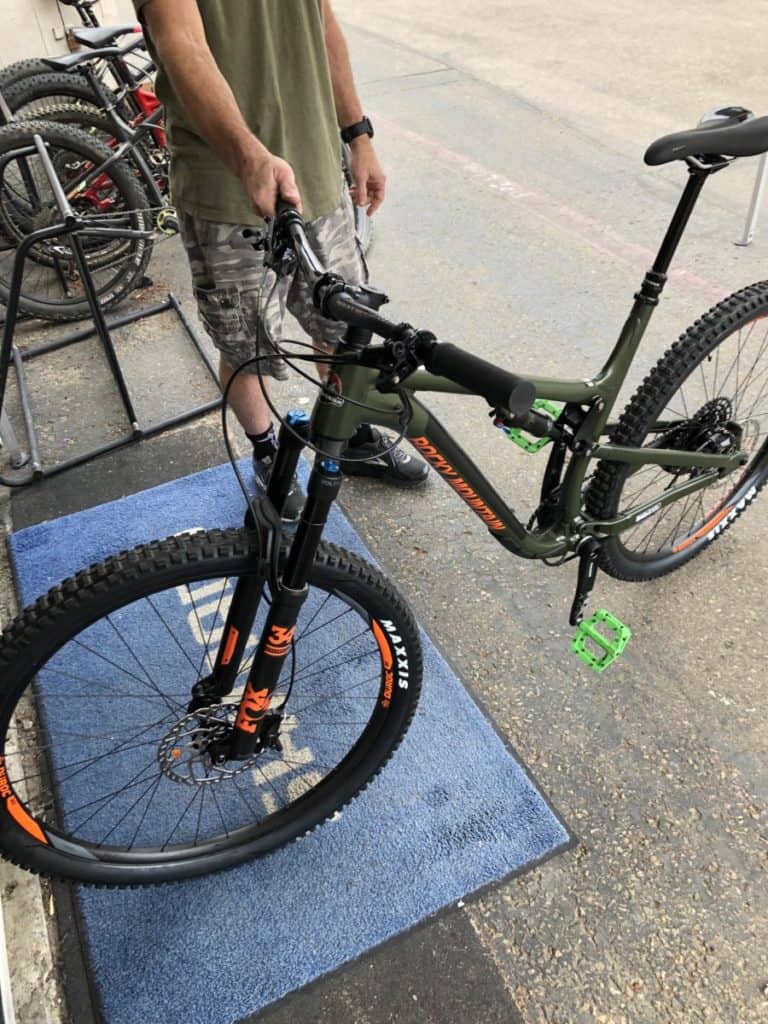 Why I Chose This Bike
Durability
The Rocky Mountain Instinct Alloy 50 comes with a thicker frame than its competitors. I didn't want to have lots bike repairs down the road so having a thicker frame and shock components reduces repair costs. I also planned on using the bike often so being that I was going to be putting miles onto this ride I didn't want to go light in the structure department.
This bike can handle heavier weighted riders as well. I'm currently weighing in at 220lbs so having a bike that could handle my weight was important.
Saftey
This bike also offered a safer design than other bikes I was considering. I'm 41 years old and a father of 3 so when evaluating bikes I wanted one where I wouldn't be flying over the handle bars. The front fork in the Rock Mountain Instinct 50 is angled outward making it safer.
The outward angle of the front wheel shifts your center of gravity further back on the bike making it a safer ride for downhill portions of the trail. You will sacrifice some speed in this set up but you will be in a much safer riding position.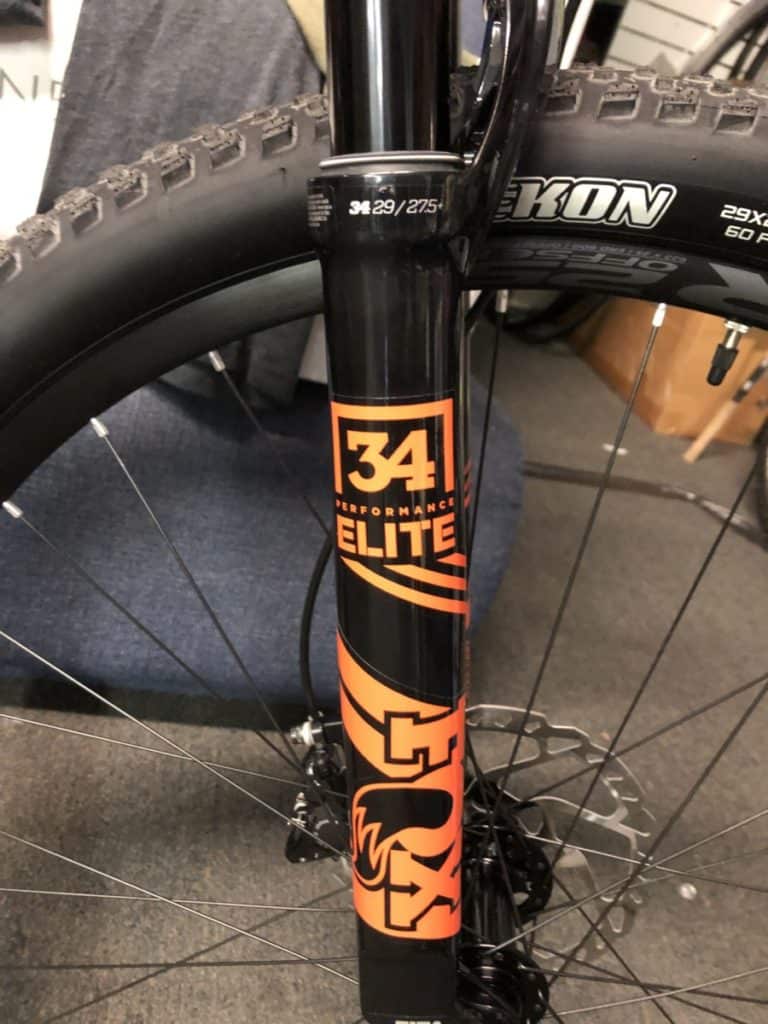 Competitive Xterra athletes will ride bikes that have a more vertical pitch in the front wheel/fork. Although this will allow you to go faster you are susceptible to a fall and will feel less in control of the mountain bike.
An All Trail Bike
I knew that when I got into mountain biking I was going to use the bike on multiple terrains. I live in North County San Diego, an area that offers hard packed flat trails, beach bluff trails, and steeper mountain trails when I drive inland.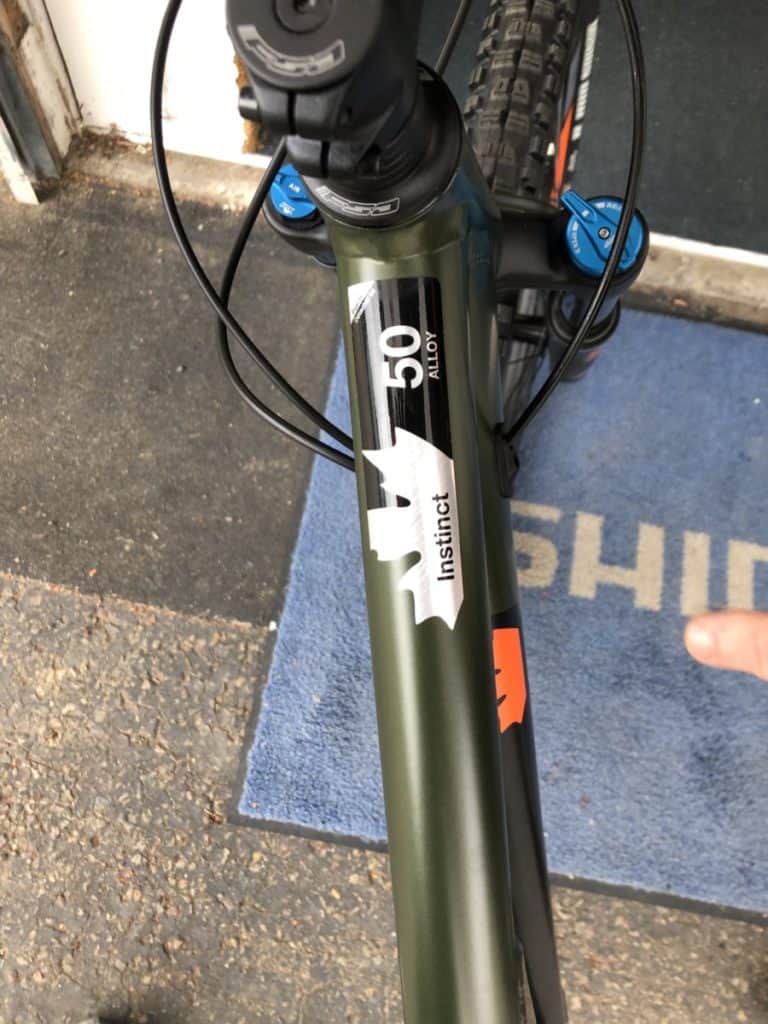 Each trail offers different elements and I wanted a bike that could do well on all surfaces. The shock system on the Rocky Mountain Instinct Alloy 50 is excellent. It has a rear travel of 140mm. It can handle bumpy mountain terrain over rocks and roots but also perform well on flatter compact trails.
Xterra Racing
I spent a few years doing triathlon and when I made this investment into a mountain bike I wanted it to be diverse enough to be able to also be an effective bike for an Xterra race.
There are many lighter weight bikes out there that will likely perform better than this mountain bike. But it is absolutely a solid bike that will get you through that middle leg of an Xterra Dirt Tri. I normally finish in the middle of the bell curve so trying to podium isn't really on my radar.
That said, if you are someone that is trying to reach the podium you should consider getting something that is lighter weight.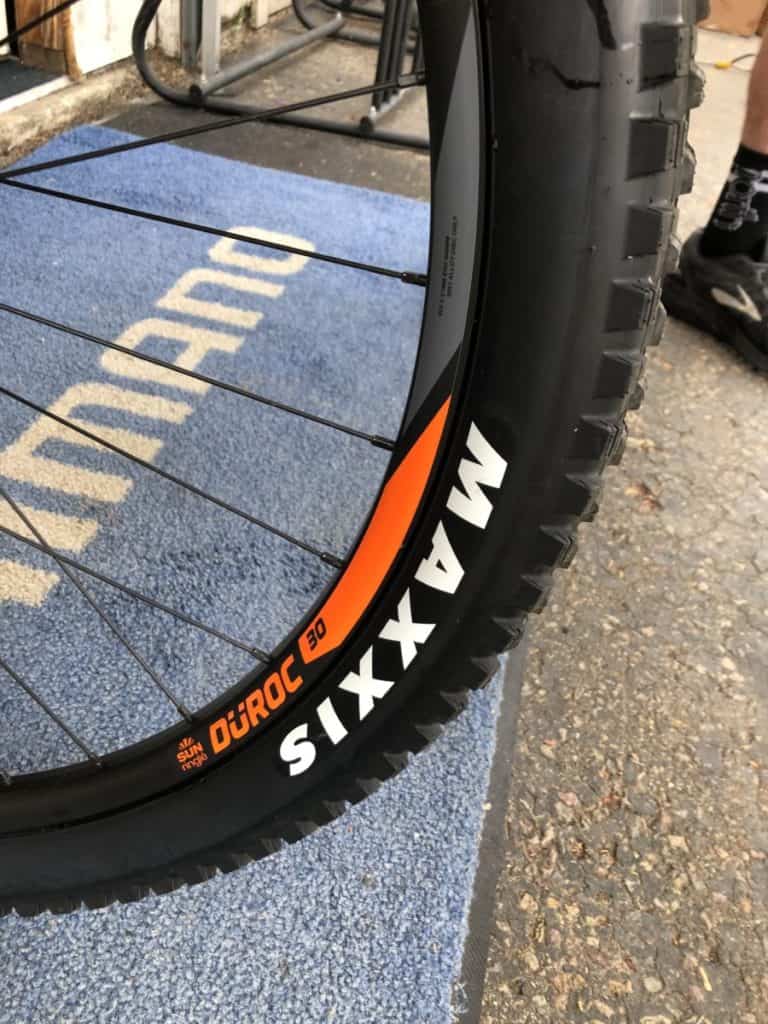 No Need For Upgrades
I also didn't want to drop $3,000 and then have to upgrade components like a drop seat or handlebars. This bike is ready to ride right away. Here is list of the major components in the Rocky Mountain Instinct Alloy 50:
Frame
FORM Alloy. Full Sealed Cartridge Bearings. Press Fit BB. Internal Cable Routing. ISCG05 Tabs. RIDE-9 Adjustable Geometry + Suspension Rate. FORM Alloy Rear Triangle
Fork
Fox 34 Float Performance 140mm
Headset
FSA Orbit NO.57E Extend-o-matic
Rear Shock
Fox Float DPS EVOL Performance
Axles
Front: 110 x 15mm
Rear: 148 x 12mm
Rims/Wheels
Sun Düroc 30
Hubs
Rocky Mountain Sealed Boost 15mm / SRAM MTH 746 Boost 148mm
Spokes
WTB 2.0-1.8
Tires
Front: Maxxis Minion DHR II EXO Tubeless Ready 29 x 2.3
Rear: Maxxis Minion DHR II EXO Tubeless Ready 29 x 2.3
Crankset
SRAM NX
Chainrings
32T
Bottom Bracket
SRAM BB92 DUB
Chain
SRAM NX Eagle
Rear Derailleur
SRAM GX Eagle
Cassette/Rear Cogs
SRAM PG-1230 11-50T
Shifters
SRAM NX Eagle
Handlebars
Rocky Mountain AM 760mm
Tape/Grips
Rocky Mountain Lock On Light
Stem
Rocky Mountain AM
Brakes
Shimano M6000
Saddle
WTB Volt Race
Seat Post
Race Face Aeffect Dropper 30.9mm
If you aren't feeling the Rocky Mountain Instinct…
My #2 Recommendation Is…
My #2 Mountain Bike Recommendation
With so many different mountain bikes on the market along with different companies, websites, and so much more to look through, it can be really hard to find something. Most people who are looking for a mountain bike are looking for the ultimate one that they can hope will be the perfect mountain bike for them.
My top recommendation for what I think is the best mountain bike is Kona's 2020 Hei Hei XC mountain bike. It is great at so many things and for so many reasons, but then again I am admittedly a little bit biased since it is an older version of this that I use on my rides and the one that I will gladly get again should the one that I have break.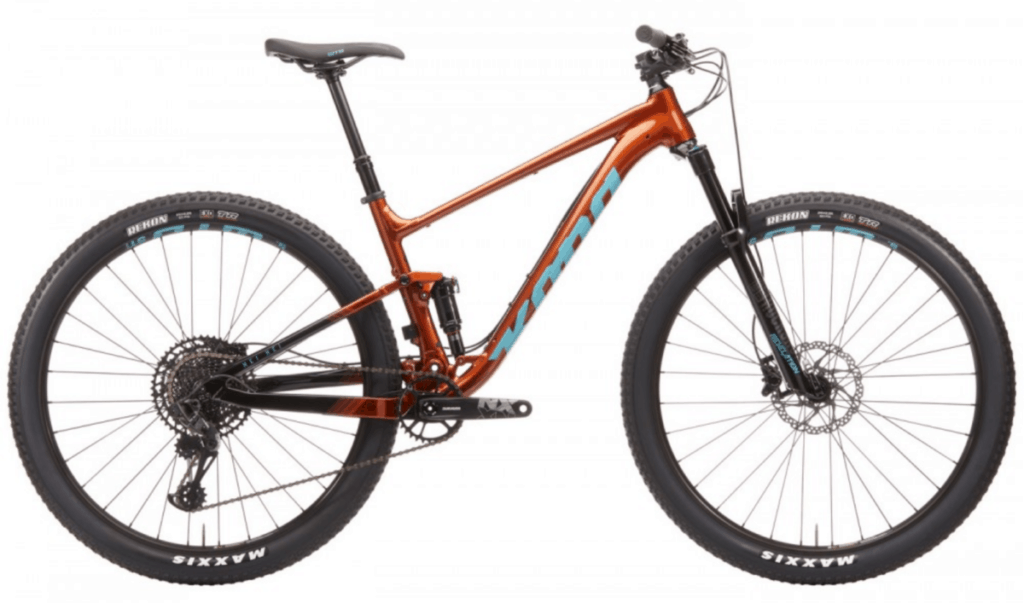 That being the case, let me tell you all about it and the different reasons why I think it is so great so that you can see whether or not the 2020 Hei Hei is the right mountain bike for you. And, if you already have a mountain bike of your own, who knows, this might just be the bike you didn't even know that you were looking for.
Why I Picked The 2020 Kona Hei Hei Mountain Bike And More About It
Firstly of all, you should know something about the company behind this mountain bike. The Kona Bicycle Company has been around for a long time – since all the way back in 1988 in fact – and has been specializing in mountain bikes practically this while time. While they now sell a small selection of other kinds of bikes, mountain bikes are still their mainstay and they make them in carbon fiber, titanium, aluminum, and steel and sell their bikes in around 60 different countries.
As you can see the Kona Bicycle Company has a lot of experience under their belts and they certainly know what they are doing when it comes to mountain bikes. Part of this was no doubt helped along by the fact that one of their first bike designers was the winner of the U.S. National Mountain Bike Championships on two separate occasions. Other members of the Kona team have done almost just as well in some of the competitions that they have been a part of as well.
This means that all of these years of experience and knowledge have gone into making one of Kona's latest bikes: the 2020 Hei Hei. Due to this experience, the 2020 Hei Hei has an up to date geometry in the way its frame is designed and practically everything that you are likely to be looking for in a competitive mountain bike.
This geometry, along with the dual suspension that this bike is equipped with, not only helps to make for a more comfortable ride but it also allows for a shorter stem length. The internal headset that is built into the frame itself is part of what allows the stem to be shorter, and it also makes the bars more adjustable to help you to get the perfect fit. And, should you not like this feature, the bearing cups are relatively simple and easy to remove.
Along with this is the fact that the head tube is tapered with the thicker end towards the bottom. This design helps to distribute the weight better, helps cut back on vibrations when you use the braking, and it also gives you overall more control when it comes to steering your mountain bike. As for the seat bar, it is designed to be dropper post compatible so that you can easily adjust the height to suit you too and this bar has an internal width of 31.6mm.
When it comes to the suspensions, these are made from RockShox – a company that has been around almost as long as Kona itself and which specializes in making bike suspensions. On the 2020 Hei Hei these suspensions allow for nearly 4" of travel in the back and well over 4 ½" of travel in the front.
The suspensions use the fuse design which makes them as light in weight as possible while still having a snappy feel to them. They are also quite strong and durable compared to how little they way and are a great option for light, fast cross county bikes.
The frame of this bike is made out of high end component level 6061 aluminum, which is known to be better and lighter than its 7005 aluminum counterpart. The fact that it is only butted and not double butted or triple butted also helps to make sure that the weight does not unnecessarily stack up in the frame of the bike and is another great thing that helps to keep this bike nice and light.
The 2020 Hei Hei comes in four different sizes: Small, Medium, Large, and Extra Large and comes with 29" wheels that are 2.25" wide on both the front and the back. The wheels are made of aluminum and have spokes that are lovely stainless black.
The drivetrain of this bike is a 1×12 which keeps it simple for the chainring and yet gives you 12 different speeds that you can choose from. These speeds vary from 11-50t for the number of teeth, which is a nice small amount with enough variety so that you will be able to feel the difference. The chainring is also a nice size at 32t which is not too small and yet the teeth counts for both of these are small enough to make shifting gears smooth and easy to do.
The brakes are not mechanical, instead being hydraulic disc brakes for both the front and the rear wheels. This kind of brake works by the use of brake fluid which is released when you push down on the brake lever. The brake fluid then goes down inside a line and creates pressure behind your brake pad, forcing it up against the wheel of your bike and bringing you to a stop.
The 2020 Hei Hei mountain bike also features the relatively new hub design from Shimano that has the center-locking feature. These hubs not only weigh less due to the lack of bolts, but they are also convenient and easy to use compared to having to go with the common 6 bolt option.
When it comes to color this cross county mountain bike has a classy look to it, with a predominantly rusty-orange color. On top of the main color, the Kona Company brand is placed in a light blue color that is termed as being dark sea foam, and near the rear wheel the orange fades into black for that area only. All in all, this coloring succeeds at not being too much color and yet having just enough to suit most people.
It does not come with pedals included, letting you pick you own out whether you prefer clipped pedals or clipless ones. While it is more expensive than some of the other mountain bike that are out on the market, it is far cheaper than others and it has a great ratio of quality to price which makes it worth every dollar that you will spend to get it.
All in all, the nice features of both the head and seat bars make it highly adjustable to fit any rider and also make it easy for you to make these adjustments. The fact that the frame is made out of a great kind of aluminum means that it may not be as light as a carbon frame, but everything about this mountain bike is put together make this particular bike exceptionally light regardless of that fact.
So, if you have heard of this bike before and where wondering how great it really is, then now you know. While it is built to be a very durable bike, it is also built to be light in weight so that you can compete in any cross country race that you had in mind. Maybe this bike isn't the one for you, but the 2020 Hei Hei is definitely my #1 mountain bike recommendation.