Buying Mountain Bike Shoes is a lot like purchasing a Mountain Bike helmet. You can either good some high quality shoes or you can try and save money on cheaper shoes and in the end go through 2-3 pairs before you realize you should've just purchased a nice pair from the start.
This post is long and detailed with lots of information on, but here's the short version of my recommendation on mountain bike shoes. It's a smarter decision to spend a little more on MTB shoes. If you plan on riding a lot you'll want to make sure you get a high quality shoe that will perform well and last. My recommendation for a high quality mountain bike shoe for an affordable price are the Five Ten Freerider Contact Men's MTB Shoes (click here to see them on amazon). They are the shoes I use and I've been extremely happy with the quality and value of the shoes.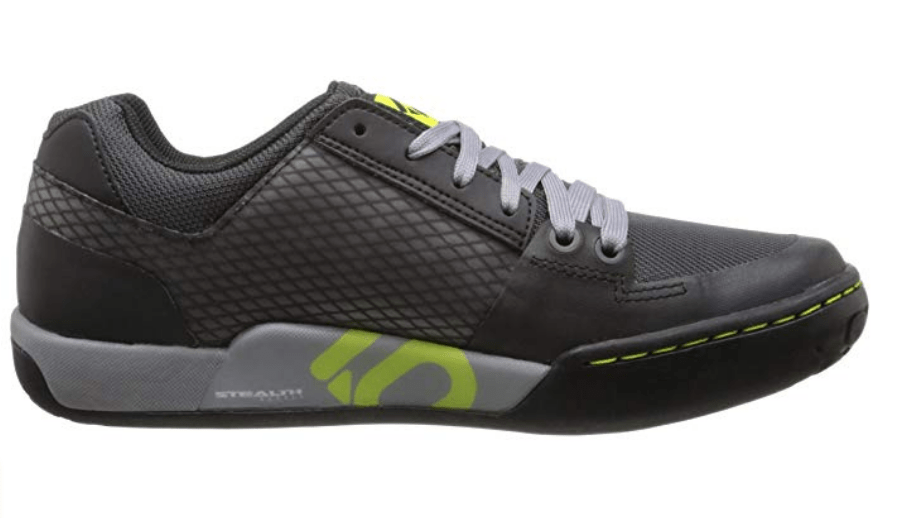 Honestly, I'm not trying to convince you to spend more money. I'm actually trying to save you money. If you get a pair like the Five Ten Freerider you won't need to replace them every 4-6 months. They should last for at least a year if not longer.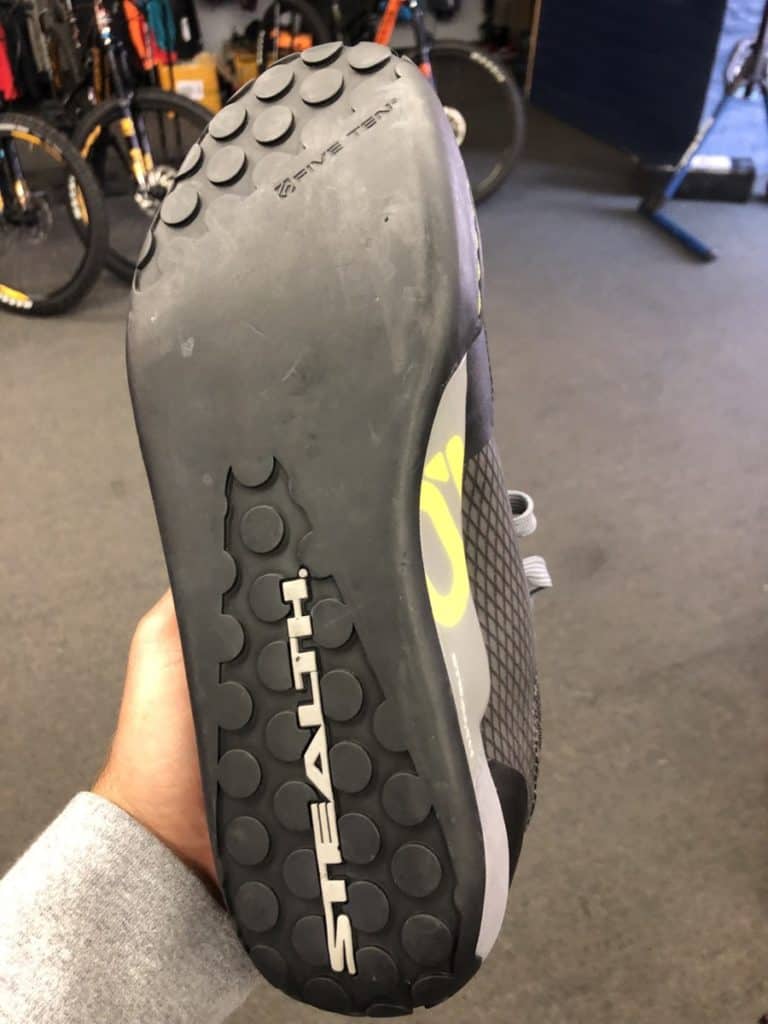 Here are the specs of the shoe:
100% Textile/Synthetic
Imported
Rubber sole
Innovative Contact Outsole with Stealth Mi6 rubber
Lightest Freerider model
Added toe cap protection
Abrasion resistant textile & synthetic upper
Stiff, compression-molded EVA midsole
Customer Reviews
If You Don't Like Riding In Cleats These Are The Shoes For You

"If you don't like riding with cleats these are the shoes for you. Caution; pick your size carefully. All these shoes are "M" and the "must" they use are undersized. I normally wear a 10 1/2 EE, ordered an 11 M originally but ended up with a snug 11 1/2 M. Other than the size issues they are great shoes and adhere to the pedals like glue."

ToroMama (Amazon Review)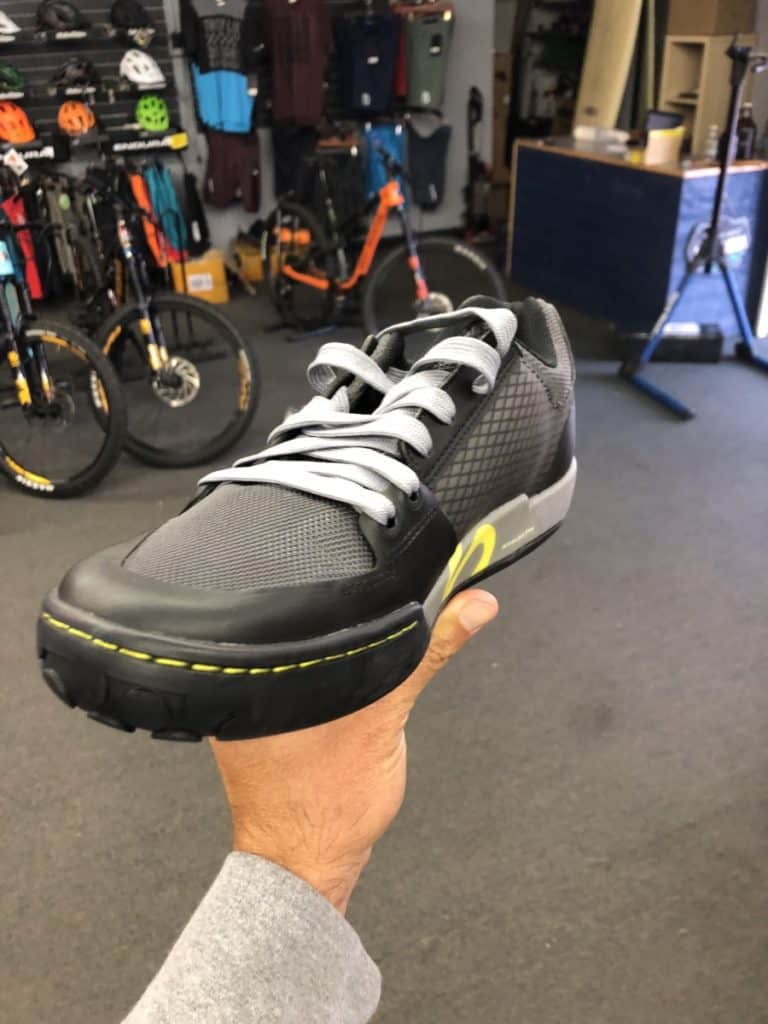 Perfect Bike Shoes

"I ordered a 1/2 size bigger and they fit perfect. Very comfortable shoe and worked perfectly with good peddles. The sole is really firm so there's no sagging over the peddles and the construction of the shoe appears and feels extremely durable. They are even comfortable to walk in."

Cory (Amazon Review
Comfort & Safety
Along with being affordably priced these shoes are also extremely comfortable and in my opinion very safe. The shoes where like a tennis shoe so they aren't overly rigid like some bike shoes can be.
They are also safer than clipless pedals as you can simply bail on the bike and not get take with it if you do end up wiping out.
My Top Recommendation For Clipless Mountain Bike Shoes
While you can wear almost any pair of shoes that you want to when you are mountain biking – at least when it comes to flat pedals – there are still certain shoes that are much better ones to be wearing when you are on your bike. Shoes that are specifically designed for mountain biking will not only be more comfortable to wear, but they also will have other added advantages to them.
Mountain biking shoes that are designed to be used with flat pedals will not usually work with the cleats for clipless pedals, just as not every mountain biking shoe that is designed for use with the cleats will work very well on flat bike pedals. This being the case, I will give you my top recommendation for each type of shoe.
The Giro Terraduro Mid MTB Shoes
Giro Terraduro Mid MTB Shoes are my top recommendation for mountain bike shoes to wear with clipless pedals. It is designed to be compatible with 2-hole cleats which are what most clipless pedals require you to have on.
It is a lace up with elastic lacing which is quick and easy to do. This part of the shoe also has the added benefit of these laces being covered up with a flap that opens up on one side and uses Velcro to attach it securely back down into place once you are through with adjusting your shoelaces.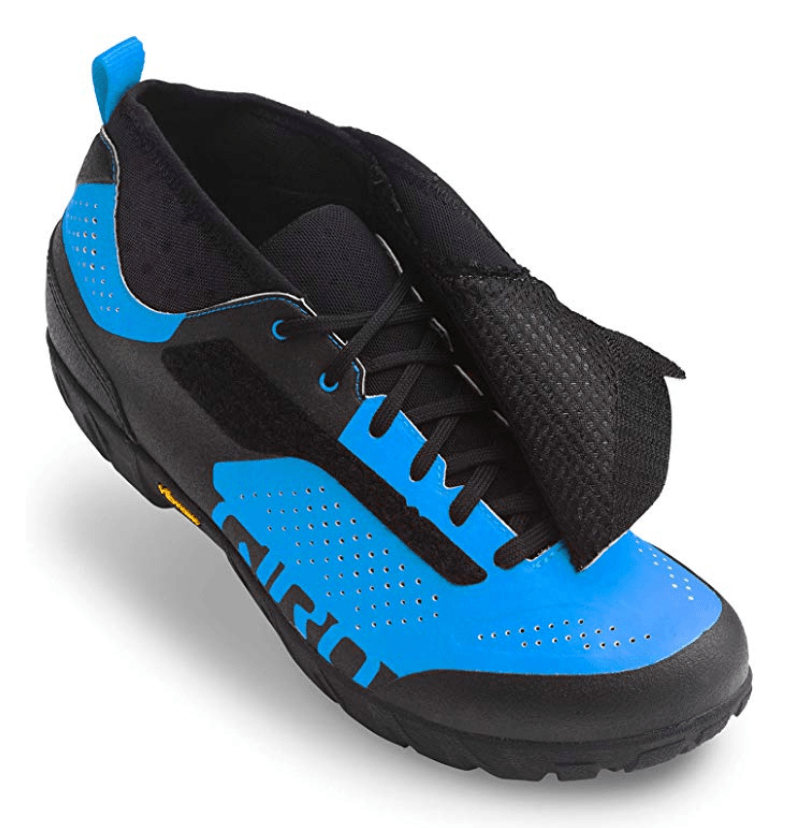 This flap can be a huge help when you are riding through muddy terrain since it protects your lacing from getting mud into it, making your shoes not only easier to get off at the end of your ride but also making it easier to clean off the mud. Having your lacing protected is also good for another reason, namely, that this prevents any extra shoelace from flying free and potentially getting caught by any passing bush that you brush past or, worse, from getting caught in the gears or chain on your bike.
This Girro mountain biking shoe comes in a variety of sizes in addition to the fact that it can come in three different colors: dark shadow on black, blue jewel on black, and vermillion on black. With only a few slight differences, this shoe also comes as a women's shoe that does not use shoelaces, instead using straps. The women's option comes in four different colors as well as in a variety of sizes.
These shoes are great for riding though all kinds of weather, being quite water resistant even for the wettest of days. This is helped along by a nice ankle screen cover which helps to prevent the water from getting into the back part of your shoe around your ankle. And, should you ever get to part of a trail that you need to get off of your bike and walk for, this shoe even has a flexible area on the front part of the shoe that makes it more comfortable to do so.
Since mountain biking shoes need to be exceptionally stiff in order to order to work really well with the small clipless pedals, this can often make them quite uncomfortable for walking. So having a shoe that is both stiff where you need it and yet can still be walked around in is a great feature.
In addition to all of that, this Girro mountain biking shoe also has a sole that is rubberized and lugged on the outsoles so that you can have a good amount of grip with them when you are walking on less than smooth terrains. The reinforced toe box that is built into it can also really help to protect the toes of your feet whether you are walking or pedaling on your bike.
Finally, it is also made to be comfortable even if the weather is hot. This is due to its use of breathable Evofber microfiber that it is made of. This is also something that is helped by the placement of small holes along the sides and on the top of the shoe.
Perhaps this shoe's one downside is that it can weigh a little more than other kinds of mountain biking shoes. While it does weigh around 420 grams depending on what size you get it in, it does not weigh as much as some, yet this is still more than others.
Another Option If You Aren't Feeling The Freerider
Another top recommendation for mountain bike shoes to wear with flat bike pedals, it would have to be the SHIMANO SH-GR7 Mountain Bike Shoe. It is another lace up shoe and, though this one does not have the lace cover flap like the last one had, it does have a very handy lace keeper loop that is stretchy and offers a great place to tuck your extra ends into.
It only comes in a grey color with bright green shoelaces, but the laces have two different color options. Like my previous top recommendation, this shoe option also comes as a women's mountain biking shoe which is almost exactly the same except when it comes to color, with the women's version being a gray and a bluish color with blue lacing instead of the green color that the men's have.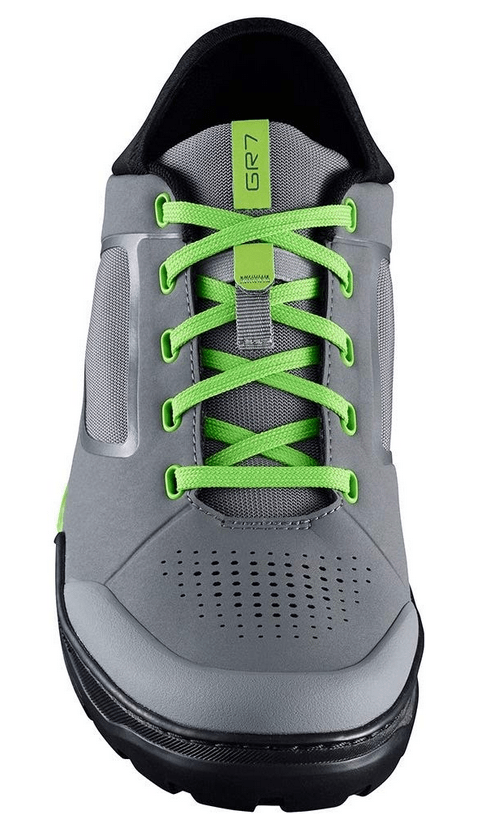 The shoes are great to wear right out of the box and their sizing chart is extremely accurate so that you won't have to be likely to worry about them not being the right size for you when you get them. Should you not like these shoes, then the SHIMANO Company even offers a one year warranty for their shoes. They even offer this warranty if you are simply a heavy-duty rider and you wear them out before the year is up.
The sole of the shoe has a great design, being stiff enough so as not to wrap around the pedals of your bike, but also flexible enough to be comfortable and to have a great grip. However, this grip does an excellent job at being grippy without being too "sticky" and allows you to move your feet around without too much trouble should you land on the pedals wrong at the end of a jump.
Another great feature of the soles of these shoes and the rubbery material that they are made of is how they work with the pins on most flat bike pedals. Sometimes these pins can really hurt your feet if they penetrate the rubber on the bottom of your shoes, but the rubber on these shoes is made to not let even the long and narrow pins get through it to bother your feet.
Often mountain bikers will take the pins out, or at least lower them, in order to be able to ride comfortably. Being able to have them poking all the way out like they were designed to be can be a huge help when it comes to your feet staying on the pedals where they are supposed to be.
These SHIMANO mountain biking shoes also have the added benefit of drying easily, in part due to the choice of fabric, but also due to the great ventilation that these shoes happen to have. This helps to keep your feet comfortable and cool and the added ankle collar also helps to keep the water and the dirt out of your shoes.
Finally, the flexible nature of this shoe is also great no matter what kind of socks you want to wear with it. So, in the summer when it is hot you can wear thin socks with this shoe without it feeling too loose, and in the winter when it is cold you can wear thick socks without feeling that your feet are too confined.
All in all, this is a great option for any mountain biker, even if you happen to have wide feet, and is definitely one that you should at least consider getting for yourself. Added to all of that is the toe cap that is made of a molded design so that your toes stay well protected while you are out on your adventure of the day.