When you are first starting out mountain biking one of the very first things that you will need to do is to find trails that you can ride on. Sometimes you will even want to be able to find trails if you are taking a trip for whatever reason and are far from home and the trails that you are used to biking.
No matter why you might need to find some mountain biking trails, there are a ton of places that you can look at to find all of the information that you might need. In order to get the best results you should try to see what two different things say about the same trail since one might give you important information that the other leaves out.
Websites
Websites are possible the first place that you will want to look at when you are trying to look up a trail, and these can sometimes be great places to print out a map from. If you are curios about the trails in a particular State Park, then you can often find this information out at their website.
One things that you should do when you look at these sights is to see what people are saying about the trails, since these can often give great info on what you can expect or if the entrance is hard to find and things like that.
Sometimes you will likely find that trails can have different names while at other times one trail that is on one site is not on another site at all. If possible, check the date when that trail was added since it is possible that it is a new one and that other sites just have not added it yet.
On the other hand, it could also be an old trail that is not longer in use and the other sites have already removed it from their trail database, so it is very important that you do your research and try to find out as much as possible about the trail that you plan on riding before you get there.
Trailforks.com
Trailforks.com is one of the first places that you should check out if you are looking for trails. This website is basically like a database of user-generated content with lots of trails for you to explore. One of the best ways to use the website is to just browse through their maps and zoom into the places that you think you are going to be near and it will pull up all of the trails in that area.
In order to help you find a trail that you will enjoy, this site does a good job of making sure that you can tell what level difficulty a trail is. On the site a green trail is of course the easiest trail with blue trails for more experienced riders and black trails being some of the hardest trails that you may encounter.
It even does its bet to let you know which trails are singletrack and which ones are doubletrack. You can also view the elevation profile, the direction of the trails, and if you click on the name of the trail you can see so much more information, like how much feet you'll be climbing, the length of the trail, and the estimated time that it takes for the average mountain biker to complete the trail.
You will even find that trails will sometimes have ratings and will also be marked with a current status for the trail. All of this information is generated by users of the trail, meaning that this data cannot exist unless you or I and other hikers or mountain bikers edit the information on that website, as well as adding dates, taking photos, and indicating whether a trail is wet or dry.
This being the case, you can try adding some new information to the trails that you have been on if you don't see it already there on the site. This is one of the best tools to use to give you an idea of a specific trail or system of trails that you will be going through.
There's a plethora of trails on the website, but not many of them are complete in the information that they provide. Therefore, you should not count on using this site as a sole source of information on trails that you are not familiar with, and you should edit trails that you ride so that there are more complete routes for people to access on the website.
MTBProject.com
Now, if you're looking for a complete route – not just exploring, and not just partial trails – then you should go ahead and give MTBProject.com a try. MTBProject is pretty similar in functionality to Trailforks, but it does have some differences to it.
Anytime you send or submit something to the website, it goes through an approval process which is much more vigorous than Trailforks. A lot of questions are asked, so it can be safe to assume that any information added by the users of the trail is being vetted by some sort of moderator.
When you add something to MTB project, it's like writing an article or some sort of lengthy explanation where you have to describe everything about the trail in detail to everyone on the site. This means not only a lot more information, but also that it can be more reliable.
On the other hand, this also means that trails tend to have either a ton of information or almost none at all since less people are going to be willing to take the extra trouble to post the info. Another great thing about Trailforks and MTB project, is that they are also accessible in the form of mobile apps.
Apps
Smartphones are one of the most advanced technologies and most common technology that people use on a daily basis. Nowadays, everyone seems to be glued to their screens and constantly tapping through different apps on their mobile devices.
This may seem like a bad thing, but this technology does potentially further enhance our mountain biking experience and allows us to better interact with nature and all the trails surrounding it. The most common mobile operating systems that are commonly used today are iOS, Android, and the Windows operating system.
One of the great things about having a mobile app involved in your navigation of a mountain biking trail, is that you can download a region of the map that represents the area where you want to ride before you actually ride it.
This is important, because you can download this information while you are online, and then you can put your phone on airplane mode and the map will still be accessible to you offline. This can be very important considering that fact that many of the mountain biking trails are so far off of he grid that they have literally no signal for you to use.
Weather Underground (OS: iOS, Android)
Weather Underground is a really good weather app that provides hourly forecasts, radar maps, as well as graphs that you can easily customize and analyze. While you might not think of this as a mountain biking app, knowing what the weather is going to be like is very important when you are planning to go mountain biking.
Singletracks Topo (OS: iOS, Android)
Singletracks Topo is also a very good app, and singletracks is even a website that has some basic information. This app features one of the largest mountain bike trail map databases for you to access, easily providing new bike trails that you may not have seen before.
This app also allows you to find bike shops, share photos, and even add detailed reviews of your rides. You can even track trails that you've checked into, as well as earn badges on the site by riding on the trails.
Strava (OS: iOS, Android)
The next app that I would like to introduce to you is called Strava. Strava is an app that allows you to track your ride, as well as to establish a social media network with other mountain bike riders. For every ride that you track, Strava provides stats the stats for is and it gives you the ability to score points on the mountain trail and to even be listed on the leader boards.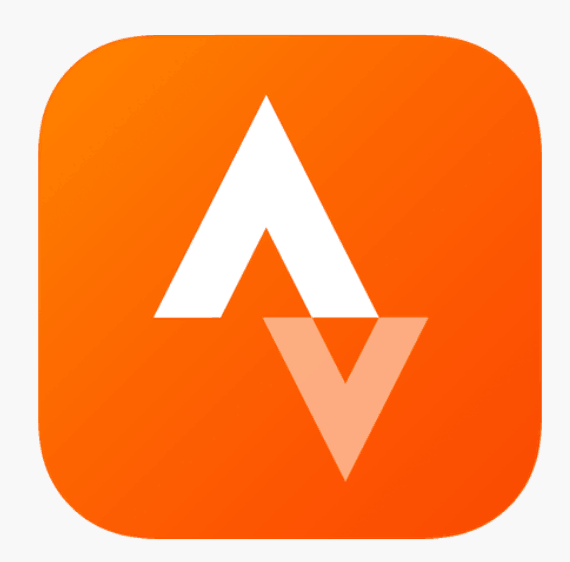 Strava can also connect to the Singletracks Topo app, which will allow you to share or transfer your maps from Singletracks to Strava using Strava's Tracker utility. This will allow you to keep track of which trails you've ridden and can automatically check you into a trail.
PeakFinder Earth (OS: iOS, Android)
This is a very interesting app that you may not have heard about before. Imagine that you are bike riding through a trail and you finally reach the top of the mountain, and as you look around from the peak, you ask yourself, "What is that mountain called?"
This is what this app is for. With PeakFinder Earth, all you have to do is point your phone at whatever mountain that you can see and PeakFinder will display its name on the screen. There exists other apps with the same name, so make sure to download the version with the word "Earth" at the end of it.
MyFitnessPal (OS: iOS, Android, Windows, Blackberry)
Another great app for mountain bikers is called MyFitnessPal. With this app, you will be able to move faster and improve your endurance over time, and this will also help you to lose some weight if you want to.
While this app won't help you to find any trails, at least while you are on a trail you will be able to stay fit and in shape during your search. Once you download the app and install it, you just have to enter in your current weight and input some other information into the app.
Whatever your goal is, you can set a number that represents how many pounds you plan to lose per week. It can tell you what you should eat and how many calories that you need to have in your diet. This app also has a very large food database for you to access, as well as a food diary to keep track of your comments and whatever you're feeling about the food that you have eaten.
MyFitnessPal maintains a running total of what you have had to eat and how many more calories you can eat in accordance with your plan. You can also log whatever exercises that you have done, and these are counted as negative calories. All the days that you are mountain biking you might find that you can eat more than usual because mountain biking will be counted as negative calories.
GPX-Viewer (OS: iOS)
GPX-Viewer provides an interesting feature that allows you to download and view raw .GPX files. This type of file represents GPS maps. Generally speaking, because the iOS system is proprietary software and it is not easy to navigate with a file manager, using GPX files is much more efficient and easier to do on the Android operating system, and there are a number of other Android apps that provide this capability.
GPX-Viewer, however, allows this to be done, not only on Android phones, but on iOS too. GPX-Viewer allows you to email yourself GPX files, and also provides the ability to browse through thousands of different GPX files on Singletracks trail database using their mobile website.
Once you have downloaded the file through the app, you can view the track data or even overlay it on top of a satellite image. All of this can be done, allowing you to navigate through the map while mountain biking, even without a cell signal.
GoPro (OS: iOS, Android, Windows)
Another great app for mountain bikers is one called GoPro which allows for photography on a bike trail. Getting a good camera angle is actually pretty hard sometimes, especially while you are mountain biking, but if you have the GoPro app then you can wirelessly connect to your mobile device and then camera to get yourself a really good shot.
There are plenty of other features on the GoPro app which allows you to adjust the camera settings – in essence, no more menu surfing – as well as downloading image data wirelessly off the camera, and you can also edit your videos and photos, and even share them on the Internet through the app.
Dirt School Mountain Bike Coaching (OS: iOS)
This is an app that allows you to actively train and practice your different mountain biking skills while on the trail. Imagine having a coach guide you and mentor you as a beginner mountain biker on your very first few trails.
Well, you can now simulate this experience with a virtual coach through this iOS app. You will be able to teach yourself new skills while on the trail, and the virtual coach will teach you proper ways or methods for handling different types of obstacles on the trail. With various tutorial videos at your disposal, Dirt School Mountain Bike Coaching is a great app for a novice rider.
Bike Gear Calculator (OS: iOS, Android)
Bike gear calculator may seem like an app that is too technical for the average bike rider, but you will find if you try it that it will make your rides much more efficient if you use it on a regular basis. This app allows you to choose different chain rings for your chain drive, as well as telling you how to set them up or how to swap them for different rides.
This app is really good at allowing you to calculate the distance and duration of your ride based on different cadences and gear ratios that you have set up on your mountain bike. Different types of data can be displayed, like the quantity of pedal rotations using your current gear ratios.
Avenza PDF Maps (OS: iOS, Android, Windows)
Avenza PDF Maps allows you to download geospatial PDF files, also known as GeoPDF, and with this app you can navigate these same files while you're riding on the trail. There are a lot of bike shops or bike clubs who have established or built their own trails, and since they are not software developers they don not have the ability to make an app for their trail.
Therefore, many of these bike shop or bike club owners or team members are relying on Avenza PDF Maps to allow them to distribute their trail maps to smartphone users. This is also way there are some great trails to be found here that are not on other sites.
The Alltrails App
Now that I have gone over some of the apps that you may use for mountain biking, many of which will help you while you are on the trail as well as helping you navigate those trails and other things, I would like to introduce to you the Alltrails hiking app.
This app is much more simpler then the above apps and can be used on a majority of mobile phone devices, and it is also free to use when some of the other applications are not. With Alltrails you are able to create tracks and you can save and share them with other users.
This app lets you browse the trails that are near your location, edit or add new trails for you to use, share photos of the different trails that you have been on or tracks that you have recorded, you can view topographical maps, synchronize your data with a companion online account, and you can even create trail reviews through this app as well.
How To Start Using It
Once you launch this app you will be presented with a screen that lists all the trails that are near your location as well as a thumbnail and a summary of the location, the name, and what its current rating is. From there you can go to the map view where you can see these thumbnails pinned on a map near your current location.
You can scroll through this map and search for other trails that are nearby. To help you find what you are looking for, there are also filtering options, which is really helpful if there are too many results on the screen and you want to pick a very specific type of trail in your area.
There are various filters for you to choose from, including: best rating, distance, duration, and even the measured difficulty and whether they are easy, moderate, or hard. There is also a meter or distance bar that you can adjust that shows trails that are either shorter or longer.
The ratings are measured at one through five, and by tapping a star at one of these levels you can further restrict your search to poor trails or good trails. This application is used by a number of people that are mountain bikers, so you will find many ratings on different trails as well as many ratings or reviews for even the same trail, and this is especially important for keeping the honesty of a trails details.
There are a few more filtering options that even allow you to search for what you can do on the trail or even see on the trail. This is needed if you like to know if a trail is suitable for kids or any pets that you may have and it is also lets you know about other details.
Some of these details can be quite random, such as if there are flowers that you can pick and what month or months would be best for this. This random information is a great way for you to really get a feel for the trails before you go to ride them.
Displaying Details Of The Trail
When you find a trail through the app, you will be given lots of information to look through and you will be given details about what you can do near there, what you can look at, or what to expect while on the trail. Look through all the photos, read through the reviews, see how long the trail is, or even what the elevation is, and find out if the trail loops back to the beginning or not.
Each trail has tags that let you know certain things, like if there are flowers around, or if gets muddy on the trail, or even if there is a river close to the location. It can be connected to a GPS application, allowing you to check into that trail and then record your path through the trail.
Trail Navigation
While on the trail, there is a tracker feature within the app which allows you to measure certain things like your distance or the amount of time you spent on a trail, and even the progress you have made along the route using the GPS connected to the app.
There is a camera icon that you can use to help you take photos that you can then share with other people if you want to. There is also a compass icon which provides data on where you are going. You can mark the trail with beacons or waypoints as a labels for future reference, and this is great if you plan on riding this trail again at a later date and you want to make sure that you remember something.
Conclusion
While these are some great ways that you can find new mountain biking trails to ride, you should never underestimate how much information that you could get by simply talking to people at the local bike shop. These are going to be the people who are actually riding the nearby trails on a regular basis and will therefore be the ones who can give you the best advice on which ones you should try out as well as how to get to them.
Make sure to ask if they have a trail guide, and you might mention that you are willing to pay them to help you navigate the new trail. You may need to do this if you just want to go on a trail in a random place and that trail has not been uploaded to any map, or if it is uploaded to a map but it is not marked very well or it is not complete.
However, sometimes if you are traveling to another country then the only way to find the trails in an area can sometimes be to ask for a guide who either lives in that area or at least has been there before. While some places, more so in Europe and Asia, might have some well known trails that are easy for you to find, in other places these trails are not listed anywhere at all.