Maybe your saddle is old and worn out and you need a new one, or maybe it is so uncomfortable that it is affecting your ride and you just don't enjoy riding like you used to. If you are thinking about getting a new one then the first thing that you are doubtless going to want to know is what price range you are looking at.
The average price range for mountain bike saddles are somewhere between $24.00-$214.00, though if you specifically searched for it you may find a few either lower or higher than this price range. There are a wide range of different things that can affect this price.
However, it goes you may not have the time it takes to search out all the options and pick one that will work best for you, so here are the best 3 Mountain Bike Saddles on the market. Mountain bike saddles have a very specific design, and you should know more about their different parts if you are picking out your own.
1. WTB Rocket Race MTB Saddle
The Race version of the Rocket saddle is great for cyclists who want top performance at a modest price. The unique design of a narrow nose and midsection helps eliminates rubbing when pedaling for long sessions, increases comfort levels, and helps to reduce pain after long rides. The swooped tail design allows you to make adjustments easily and to lock in your ideal position for power and comfort.
The Cro-Moly alloy rails keep the seat sturdy and strong enough to bear your weight even over the rough and bumpy terrain. The shell is Flex-tuned for just the right amount of stiffness to keep it both flexible and efficient.
The Rocket Race also has DNA padding and is lightweight enough for speed lovers. The cover's synthetic microfiber is durable, breathable, and has reinforced corners where saddles often get cut up in crashes. It weighs 266g, is 265mm long and 142mm wide, and it also come in a narrower and wider size.
2. Brooks England C15 Cambium Carved All-Weather Saddle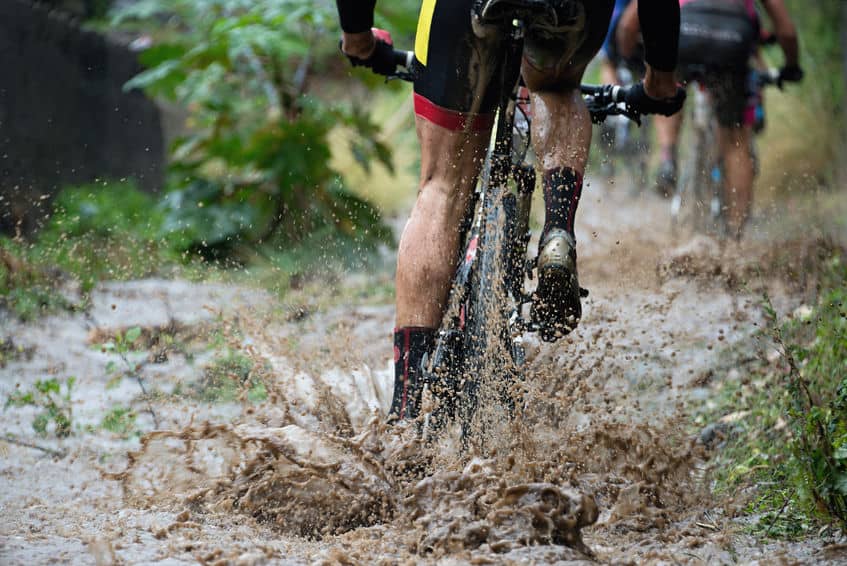 The seat of the C15 Carved is ready to ride with a soft organically grown cotton canvas design that is enhanced by a thin structural textile layer for resilience. It is possible to ride long distances without experiencing pain because of the soft sit-bone padding and it also has a zero break-in period.
It has a narrow shape that has a cut-out that minimizes discomfort on contact points and helps shock absorption. Brook's signature "Hammock" design creates a damping effect that helps keep you comfortably cool. The vulcanized natural rubber base makes it extra strong and its ergonomic design and dimensions make it light and comfortable for maximum speed.
What makes the saddle strong and long-lasting is the die-cast aluminum frame with tubular steel rails. The fact that it is a water-resistant product with much flexibility is also an advantage. It might cost more than some of the cheaper ones but is made to last a long time. It weighs 395 grams and has a length of 270 mm and a width of 145 mm.
3. Ergon SMC4 Sport Gel Saddle
The SMC4 is designed for endurance riding and long days in the saddle. The padding is orthopedic foam and gel that gives comfort and support for long rides, giving you pressure relief, and making it one of the most comfortable mountain bike seats that you can buy.
The SMC4 gives you dynamic sitting positions unlike step-saddles, due to its flat seating surface and broad gel pads. With a large sitting area distributing the pressure equally across the sit bones, this causes the saddle to effectively reduce pressure points. The durable, breathable microfiber cover withstands the abuse from the elements.
They have two widths available medium and large (which is 10mm wider). They are both long and have a 9mm deep pressure relieving channel. The saddle's cover material is synthetic, it weighs 300 grams, the length is 285 mm, and width is 145 mm or 155 mm. It has a nylon composite shell that makes your ride have just enough flex, with Cro-Moly rails that make it sturdy and reliable.
Factors To Consider When Choosing Your New Mountain Bike Saddle
What things you must consider will depend on what you want to look for in a mountain bike saddle, things like value, comfort, performance, and durability will all affect the price. To know which saddle could be right for you, you must first know what to look for.
Shape And Size
Everyone sits slightly different due to the fact that no two people have the exact same bone structure. Your bone structure and body weight will affect how much pressure is put on the saddle and where this weight sits at on the saddle. Typically, the broadest section of the saddle should support your sit bone.
Sometimes the width of the saddle will depend on a biker's gender. Usually women need a short broad saddle and men a longer narrower one. However, if you adopt an aggressive position, it is wiser to go for a narrower saddle. If you have wider sit bones you may assume that you need a wide saddle for more comfort, but actually even though most women have wider sit bones many female riders use a unisex or male saddle.
This is because the narrower saddle helps prevent thigh rubbing. Narrow mountain bike seats also allow for more efficient pedaling and make it easier to shift your weight when descending or approaching technical sections. The narrow saddle also weighs less which is great for speed.
There are saddles that are flat and others that are curved but these are chosen according to what is comfortable to you. A long nose on a saddle can allow you to shift your weight further forward when climbing, giving you an efficient position. However, the longer the nose the more it weighs, and if you are after speed you will not want it too long.
Some saddles have a groove running down the center while others have a long, narrow hole near the center. This is an important feature to consider, the reason for this is to relieve pressure from the "sensitive" areas to prevent numbness when riding.
Padding
The padding is found between the shell and cover, with some saddles having a minimal amount and usually a gel form. More padding doesn't always make a more comfortable saddle because after you have been on that saddle for hours, it will compact and can leave you sitting on the shell anyway.
For regular riding, medium padding will offer enough comfort. A small amount can provide some comfort and support, especially on long rides, and you don't usually see more than a couple of millimeters of padding in professional saddles.
Gel inserts aren't always ideal either, because in long rides the gel can compress and push to the edge or center of the saddle, so it is generally not best for long rides. For short rides a gel-filled saddle can be very comfortable.
While shopping, remember that the amount of padding will affect your price and make sure that the padding will last for many uses, keeping in mind that some will feel very soft at first, but after a few uses their cushioning power will be gone. More comfortable options are often cheaper. This is because they have broader bases and more padding.
Cover And Rail Material
The cover on the top of the saddle is usually made of leather, synthetic leather, or maybe some Kevlar. Some manufacturers have gone to using the cheaper synthetic materials because even though leather is the best material for making saddles it can be quite expensive. If you have the money to invest then it is often the best idea to go with leather.
While you are looking for a saddle for your mountain bike remember to check the seams to ensure there is no chaffing. Another important note is to make sure your saddle cover is weatherproof if you intend on having it out in the rain at all.
Steel, titanium, carbon fiber, and other materials are the most common materials in saddle rail making. Each one has their pros and cons. Rails made from carbon fiber and titanium are light, offering you more comfort compared to steel rails.
If speed is important, titanium suspensions and mountings as well as shell casings devoid of any padding is very lightweight. But these saddles are designed for short high-speed riding and will more than often cost more than double.