Technological advances in mountain biking area always improving. The dropper seat allows your seat to adjust down for downhill portions of the trail and also adjust back up on ascents. It's an interesting feature that have become increasingly popular. In the post we'll discover if its an upgrade worth investing in.
So, are dropper seat posts for your mountain bike worth it? Dropper seatposts range from $80-$350 and make it easier for mountain bikers to:
Control the mountain bike on downhills
Maneuver around turns on cross country trails
Handle technical sections of any mountain bike trail.
Now let's dive in and examine how and why a dropper seatpost can improve your mountain biking experience. We'll also explore the top dropper seats on the market and how to install a dropper seat on your existing bike.
Top 3 Areas That A Dropper Seatpost Can Improve Your Riding Experience
On The Downhills – A fixed post will not allow you to shift your hips back behind the seat on steep downhill descents. This makes you more susceptible to going over the bars and crashing because all of your weight is over the front of the bike. With a dropper seat post you can shift your weight back behind the seat. You can drop your heals and then your weight will be behind the bike which is what you want for those downhills.
On The Flats – Once you get used to adjusting your dropper seat you can start to use it on the flats as well. The dropper seat allows you to rotate your body weight to the left and right side of the bike as you are cornering. It allows you to get a lower center of gravity and more grip and control. With a fixed rigid seat you won't have that same mobility. The dropper seat really allows you to get your hips on the outside of the bike so that you can turn more sharply.
On The Technical Sections – If you see a technical section ahead of you you can lower your dropper seat to offer you more mobility for hops, jumps or whatever the obstacle in front of you requires. Once a again a rigid seatpost won't allow you to maneuver around on the bike making it much more difficult to engage in a jump. It's important to anticipate these obstacles before you reach them so you can set the seat before you arrive.
Do Dropper Seats Work On Any Bike Or Just Mountain Bikes?
Technically you could install a dropper seat onto any style of bike. But as far as functionality goes they are best designed for mountain bikes. The terrain for mountain biking requires you to be able to shift your weight to the front, back and both sides while you ride.
Dropper seats allow you to move that weight in all directions so you can handle difficult parts of the trail with ease. For the most part it wouldn't make sense to add a dropper seat to any other style bike other than a mountain bike.
Road bikes require a complex bike fit. Some companies will charge up to $250 for a complete bike fit. Once your bike is fit the last thing you would want to do is change any settings on a bike.
Beach cruisers, fixies and other bikes also wouldn't require a drop seat as you won't be riding aggressively and need to shift your weight on difficult trails.
How Does A Dropper Seatpost Work?
A dropper seatpost works similar to you office chair. Just like when you hit that level to lower your chair and then release that lever to lift the chair back up to it's original height. The dropper seatpost functions in the exact same way.
You will use your body weight to lower the seat after you hit the lever. If you want the seat to return to its original high set position you would simply stand on the pedals so your body weight is off the seat. Then you would hit the lever and the seat would return to its high position.
In the past dropper seats had a button on the actual seatpost. You would reach down and hit the button on the seat to raise and lower it. Almost all new dropper seatposts will have a lever that is attached to the handle bars that you will trigger with your thumb to activate the seat.
Having the lever on the handlebars makes it easier and safer to raise and lower the dropper seatpost. If you are reaching down to change the dropper you will be riding one handed. This can be a scary proposition especially if you are headed downhill, into a turn or over an obstacle. And those just happen to be the main times you will want to use your dropper seat.

How To Pick Out The Right Dropper Seatpost For You
Diameter – Most new dropper seatposts will have a diameter of 30.9MM or 31.6MM. Other standard sizes they come in are 27.2MM and 34.9MM. Matching the seatpost to the frame of the bike is the first step in choosing the right post for you.
Cable Routing – So most modern bikes come with internal routing (stealth). This just means that the cables run through the frame to the handle bars so you can trigger a seat adjustment with your thumb while your hands are on the handle bars. External (non-stealth) routing will have the cables outside of the bike and travel along the frame. Internal routing is a much cleaner option.
Dropper Travel – So this just refers to how much drop you'd like in your dropper post. Some riders prefer a larger drop and want that seat to really get out of the way when they don't need it. Others prefer to have the dropper post stay at a minimum height even when its in a dropped position. This is just a personal preference.
Stack Height – The next thing you'll want to measure is the stack height. If you are too high here your legs will lock out and your hips will sway side to side when you're riding. This will make for an uncomfortable ride. The goal here is to get the maximum height for pedaling with comfort and power.
Insertion Length – Another important factor is to never bring your seat post higher than the minimum insertion line. That line is there to insure that your seat is secured safely to the frame. So when you insert the seatpost into the frame be sure that it goes all the way past the minimum insertion line.
Remote Lever – It's important that you install your remote lever in a position that is easy to access with your thumb. You will want to be able to adjust the seat quickly on the fly when you are on the trail. Before you purchase anything check out the lever system and make sure it'll cooperate with your style of bike.
Can You Ride Faster With A Dropper Seatpost?
There's definitely been some discussion on whether or not a dropper seat post will slow you down or help you go faster. GMBN tested the theory with a short ride. Although the results weren't very scientific there were some takeaways from the test.
The dropper seat bike allowed the rider to corner better by moving his body freely from side to side on the frame.
He felt more comfortable on the downhills by being able to get his weight behind the saddle.
He felt less likely to fall off the bike so he could push himself more on the downhills and trust his turning and brakes.
He did end up going faster which he attributed to the more confidence he had in handling the terrain.
Dropper Seatposts – Hydraulic vs Mechanical
There are two main types of seatposts hydraulic and mechanical. RockShox is one of the only vendors out there that offer a hydraulic seatpost. The positives of the hydraulic system is that there is no cables to wear out and the hose can be routed through any angle without additional friction. You also won't have to worry about debris getting into the tubing. RockShox offers a hydraulic dropper seat in the $300 price range. The disadvantage of the hydraulic system is that it requires annual maintenance.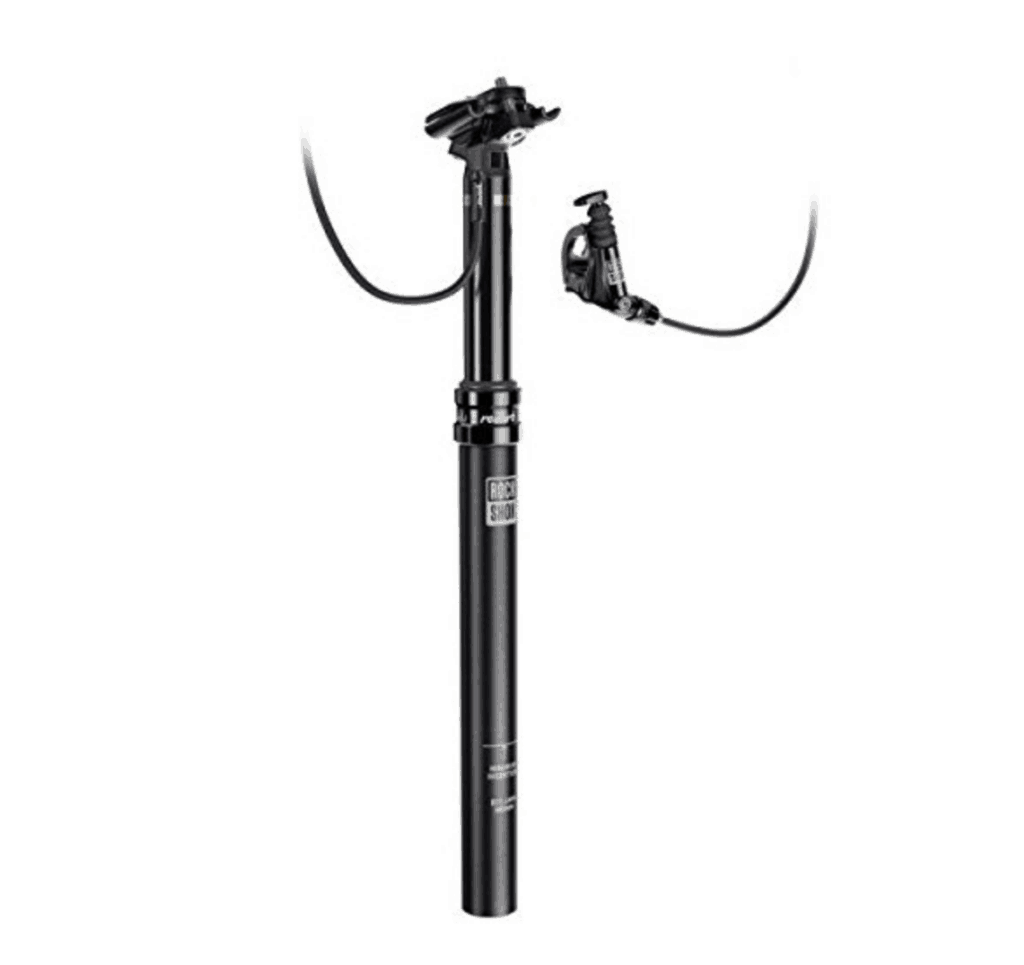 RockShox Seatpost REVERB 30.9mm, 125mm, Travel 390mm, Length Remote (Left/above, Right/below)

Mechanical housing is a simpler system to set up than the hydraulic system. It also won't require annual maintenance. It used braided cables that are threaded through the gear tubing and attached to the dropper seat. The bast majority of dropper seats are using this technology.
How Do You Control The Dropper Seatpost & Does It Matter?
When dropper seatposts first came on the market they used a lever that was located directly on the seat. This is difficult to operate as you are traveling at high speeds on a mountain bike. You will have to release one of your hands from the bars feel where the lever is and then drop the seat.
Since then most dropper seats include levers that attach to your handle bars and can be activated with your thumb. When you install it be sure to make the adjustment so that you can drop your seat with ease using the thumb trigger.
Dropper seats have increased the safety of mountain biking by allowing riders to be more mobile while riding the bike. Be sure to opt for a handlebar lever if you decide to get a dropper seatpost. This addition will make for a safer ride.

Price Expectations For Dropper Seatposts
| | |
| --- | --- |
| Price Range | Expected Quality Of The Dropper Seatpos |
| $150 & Below | Weight is the biggest factor when you look at the value seatposts below $150. You likely won't have a stealth option for the cabling and the mechanics will be basic. If you are new to mountain biking and want to save money and still have a dropper seat this is a good option. The KS eTen R Dropper Seatpost is a good option at this level and is currently priced at $111.00. |
| $150-$300 Range | You'll start to see a few advances in the tech when you jump up into this price range. I would advise if you are willing to spend up to $300 wait until last years models from the $300-$500 range become obsolete and pick one of those up on sale. If you buy something new expect a solid seatpost with internal routing features. A great option in this range is the PNW Components Rainier IR Dropper Post. |
| $300-$450 Range | This is the sweet spot for dropper seatposts. You've got a lot of great options out there with high tech features. You'll see lighter posts with smoother actuation. A great option is the Fox Racing Shox Transfer Performance Series Dropper Seatpost. |
| $450 Plus Range | You should expect to get a professional style seatpost. The travel should be a smooth ascent and descent. The post will have a quick reaction of the trigger and feel extremely smooth. A great option is USA-made Thomson Elite Covert dropper seatpost. |
The Top 5 Dropper Seatpost Manufacturers Voted On By Avid Mountain Bikers
After reviewing the manufacturers above you should have a good path towards finding the perfect dropper seat for you and your style of riding. I always recommend going to your local bike shop first and trying out the seats they have on display. You'll be able to get a good idea of what is out there and the functionality at each price level. Once you narrow it down to a few seatposts that you like you can go online and make the purchase.
Shopping online will offer you more options at a better price but just make sure you always triple check the diameter of the posts so that you don't have to mess around with parts that don't fit.
How To Maintain Your Dropper Seatpost
Just like your mountain bike your dropper seatpost will require some maintenance. The hydraulic fluids will need to be checked annually by a pro to insure that gas and fluid levels are adequate.
If you opted for a mechanical system you'll want to make sure the cables have the appropriate tension. This is one of the most common issues and be corrected with some simple maintenance.
One of the simplist ways to keep your dropper post working properly is to keep your bike free of debris after each ride. Giving your mountain bike some TLC will go a long way in keeping all of your bikes functionality for years to come.
A few warning signs to look out for are:
Strange noises when you're riding.
The seat sags under your weight when the button is not engaged.
A slow extension when you engage the dropper seat to return to its top position.
Excessive movement on the seatpost.
If you notice any of these items its probably a good idea to get your dropper seatpost serviced by your local bike shop.
Quick Tip On Fixing A Malfunctioning Dropper Seatpost
Dropper seatposts are a moving and engaging part on your bike. You'll be in dusty, rainy conditions and dirt is likely to get into those mechanical areas. Check out this brief 1 minutes video on a quick repair you can do to get your dropper seat funtioning properly again.
In the end you'll want to get your dropper seat maintained once a year by a bike professional but this simple tip will help your seat to function properly throughout the year.

Related Questions
How And When Should You Use Your Dropper Seat? Dropper seatposts are best used on downhills, bends in the trail & over obstacles. They allow you to shift your weight around the bike which ads an additional level of control while your are riding.
How Do You Install A Dropper Seatpost On Your Mountain Bike? You will remove your existing seat and then install a dropper seatpost in it's place. Be sure to follow the recommended guidelines to make sure your post will be at the correct height in full expanded position as well as full contracted position.