If you are in the market for a mountain bike you will quickly learn that there are different designs and styles. These are important factors to consider because each style and component are built for the wide variety of trails you will encounter. Many people narrow down their final decision to a downhill mountain bike or a trail mountain bike. The main objective is to find the bike that will match your riding style and the terrain you will most commonly ride. In this post we'll dig deep into the differences between these two bikes so that you can make an educated decision.
So, what is the difference between a downhill mountain bike and a trail mountain bike? Trail Mountain bikes ar the most common bike and are excellent for climbing. They are also capable bikes for downhill sections. If you occasionally ride down steep stuff or going off jumps the trail bike is a great fit. On the other hand downhill mountain bikes are built for steep difficult terrain. They are designed to handle drops, obstacles, jumps, high speeds and air time.
Lets Compare The Trail & Downhill Mountain Bikes
Which Bike Is Better For Climbing
Modern downhill mountain bikes have less gears which make climbing more difficult. In fact, new designs come with just one drive trail and only 7 gears. Taking a chair lift to the top of the mountain and riding down only requires about 7 gears to have a nice comfortable ride.
If you plan on riding trails where climbing will be required than you might want to consider getting a trail bike. If you don't live near a ski resort that offers rides to the top you'll be working really hard to get to the top of the trail. In fact, many downhill bike owners will end up walking their bike up portions of the hill if it gets too steep.
Trail bikes have 2 or 3 chain rings which offers a wider variety of gears you can move through. Most mountain bike trails have steep climbs so being able to shift into a lower gear makes all the difference. You can keep a steady cadence and keep powering up. Even very steep stuff will be manageable with a trail bike.
Which Bike Handles Jumps Better
The clear winner hear is the downhill mountain bike. Downhill bikes come with thicker frames to handle the impact from repetitive jumps. The front fork is larger as well and can absorb a pounding when you are landing off a jump.
Downhill bike tires are 2 ply which means they are twice the thickness of a regular tire. This is great for traction and durability. If you need to accelerate fast to go off a jump that extra traction will come in handy.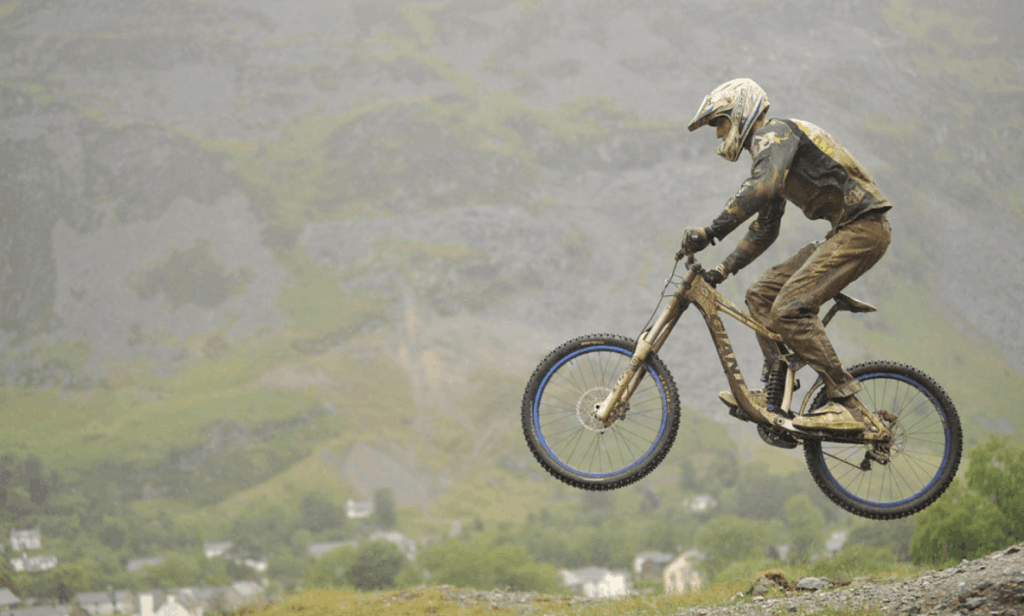 Trail bikes can handle steep downhill terrain and jumping but the repetitive impact on a trail bike could cause some extra wear and tear over time. You will be more prone to flats and your shocks will get extra work as they are thinner than a downhill bike.
If you plan on using a ski lift to get to the top of the mountain to crush some jumps than the downhill bike is the clear winner in this category.
Which Bike Can Carry Speed Through Jumps Better
Although downhill bikes are built for jumping carrying speed through multiple jumps will be difficult because you'll lose momentum through each jump. If you are jumping a single jump to get serious air than the downhill bike is great.
If you ride bike park style track with multiple jumps lined up in a row you'll find that a trail bike will carry your momentum and help you navigate through more effectively.
Which Bike Offers Better Acceleration On A Flat
If you are accelerating on flat the trail bike will win out. They offer a better rolling efficiency that will get you from A to B on a flat quicker than a downhill bike. The lack of gears on a downhill bike doesn't give you the output you'll need to accelerate fast on a short flat trail.
Which Bike Is Better For Cornering
The lower center of gravity of a downhill bike does help keep your wheels on the ground as you corner. It's especially effective on smooth trails without obstacles.
Once you add in some obstacles like rocks or roots the trail bike will offer more handling that will make rolling through that rock garden easier. This one is close but overall the trail bike will handle sections of cornering with more control.
Which Bike Is Better Downhill Technical Sections
Downhill technical sections can get bumpy so which style bike is better in these areas? This is where your shocks start to play a big role. If you are traversing over rocks and roots you will love having that extra amount of travel that is common in most downhill bikes.
If you are using your trail bike you can expect it to be a bumpier ride. You'll also lose a ton of momentum as those bumps slow you down. The downhill bike is the preferred choice for downhill technical areas.
Chart Of Component Differences Between A Downhill Mountain Bike And A Trail Bike
These are the basic differences between a trail bike or a downhill mountain bike. Keep in mind that you can upgrade your mountain bike so these are just the main component differences.
| | | |
| --- | --- | --- |
| | Trail Mountain Bike | Downhill Mountain Bike |
| Tires | A balanced tire for durability, traction and rolling efficiency | A thicker tire that offers durability and traction |
| Gears | 2-3 Chain Rings – Offers Multiple Gears For Ease In Climbing | 1 Chain Ring – Offers limited Gears |
| Suspension | 150mm of Travel – Great for normal riding and some jumping | 200mm of travel – Better For Jumping |
| Weight | Trail Bikes are lighter than DH & Freestyle Bikes | Downhill bikes are heavier than most other mountain bike types |
Normal Component Differences Between A Downhill Mountain Bike & A Trail Mountain Bike
I put together a list of the top bikes in each category at different price ranges. I didn't go lower than $3,000 because once you drop down to that level you are really compromising some essential things you'll need to qualify as great bike. If you did want to spend less than $3,000 you could trying going the used route. Just be sure you do a bike check before you purchase and check the price comparisons on different websites.
The Best Downhill Mountain Bike Under $8,000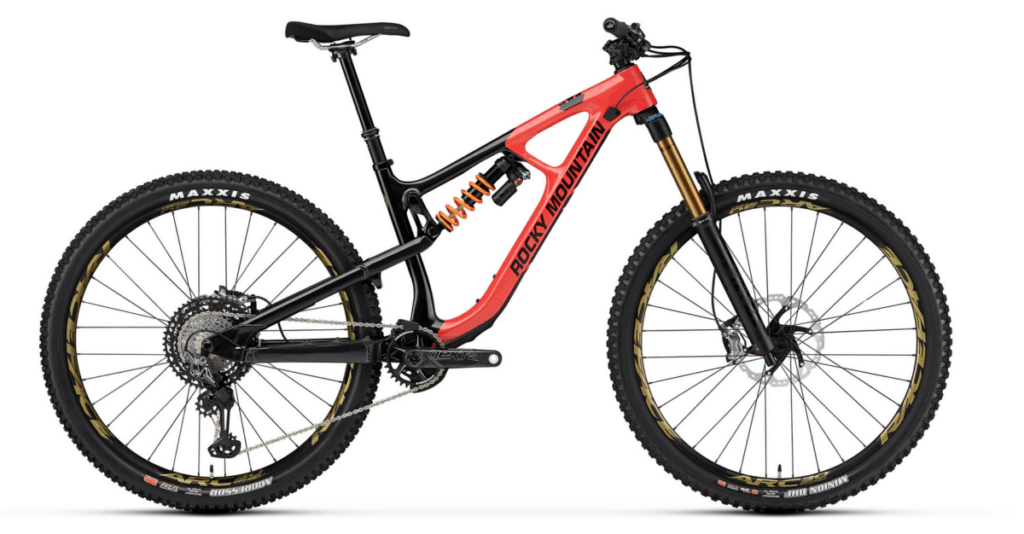 The Rocky Mountain Slayer Carbon 90 (29″) downhill mountain bike is the downhill riders dream. It's priced at $7,999 so right at the high end of our range. It's got some ridiculous features like:
FORM™ tubesets utilize premium materials to meet our strict requirements. Each FORM™ tube that we create is engineered for its specific purpose within the frame, ensuring optimized strength, weight, and ride quality.
Smoothlink suspension is efficient yet supple when you're on the pedals and across a wide range of gears. It features a controlled end-stroke and a rate-curve that feels more capable than the travel would suggest. This four-bar suspension design philosophy is centred on ride characteristics; each bike platform we develop balances variables like anti-squat, axle path, chain growth, rate curve, anti-rise, etc. to achieve the legendary Rocky Mountain ride feel.
The RIDE-4 adjustment system allows riders to quickly fine-tune their geometry with a pair of Allen keys. Four configurations are possible thanks to one rotating chip. This allows for subtle geometry changes with minimal effect on your shock tune.
Enduro Mountain Bike Magazine had this to day about the Slayer…

The careful attention to detail, good looks and, above all, the outstanding rear suspension convinced us of the new Rocky Mountain Slayer. Super sensitive, massive reserves and yet very defined – we were thrilled. The geometry is balanced and the spec is beyond reproach. If you're looking for an enduro bike to tame the wildest trails, we recommend taking a closer look at the new Slayer. We can't wait to spend more time testing it.

Enduro Mountain Bike Magazine
The Best Trail Mountain Bike Under $8,000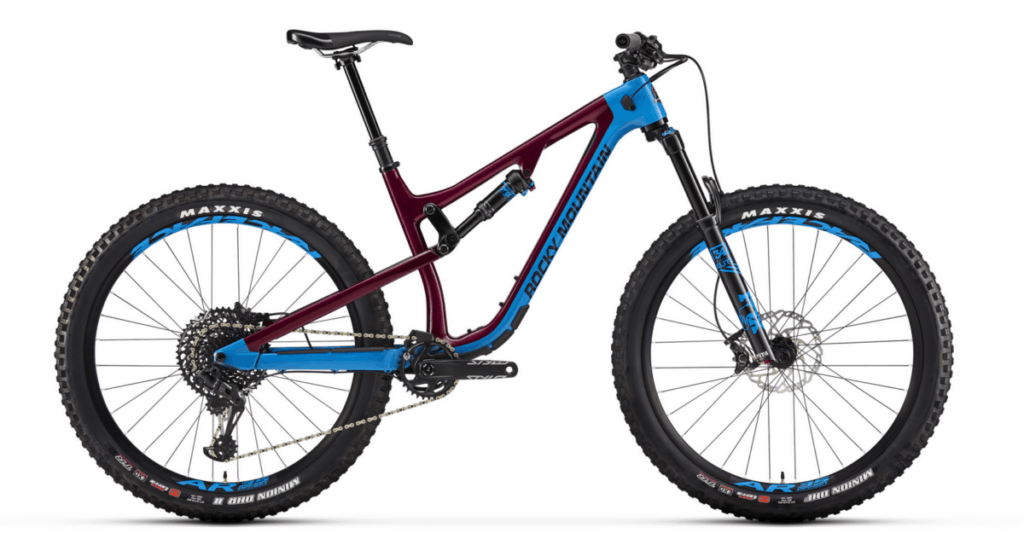 The Rocky Mountain Pipeline Carbon 70 is priced well under the $10,000 mark at $5,499 but it still has some of the incredible features of higher priced bikes. Here are a few of the components that make this bike a great buy.
The RIDE-9 adjustment system allows riders to quickly fine-tune their geometry and suspension with a pair of Allen keys. Nine configurations are possible thanks to two interlocking chips.
Adjust your RIDE-9 position for geometry before considering suspension effects, or variables like air pressure and shock compression. Make gradual, incremental changes, take notes, and be methodical. Don't adjust in a hurry before a big ride. Take your time and enjoy the process. 
Size Specific Tune ensures that riders of all sizes get the right balance of small-bump compliance, mid-stroke support, and end-stroke progressiveness. Our design team does custom shock tunes based on real world field testing, and adjusts each tune for specific frame sizes.
Here's what SingleTracks had to say about the Rocky Mountain Pipeline line of mountain bikes…
The new Pipeline, like other new bikes in the Rocky Mountain line, features something the company calls the "Ride-9 System" that allows the rider to tweak the bike's geometry to get the ride quality he or she is looking for. There are 9 positions to choose from, taking the geometry from a slack 67.2° head tube angle all the way up to a steeper 68.8° angle. This allows heavier or lighter riders to utilize different settings and also offers the ability to tune for the terrain (climbing efficiency vs. aggressive handling). Note that unlike similar "chip" systems being marketed by other brands, Ride-9 has nothing to do with adapting this plus bike to run standard 29er wheels. This is a dedicated 27.5+ rig.

SingleTracks
The Best Downhill Mountain Bike Under $4,000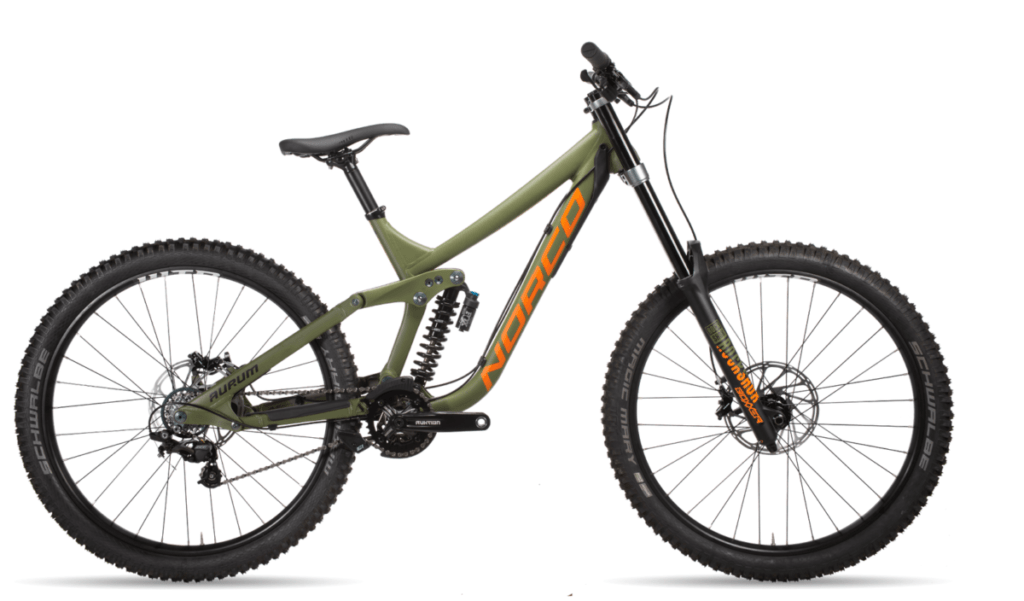 The Norco Aurum A1 Downhill Mountain Bike is a great option if you are looking for a mid range mountain bike. It's a got a clean look and excellent features for an enjoyable downhill ride. Here's a list of the highlights…
DH machines are some of the most routinely abused bikes in the bike world. The premium 6061-T6 aluminum frame is built to take this punishment and comes with strategic frame armour for protection from rocks and trail mishaps. Integrated fork bump stops, fender and shuttle guards ensure practical, everyday protection. Featuring size scaled tubing, the frame maintains the same stiffness and ride quality across frame sizes, providing you the handling characteristics we intended for, no matter what size you are.
To ensure riders of all sizes achieve an optimal weight distribution, the rear centre length of each frame size increases proportionately to the front centre length. This gives all riders the ability to maintain a centered body position resulting in predictable grip as well as improved handling, stability and control.
We are strong believers in the 7-speed DH drivetrain, which is also why we designed the full Aurum Aluminum lineup around it. 7-speed drivetrains deliver the full gear range needed by racers and offer more useful jumps between gears. A reduced rear-end width delivers an optimized chainline for the 7-speed system as well as improved heel and hazard clearance.
200 mm of front and rear travel deliver highly capable suspension performance for greater confidence and control on rough terrain. Supportive mid-stroke helps you push into lips and pop off jumps and a progressive suspension curve prevents bottom outs in flat landings. The Aurum Aluminum is the perfect choice for both bike park and rough, high-speed terrain.
Here's what MTBR.com had to say about the Aurum…
Video footage from last year's World Cup Downhill circuit tells all. Watching the relaxed body positioning and movements of team rider Sam Blenkinsop is evidence of how capable the radically different Aurum HSP design is. And thanks to its advanced full-composite construction, the Aurum HSP 1 weighs a svelte 32 pounds – incredibly light for a World Cup Downhill-specific rig…..

Pictures can't fully do justice to the Aurum HSP's beautiful and rugged composite design.

MTBR
The Best Trail Mountain Bike Under $4,000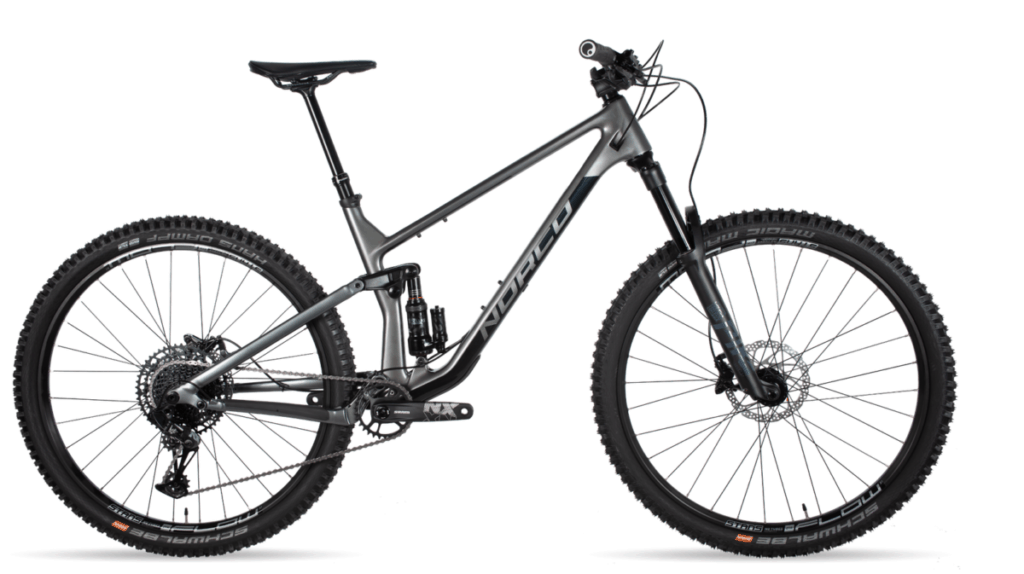 The Norco Optic C3 Trail Mountain Bike is a great trail option without blowing your budget. It's got a sleek design so you'll be riding in style. Here are some of the main features…
Using Norco's holistic approach to fit, geometry and suspension kinematics, the Optic C3's playfully aggressive personality is complemented by 125mm of rear travel via a full-custom RockShox Super Deluxe Ultimate DH rear shock, and a 140mm Pike Select Plus fork.
Adding to its high-speed trail performance, the Optic C3 features SRAM NX Eagle 12-speed drivetrain with NX DUB crank. Shimano MT420 4-piston 180mm brakes control the speed, and the light weight, robust wheels feature Stans Flow S1 rims on sealed bearing Boost hubs.
The 2019 model was voted bike of the year by PinkBike…
2019 Pinkbike Mountain Bike of the Year – "Take a heaping scoop of modern geometry, add 29" wheels and 125mm of well-managed rear travel, then blend in a generous amount of fun. That's the recipe that created the winner of Pinkbike's Mountain Bike of the Year award – the Norco Optic.

PinkBike
Looking To Spend Less Than $4,000?
If you are looking to spend less than $4,000 on a mountain bike I would go for a used bike. Here's a checklist to consider when purchasing a used mountain bike.
Are you getting the bike for a fair price? Most bikes lose a ton of value as soon as you take them out of the shop. Similar to cars in this way. Be sure to get a good value since you are purchasing it used. Compare it to other used bikes on sites.
Is The Bike Beat Down? You'll get a feel for how the bike was used by the previous owner through some strategic casual conversation. If the bike was rarely used because the owner was too busy to ride it might be a great value. On the other hand if the guys was riding that bike and pounding the trails the bike might have underlying issues that don't come up on the initial inspection.
Does The Bike Have The Components You Need? Some components are easier to replace than others. Check what components you'll want to add on like: Tubless Tires, Dropper Seat or Wide Handlebars. Once you know what you want to add you can compare the price with other used bikes that already have them.
Factors To Consider When Choosing Your Mountain Bike
Get The Right Bike For You – Be sure to ask yourself what style of riding you enjoy doing. Find a bike with the specifications that will match your riding style.
Compare Specs With Multiple Manufacturers – Mountain bike manufacturers all have different base specs on their bikes. Compare the differences to insure you are getting the best value.
What Size Bike Fits You Best – Online tables and guides don't always match your body type. Its really important to get our there and sit on some bikes to discover the exact mountain bike size that fits you.
Can You Add Components After The Purchase – You might find everything you want in a bike but its missing that one thing. If that's the case then check out how much it would cost to add that after the purchase. You can have it all but it might cost you a few more bucks.
Test Ride As Many Bikes As You Can – There is no substitute for test riding bikes. Once you take a bike for a spin you can really see if it fits your body type and riding style.