Are you a road biker or triathlete? Are thinking about mixing it up and getting off the roads for awhile and start mountain biking? Well you might be wondering if you can use that road helmet on those off road trails. In this post we'll discuss if you really can use your road bike helmet for mountain biking.
So, can you use a road helmet for mountain biking? Yes, you can use a road bike helmet for mountain biking. Both road helmets and MTB helmets are designed to protect your head from a fall. But understand there are features in each helmet design that add safety, comfort & performance to each specific style of riding.
OK, so if you just invested in a new mountain bike and are tired of busting out your wallet then use that road helmet and hit the trail. But, if you want to learn the real difference between a road helmet and a mountain bike helmet….read on.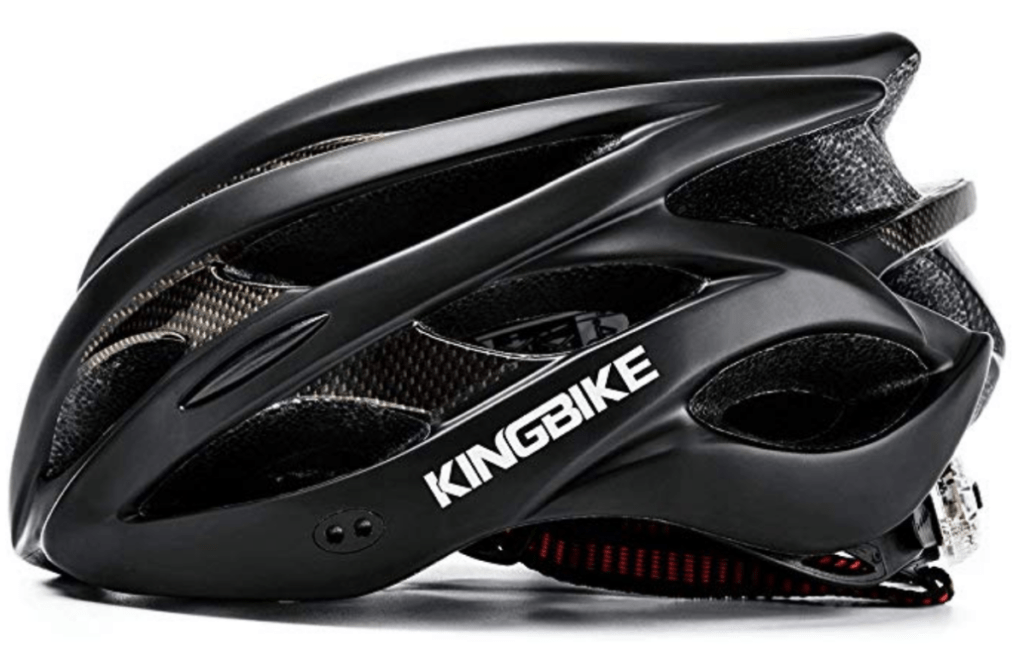 The Main Differences Between A Road Bike Helmet & A Mountain Bike Helmet
Ventilation, Vision & Resistance & How They Effect Your Ride
Ventilation – Mountain bike helmets have less ventilation holes than a road bike. This offers more protection for your head as you traverse through rough terrain with rocks, roots and branches. MTB helmets do a better job of protecting the back and sides of your head. Road helmets offer more holes which in turn allows more air to flow through the helmet and cool you down.
Vision – Mountain bike helmets come with a built in visor. The built in visor offers protection from the sun so you don't need to wear sunglasses. This is critical so you can see that next bump on the trail. The built in visor also protects your eyes from he rain. In contrast, road bike helmets don't offer a visor as it inhibits your vision. If you are riding in a group formation or traveling through high traffic areas you want the least obstructions as possible.
Resistance – The lid that comes standard on a road bike creates more resistance if you are traveling at high speeds. Mountain bikers are less concerned with resistance because the trail riding lends itself to climbing and descending and less time on the flats. Road bikers are adamant about reducing resistance. They'll wear tight body suits, add wind resistance wheels and so much more just to prevent the drag. So adding a helmet with a lid on it is definitely not ideal for road biking.
Full Face Protection For Downhill Mountain Biking
If you plan on doing downhill riding at a mountain or ski resort then you should definitely consider a full face protection mountain bike helmet. They look similar to motorcycle helmets and come all around your chin and mouth area. This adds an additional level of protection.
Downhill mountain biking is the most dangerous form of mountain biking. You are on steep rocky terrain which lends itself to getting out of control. The chances of a fall are greatly increased when you are downhill mountain biking. So always take the extra precaution and wear a full face mountain bike helmet.
New Helment Technology To Consider Before You Purchase
Multi-directional Impact Protection System also known as MIPS adds an additional level of protection against rotational violence in the event of a dramatic fall. It allows the helmet to slide relative to the head. Interestingly, this is the exact same way our brain naturally protects itself with oblique impacts. Basically its two layers that rotate against each other to reduce the impact forces onto the brain.
The Troy Lee Designs Adult A2 MIPS Decoy Mountain Bike Bicycle Helmet is one of the top selling MIPS helmets on the market for about $100. It offers lots of ventilation on the sides unlike many other mountain bike helmets. It comes in a wide variety of colors as well.
More Information About Mountain Bike Helmets
Can you wear sunglasses with a mountain bike helmets?
Yes most visors on mountain bike helmets are adjustable so that you can wear sunglasses while wearing your MTB helmet. This is critical especially if you riding in the morning or in the evening when the sun is lower on the horizon. You'll also want to wear sunglasses or eye protection if you are riding in the rain to keep the rain drops out of your eyes.
Why would you wear goggles for mountain biking?
In the past most mountain bikers would just stick to sunglasses. The technology for goggles has advanced tremendously in the past few years and the new trend is that more and more mountain bikers are choosing goggles over sunglasses. New style goggles have improved ventialtion and added comfort. Helmet manufacturers are starting to design helmets that are more goggle friendly. Some of them even come with tear off papers so if you ride on a muddy day you can simply tear off the mud rather than smearing it while trying to clean your goggles.
What are the top 5 mountain bike helmets?
Related Questions
Can you wear a motorcycle helmet on a bicycle? Yes, you can wear any type of helmet for any type of biking activity. It's always better to have head protection on rather than nothing at all. But, understand that helmets are designed specifically for the type of vehicle or type of riding you'll be doing.
What percentage of road bikers and mountain bikers wear helmets? Most bike deaths are due to a head injury. Wearing a helmet while on your bike reduces the chances of a head injury by 50%. It also reduces the chances of a head, neck & shoulder injury by 33%.
What is the safest helmet for cycling? The Giro Aether MIPS Road Helmet is currently the safest helmet on the market. You can currently pick this helmet up for around $300 on amazon.