No matter where you live there will be mountain bike trails for you to follow. Of course some are better than others, but a trail is a trail, or is it? You can in fact make your own mountain bike trail. (I'm not sure about you but that seems like a lot of work) Especially when you can go literally anywhere and ride an established mountain bike trail.
Arizona, known for its abundance of mountain bike trails, has a little something for every type of rider. Whether you are a beginner or a novice you will find the trail just right for you somewhere in Arizona.
How Mountain Bike Trails are Rated
Regardless of how experienced you are it is good to know how the mountain bike trail you are about to attack is rated. The International Trail Marking System or IMBA offers a ranking system for most recreational mountain bike trails in the United States.
According to IMBA's web site, the IMBA Trail Difficulty Rating System can:
Help trail users make informed decisions
Encourage visitors to use trails that match their skill level
Manage risk and minimize injuries
Improve the outdoor experience for a wide variety of visitors
Aid in the planning of trails and trail systems

The system the IMBA uses was taken from their system used at ski areas throughout the world. The system can not only be used for mountain bikers but also can be used by hikers and equestrians.
Whether you are a mountain biker or just entering the terrain for hiking or horseback riding, here are each designations and what they mean.
IMBA Trail Difficulty Rating System
If you see white circle: this is the easiest
Trail width is 72 inches or more
Tread surface is hardened or surfaced
Average trail grade is less than 5%
Maximum trail grade is 10%
And there are NO natural obstacles and/ or technical trail features
If you see a green circle: this is easy
Tread surface is firm and stable
Average trail grade is 5% or less
Maximum trail grade is 15%
Unavoidable obstacles 2 inches tall or less; Avoidable obstacles may be preset; Unavoidable bridges
36 inches or wider
If you see a blue square: this is a more difficult course
Trail width is 24 inches or more
Tread surface is mostly stable with some variability
Average trail grade is 10% or less
Maximum trail grade is 15 % or greater
Unavoidable obstacles 8 inches tall or less; Avoidable obstacles may be present; Unavoidable
Bridges 24 inches or wider; TTF's 24 inches high or less, width of deck is greater than ½ the height
If you see a black diamond: this is a very difficult course
Trail width is 12 inches or more
Tread surface is widely variable
Average trail grade is 15% or less
Maximum trail grade is 15% or greater
Unavoidable obstacles 15 inches tall or less; Avoidable obstacles may be present; May include loose rocks; Unavoidable bridges 24 inches or wider; TTF's 48 inches high or less, width of deck is less than ½ the height; Short sections may exceed criteria
If you see a double black diamond: this is an extremely difficult course
Trail width is 6 inches or more
Tread surface is widely variable and unpredictable
Average trail grade is 20% or more
Maximum trail grade is 15% or greater
Unavoidable obstacles 15 inches tall or less; Avoidable obstacles may be present; May include loose Rocks; Unavoidable bridges 24 inches or narrower; TTF's 48 inches high or greater, width of deck is unpredictable; Many sections may exceed criteria
This system is an attempt to standardize trail ratings. It makes a distinction between technical difficulty and physical difficulty.
Riding Responsibly
In 1998 IMBA started its Rules of the Trail. These guidelines riding responsibly have been adopted nationwide. It's a pledge that you as a rider understand your actions have an impact not only on you, but on the landscape, the trails, the animals and other trail users.

The rules of the trail are:
Respect the landscape: and respect the local trail builders. Keep singletrack single by staying on the trail. Do not ride muddy trails because it causes rutting, widening and maintenance headaches. Ride through standing water not around it. And ride (or walk) technical features, not around them.
Share the trail: Mountain bikers yield to horses and foot traffic, and descending riders yield to climbing riders. There are some regional differences and unique rules on single-use, directional mountain bike trails. Know the code where you ride.
Ride open, legal trails: Poaching trails, building illegal singletrack or adding unauthorized trail features hurts the access.
Ride in control: If you need to pass, slow down, ring a bell, or verbally announce yourself, and wait until the other trail user is out of the path. Use extra caution around horses, which are unpredictable. Be extra aware when riding trails with poor sight lines and blind corners. Make sure you can hear what's going on around you.
Plan ahead: Be prepared and self-sufficient. Every mountain biker should carry what they need for the ride they're undertaking and know how to fix a flat tire and make minor repairs. Download a GPS trail app on our phone for navigation or carry a map in unfamiliar locations. Ride with a partner or share your riding plan with someone if you're heading out solo.
Mind the animals: When it comes to wildlife, live and let live. If you want to ride with your dog, first find out whether or not it's allowed by looking up the leash laws. Be prepared to take care of your dog. Ensure your best companion is obedient enough to not cause problems for you, other trail users or wild animals.
You are now ready to bust a move out on trails. Arizona has an abundance of trails for mountain bikers of every skill levels. You say you want to get out on the trial with your kids, there are trails that will make that experience safe, fun and maybe even an advancement of both of your skill sets.
First a few things to keep in mind when out mountain biking with kids in Arizona:
The heat: During the summer months go very early, say 5 or 6 am.
Hydration: Take more water than you think you will need. If the kid is big enough have them have their very own hydration pack. Water!
Cactus: The cactus are everywhere, carry tweezers.
First Aid Kit: Crashes happen to the most experienced riders.
Now where will you go?
4 Mountain Bike Trails for Kids
McDowell Mountain Park
The trails at McDowell Mountain Park are pretty smooth and have manageable climbs. You will find at the entrance of the park, a pump track for competitive loops, also kid friendly.
Usery Mountain Park
This park is home to the black diamond Pass Mountain trail. But down in the flats the trails are gentle, and curvy.
San Tan Regional Park
You can do a short out and back on the Moonlight Trail. You can also do a combination of trails looping in and out. However, stay away from the washes and the advanced Goldmine Trail.
Canal Paths
Phoenix has a large system of canal paths that can be an introduction to off-road riding. You can ride with kids on their own mountain bike, kids in bike seats or in trailers.
Perhaps you are riding without children this go around. That's okay. Maybe you are just getting the hang of mountain biking yourself? Even better.
20 Beginner Bike Trails in Arizona
Here are four of the best trails for beginners according to Five2Ride:
These trails are in Phoenix and while they are suited for the novice rider, if your skill set is higher you can get on board too. Each of the trails has side trails and spurs branching off from them that are more difficult. The first four are recommended by Five2Ride, the remaining 16 are beginner level trails that populate different areas in Arizona. Some are highly recommended, and others have mediocre reviews. It's up to you to get out there and find out which ones you like.
First words to the wise:
From May to early October Phoenix gets very hot. Ride early and drink a lot of water.
The first four trails:
1. Usery Mountain Regional Park
This is the flattest and easiest of the five trails. Located just outside of the Phoenix suburb of Mesa, it tends to get less crowded. The trails are either slightly uphill or down, and for the majority of the trail it goes gently down through several desert washes on smooth, sandy single and doubletrack.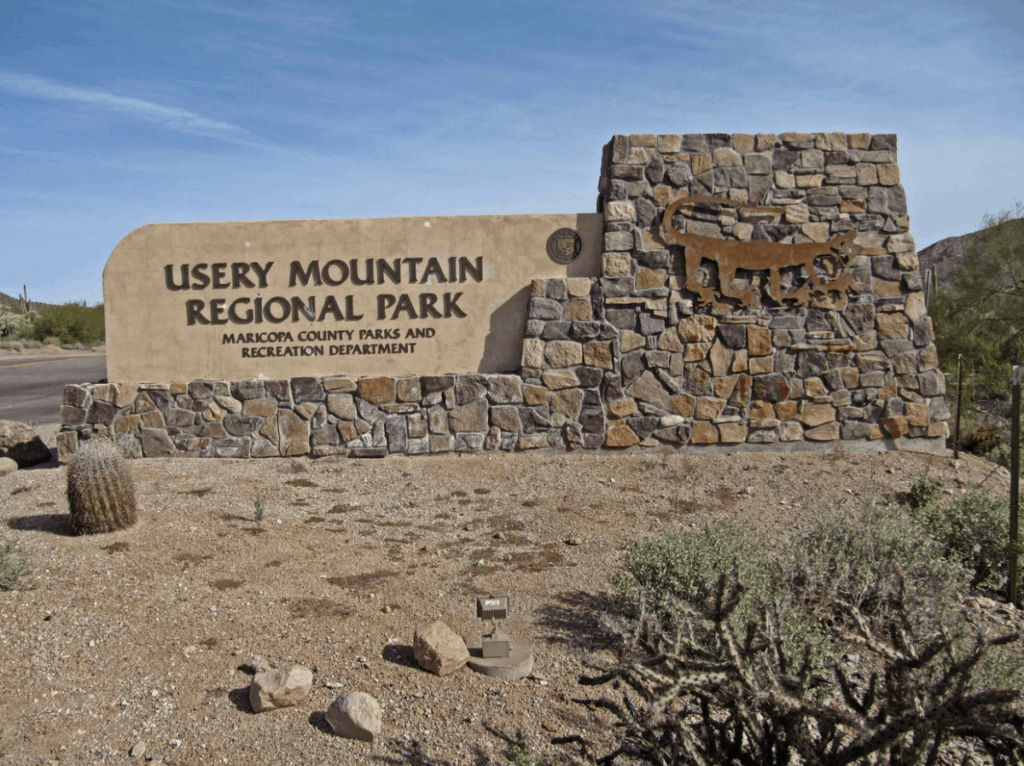 The 3-mile Blevins Loop is the center of the trail system, but there is also the wavy Moon Rock Trail, or you can shred through the rockier Meridan/County Line/Ruidoso Trail combo.
Along the way there is a chance you will run across some coyotes, jackrabbits, roadrunners, lizards, quails and maybe even a rattlesnake or two.
In this park you are never to far from where you started, and if you get tired, getting back to your car is easy. Avoid going down any trails with "wash" in their title.
This is a Maricopa County Regional Park, just south of the town of Queen Creek, southeast of Phoenix. It is a sustained climb, the best way to start your ride is to enter at the park's northmost trailhead at the end of Wagon Wheel Road and start a 1.3-mile gradual ascent on Dynamite Trail, to saddle, which drops after a series of switchbacks to the San Tan Trail below. The San Tan Trail, when combined with Littleleaf and a portion of Goldmine, is a 7.5-mile loop that runs around a small valley, up and over a mixture of singletrack, doubletrack, and even a wide fire road.
The San Tan Trail offers a mix of shreddable features: very fast, long, downhill portions; quick dips through washes; and prolonged climbs up, over, and through big rock outcroppings and cacti. Rarely flat, riders are either going up or down.
3. Bell Rock Area Trails, Sedona
The Bell Rock Area Trails is a trail system that extends from south of Courthouse Butte all the way up to the Little Horse Trail on the eastern side of Highway 179. This trail system is home to the easiest trials in Sedona. But be forewarned, some of them can still be challenging.
And then the rest:
4. Courthouse Butte Loop, Sedona
To get to this trail, take the Bell Rock Pathway from the kiosk toward Bell Rock. It climbs gently and at A ½ mile there is a signed intersection with the Courthouse Butte Loop Trail. Continue ahead. The trial continues a gentle climb circling to the left of Bell Rock. It levels out at 1 mile and curves to the right below the slopes of Bell Rock.
5. Phoenix Mountain Preserve-Trail 100
This trail begins at the Dreamy Draw parking lot and trailhead. Most who ride this trail go east up a gradual 1-mile climb to saddle. This is right in the middle of urban north Phoenix, and just off Highway 51. The sounds of the city will disappear an you descend from the saddle into the desert valley below.
Trail 100 only goes three miles east before terminating at Tatum Boulevard.
6. McDowell Mountain Regional Park-Sport Loop
McDowell Mountain Regional Park lies north of the town of Fountain Hills. It has over 50 miles of biking trails. Check out Sport Loop. Sport Loop is only three miles long. You will gradually pedal up this trail for about 1.5 miles before descending down through several fast, straight sections with some dips, twists and turns which include a few half-pipe-like corners toward the end.
7. Pemberton Loop
The 15-mile loop can be cut in half either by the Tonto Tank Trail or the Bluff Trail that bisects the main loop. Most of the trail is wide open desert riding that has a roller coaster feel to its flow. From the Pemberton there are several trails that lead out. The Scenic Loop Trail is a 3-mile loop that is popular with the equestrian group. The Rock Knob Trail, the Coach Whip Trail is access to the Windmill Trail that goes up and over the mountains to the Gateway Trail system. The Dixie Mine Trail leads to the site of an abandon mine and also joins trails that lead to the Bell Pass and also into the community of Fountain Hills.
8. Arizona Trail Passage #31Walnut Canyon, Flagstaff
This passage goes west into Flagstaff. It features canyon walls, wildflowers and the ability to climb up to some pretty awesome vistas. It can be accessed in the middle from town if you want.
9. Pima road and Dynamite Boulevard, North Scottsdale
This is desert highlands. There are some jeep trails here and this area is also used by ATV and dirt bikes. Some trails are numbered. It's a great ride because as you ride north you gradually gain elevation on a trail that has a lot of short ups and downs through boulders.
10. Brown's Ranch to Granite Mountain, Scottsdale
This trail starts off at a trailhead onto a two track that can be taken to a variety of trails. Bring your map.
11. Moon Rock Loop, Mesa
Follow Blevins Trail for about ½ mile. There is a sign marking the Moon Rock Trail on the right. Moon Rock is a banked curvy, mostly downhill singletrack, which will come back to Blevins Trail after 1.3 miles. There is a sign marking Blevins Trail and to complete the loop that is the head of the lollipop turn left and ride uphill for about 1/3 mile to get back to the Moon Rock Trail sign.
12. McKenzie Ranch North Loop, Vail
This trail is always climbing or descending. There are around 10 banked corners and a singletrack that is trending but not yet completed to the Arizona Trail.
13. Fantasy Island North Singletrack, Goodyear
All singletrack, 19 miles of trails with 6 loops. This trail is all about leaning into curves. Created by mountain bikers for mountain bikers. Surrounding area is being developed for housing, but local biking community have saved this fun gem thru activism.
14. Rainbow Rim Trail, Fredonia
This trail winds up and down through Ponderosa Pine Forest. Horses also use this trail.
15. Sonoran Preserve North, Phoenix
Rolling singletrack with many steep sustained climbs and fun downhills. No technical features but good fitness is needed. If you do all the climbs and loops you can get in over 20 miles and almost 4000 feet of climbing. The trail is best on a hardtail.
16. Papago Park Area, Tempe
This is an easy network that is impossible to get completely lost. A few of the stretches you can take at high speeds except for the large chunky rocks that will slow you down. Although listed as a beginner's trail, some of the climbs will prove challenging.
17. Tusuyan Trail, Tusuyan
A beginner's trail that takes you near the Grand Canyon. The mountain biking trails are pedestrian.
18. Wren Arena Red Loop Trail, Sierra Vista
This trail climbs about 300 feet in the first 1.5 miles. It shifts downward quickly, continuing the descent for the next 1.5 miles. From that point on the trail roams along at just over 5000 feet with a handful of technical spots along the way. Challenging but not intimidating, the trail offers the perfect training ground for mountain bike racers. It can be finished in about an hour.
19. Emery Henderson, Phoenix
Quoted from a guest review: "Nice trail with great views of lake pleasant. The trail is rocky in sections and has some climbing, but nothing too difficult."
20. Seven Mile Gulch Trail, Prescott
Seven Mile Gulch Trail—TR 9854 is open to hikers, horseback riders, mountain bikes, motorcycles, and ATVs. TR 9854 climbs an open, scrub oak covered hillside for 1.3 miles to Seven Mile Tank. It is generally wide and rocky as it climbs steep for 1.0 mile to the junction with Ranch Trail. It offers panoramic views of the San Francisco Peaks, Prescott Valley, Lynx Lake and Lynx Creek drainage, and Spruce Mountain.
The 16 beginner trails listed are not listed in any particular order, so don't try to make sense out of it. While all have been given a beginners rating, some are more challenging than others. Be prepared and go get you some.
5 Dog Friendly Trails in Arizona
Just like if you are taking your kids, your four-legged friend will need the same attention. Go early before the heat is too imposing. Bring lots…lots and a little bit more water for both of you.
Big Park to Bell Rock Pathway Loop, Sedona
This trail is rated as moderate. It is a 4 mile heavily trafficked loop located near Sedona. It has scenic views and a number of activity options.
Arizona (Ringbolt) Hot Springs Trail, Willow Beach
This trail is rated as moderate. It is a 539 mile heavily trafficked loop located near Willow Beach. It features hot springs and is best used from October to April. The trail is primarily used for hiking, camping and fishing.
Elden Lookout Trail, Flagstaff
This is a 5.3 mile heavily trafficked out and back trail that features wild flowers and is rated as difficult. It is best used from April until November.
Pass Mountain Trail, Mesa
Is a 6.9 mile moderately trafficked loop trail located near Mesa. It features wild flowers and is rated as moderate. This trail is accessible all year round.
White Pocket, Marble Canyon
White Pocket is a 1.5 mile lightly trafficked loop trail located near Marble Canyon. It offers scenic views and is good for all skill levels. It is best used from October until June.
As you can see mountain biking in Arizona offers a little something for everyone. Every skill level, children and dogs all can partake of the great outdoors. Whether you are going for the view, the exercise or just to get away from it all, it's right here in Arizona.
Just remember the heat can be imposing. It is best to start out early and if you are going with kids and/or dogs even earlier. Keep hydrated, make sure you are carrying plenty of water with you. And always let someone know where you are going.
But the most important thing…have some fun.