Utah has some amazing scenery along with many incredible views for mountain bikers. Reddish rocks and wide open spaces, along with some cactus and canyons, make this state an epic place to ride on mountain biking trails. Be sure to pack plenty of water in the summer time and try to plan your rides for the cooler part of the day for rides in this hot part of the U.S.
15 Epic Mountain Bike Trails In Utah For Beginners:
Big Chief Trail
Bearclaw Poppy Trail
White Rim Trail
Needles
Dino-Flow
Big Springs Hollow Trail
Black Dragon Wash
Goblin Valley Trails
The Racetrack
Cassidy Trail
Stealth Trail
Lazy
Mill Creek Pipeline
Valley Vista Trails
Deer Creek Trail
Even if you are just a beginner, or if you have never actually ridden before and would simply like to, there are plenty of options for you to ride and still have a ton of fun! Beginner trails are easy to do, yet some of them have something that makes them just a little challenging in order to help you improve your skills.
1. Big Chief Trail – 3.5 miles – Easy/Intermediate – Elevation 5,928 ft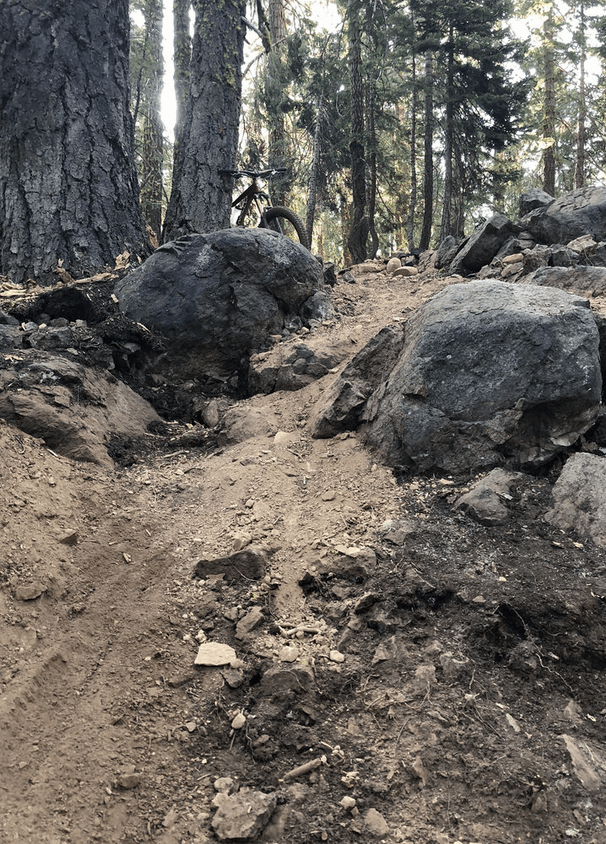 Located in Dead Horse Point State Park, this fairly easy bike trail has marvelous views of classic Utah scenery including red canyons and even a glimpse of the snow-topped Henry Mountains to the west of the trail. Part of the trail actually follows the rim of the canyon, giving you miles of views, though the hills up to it are slightly challenging.
While there is an entrance fee into the park, this price is well worth it. Nick W. says that: "On a 5-star scale, this one is a 6!" While David D. says that there are: "Outstanding views of Canyonlands and Lockheart Basin mixed with fun singletrack make this a must ride for anyone visiting the area."
In addition to this great trail there are other trails nearby that range from easy to moderately difficult and from just over one mile in length to seventeen miles long. These provide plenty of variety while still being easy enough to enjoy. Being located in a state park also gives you the availability to use the restrooms and places to drink water as well.
2. Bearclaw Poppy Trail – 4 miles – Easy – Elevation 2,567 ft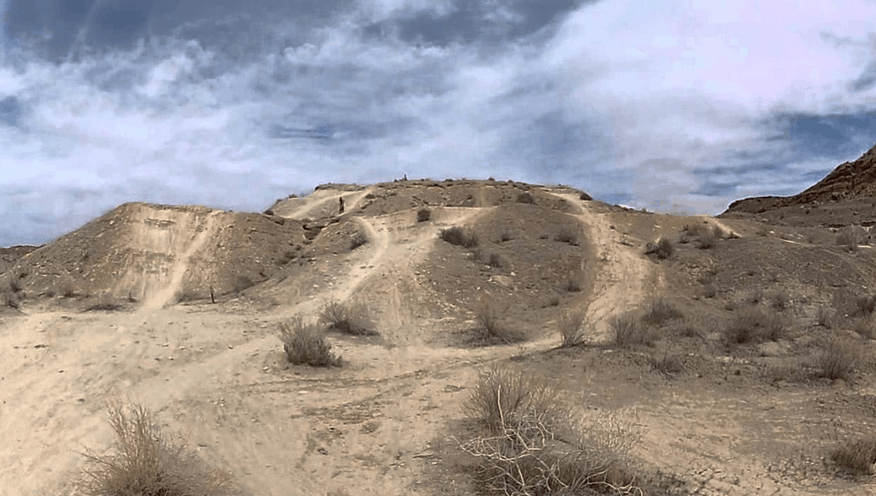 This mountain biking trail is in Santa Clara, Utah and is near the St. George Mountain with some amazing views of it. There are plenty of nearby routes you can ride should you feel like going for something more challenging, yet even should you choose to stick with the easy Bearclaw Poppy Trail you will be in for a treat. One biker named Mason G. says that this was the: "Funest easier trail I have ever ridden!"
The trail has a series of acid jumps that go down into Green Valley and are the perfect place to catch some air as well as a good place to practice pumping for speed. This location even has a bike repair stand in the parking lot that you can use for your bike if you need it while you are there.
3. White Rim Trail – 103 miles – Easy/Intermediate – Elevation 5,683 ft

This very long trail is meant to be traveled over the course of three to four days. Located in Canyonlands National Park in the southeastern part of Utah, it has designated camping grounds along the trail were you can spend the night. A permit is required, and you will likely want to have a support vehicle, but if you are truly up for a challenge it is possible to do the whole route in one day.
The permit can take a while to get, or you can buy a guided tour from one of the different companies that sell them for that trail. Doing this will usually provide you with everything you need to eat and drink during the trip as well as tour guides who can answer any questions and tell you all about the area as you ride through it. The trail forms a loop that can be ridden in either direction and the whole way is full of great scenery.
4. Needles – 18 miles – Easy – Elevation 8,720 ft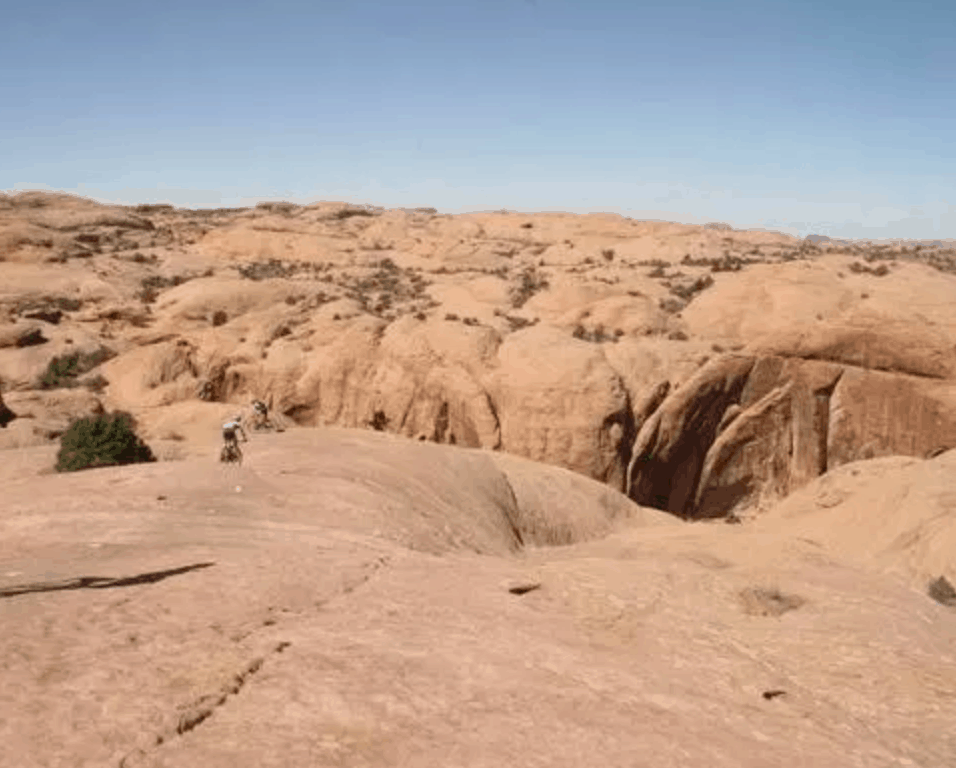 Located at Snowbasin Ski Resort, this mountain biking trail is used only after the snow has melted and is right on the side of the mountain. You can either ride the gondola up that is used in the winter for skiers and then bike down, or you can exercise those leg muscles by riding your bike all the way up yourself before riding the trail down.
Unlike most other places in Utah that tend to have desert terrain, this trail takes you through lush and green forest paths with very little of the classic red rocks visible at all. Moose can sometimes be spotted from the trail as well as other wildlife, so you might want to bring your camera along. There are plenty of other bikers that go here, especially on the weekends, so if you get a flat you likely will not have to wait too long before someone comes by that might help you if you need it.
5. Dino-Flow – 5 miles – Easy/Intermediate – Elevation 4,629 ft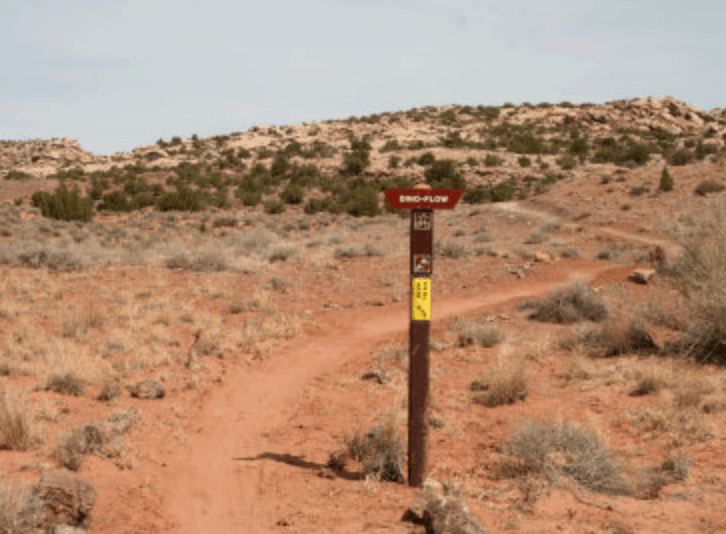 This is one of the trails in the Klondike Bluffs Trail System in Moab, Utah. It has a lot of dirt single-track with some rocky areas as well, the scenery being mostly red rocks and cactus. This location allows night riding and you should consider riding this trail at night when it is cooler especially if you want to ride it during the hot summer months.
A short distance away is Arches National Park where you can camp at and get water and bathrooms. David D. says about this trail: "Being a trail junkie I give this 5 stars based on fun factor, trail design, scenery, and the tons of other trails to mix it up." And it is true that there are plenty of options around this one and that no matter if you are a beginner or a more advanced mountain biker you will still enjoy it.
6. Big Springs Hollow Trail – 2.7 miles – Easy – Elevation 5,780 ft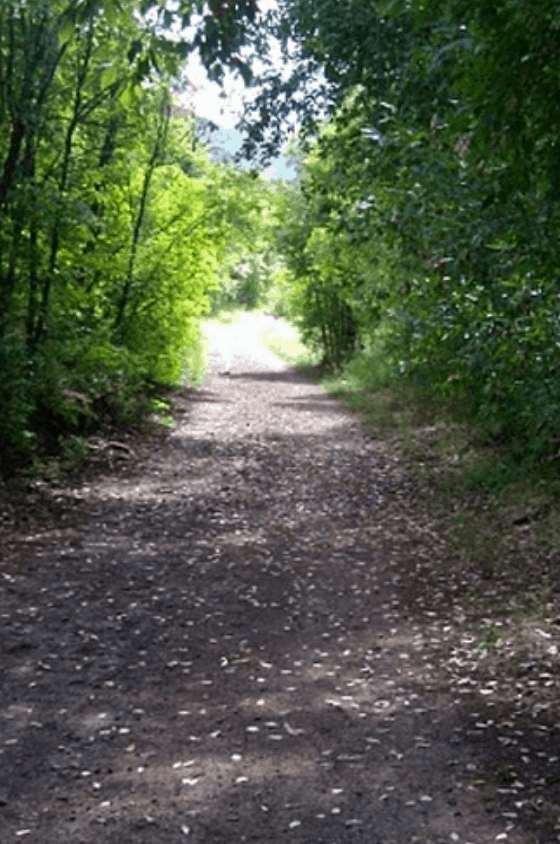 Set in the hilly area behind Provo and Orem, this trail is perfect for beginners. The trail goes through meadows and forest terrain, helping you stay cool in the hot summer moths, and it even has a small stream that you can stop at to refresh yourself. The track itself is dirt for the most part, making the ride a little smoother than rocky trails.
One person with the username The Intrepid Outdoorsman remarks: "I'm a straight up beginner and the constant climb was challenging (about 30 min) but going back down was fun… Took about 10 min to get down. Fun trail overall and for someone who has literally never mountain biked before." Also helpful for beginners is the fact that this location has bathrooms and drinking water available with night riding being optional if you want a new experience.
7. Black Dragon Wash – 17 miles – Easy – Elevation 6,511 ft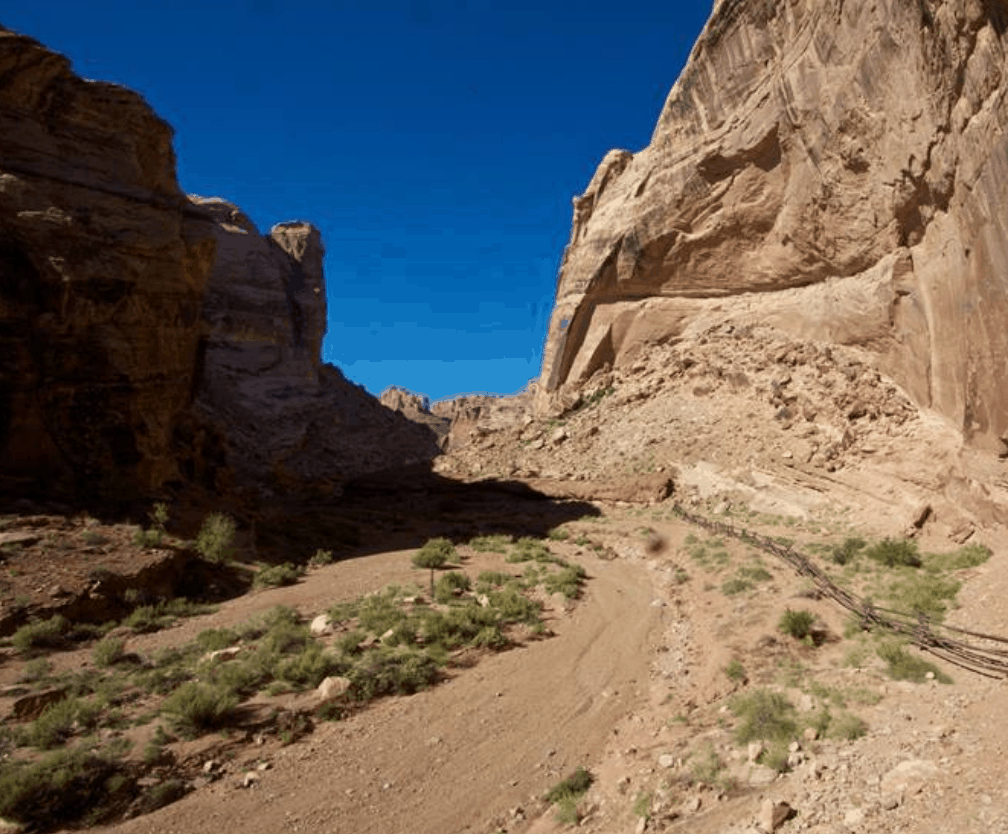 This incredible trail goes through the Black Dragon Canyon, which gets its name from the Black Dragon petroglyph that can be found near the end of the trail in a fenced off area where you can still see it but cannot touch it. Unlike a majority of other trails, this 4×4 trail does not form a loop, instead beginning at one point and ending at another.
Most of the trail is downhill through the canyon, with the red canyon walls towering on both sides of you. While there are no bathrooms or water for you, there is still the option to do this trail at night. One mountain biker with the username of djw2jr says about this trail: "While not a technical sidetrack, this is still an interesting ride. The scenery is outstanding and unlike anything else I've ever ridden. There are some slickrock sections in the canyon that can keep you busy for awhile."
8. Goblin Valley Trails – 7 miles – Easy – Elevation 5,057 ft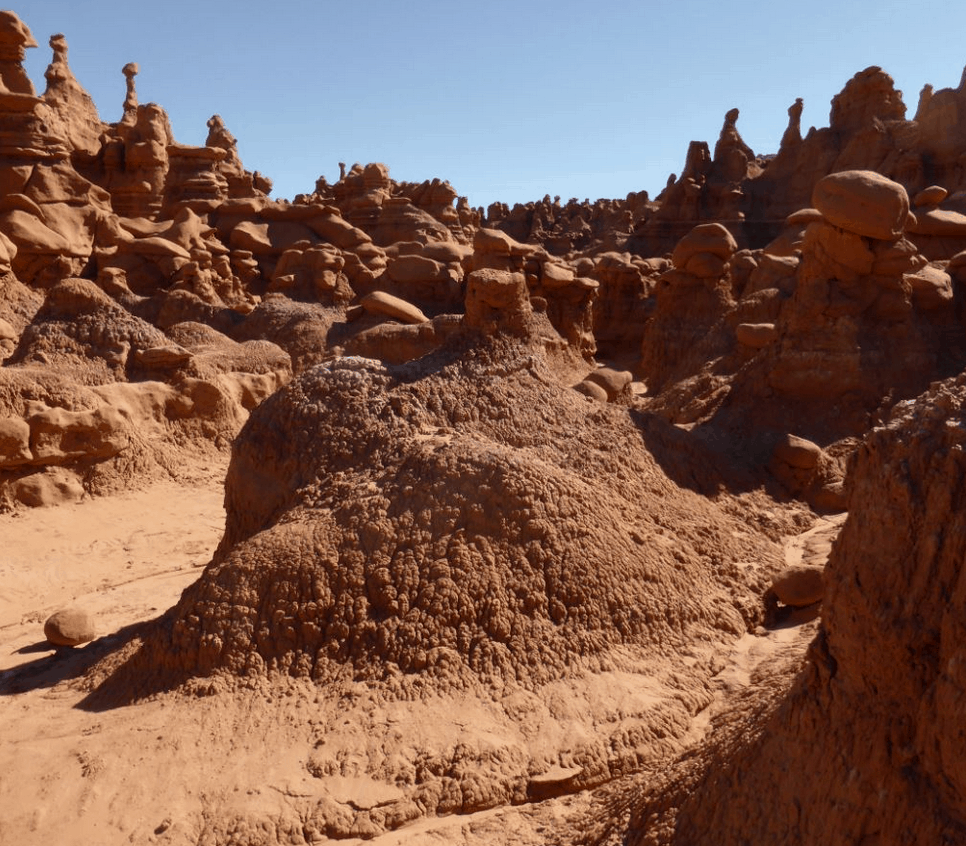 This is a network of trails for beginners, most of which are easy enough to ride even if this is your very first trail. Goblin Valley State Park has a lot of rocks and sand and very little vegetation of any kind, but this makes for wide open views and enables you to see for miles. Since it is in a state park you have to pay to get in, however this also enables you to camp there and to have access to the facilities.
There are also maps available for these trails and signs are posted at every crossing so that you stand almost no chance of getting lost here even if you have no sense of direction. Greg A. says this about the trail system: "All of the Goblin SP trails are super fun. They are great confidence builders for newbies and fast and flowy for the old hands."
9. The Racetrack – 6 miles – Easy – Elevation 5,599 ft
Located near Vernal Utah, this trail is a perfect loop for beginners to get some experience on. With the starting and stopping point a short distance away from a freeway on the west side of Vernal, it is not far out of the city in case you need something and is very easy to get to. The scenery here is a mixture of red rocks and sand yet it also has plenty of trees and greenery for some shade in areas. This also means that you might see some wildlife as you ride this trail so be sure to keep your eyes open.
John F. describes this trail in a comment by saying: "This is a great novice loop with an easy climb and nothing scary technical. There are a few sharp drops into drainages and one minor bit of exposure, but newer riders shouldn't be too uncomfortable. And the descent is a blast for any level. Not threatening for a newb, but lightning fast for a confident rider."
10. Cassidy Trail – 8.7 miles – Easy/Intermediate – Elevation 7,723 ft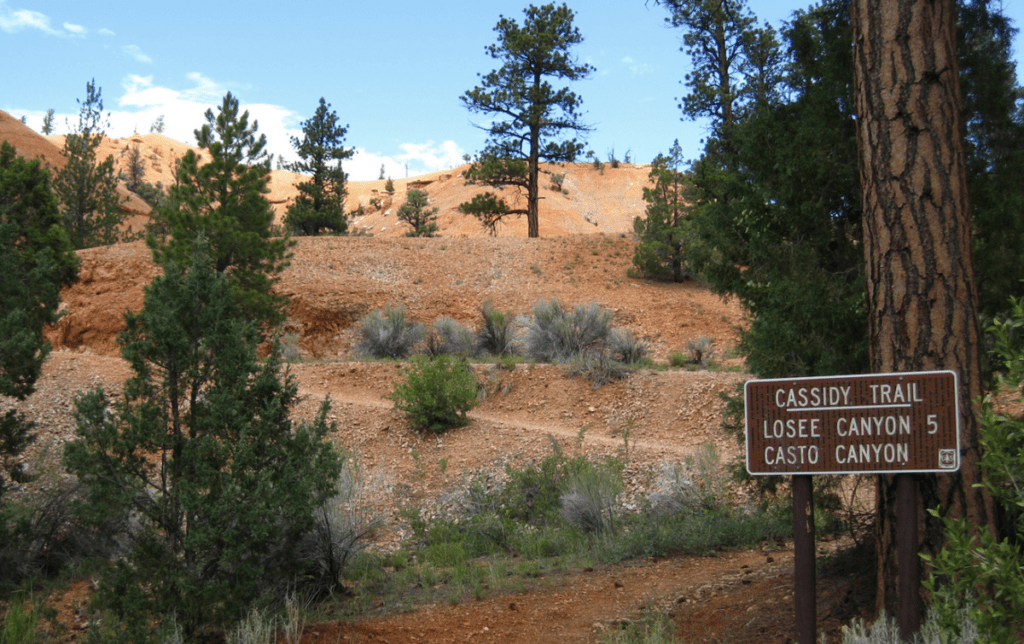 Dixie National Forest Park is the home of this trail as well as a couple of other that are more difficult. Like with other state parks there is an entrance fee, but you also get the use of the bathrooms and water that they have. While this area may not be as rocky, it still features red sand that fades to almost white and plenty of tall Ponderosa pines and spruces to help give it more of a backwoods feel instead of a desert one.
A couple of canyons and plenty of places where you can stop and explore the forest make this a wonderful place to take your whole family along for the ride and there are more than a couple of other State Parks nearby to explore and no towns that nearby, making this location a truly backwoods experience.
11. Stealth Trail – 8 miles – Easy – Elevation 6,283 ft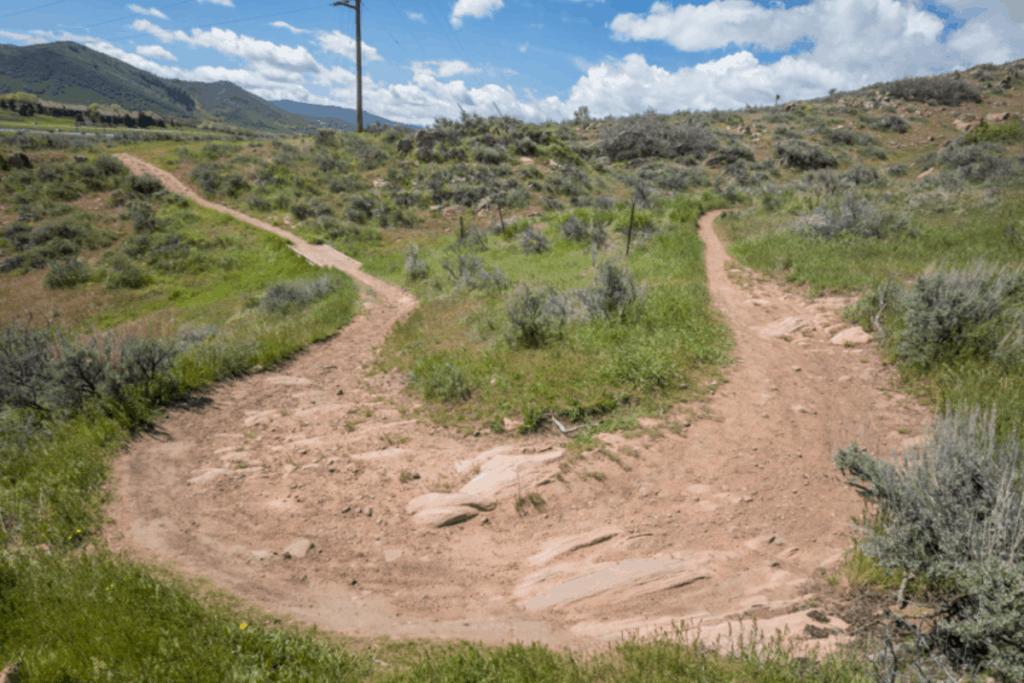 Just to the east of Salt Lake City, the Stealth Trail is one of dozens of trails in the area and often one of the first ones to be dry enough to ride in the spring. The fact that there are so many other nearby trails gives you miles of options you can ride from beginner to the most advanced as you gain experience. The trail has a few wooden features, nothing too technical however, and is located a short distance away from a highway for ease of access.
There are also occasional benches were you can take a break, though virtually no trees makes for very little shade. You can see a long ways in every direction in this rolling, hilly area and the hills make for some tough climbs and fun descents when you get to the top of them.
12. Lazy – 1.5 miles – Easy – Elevation 4,600 ft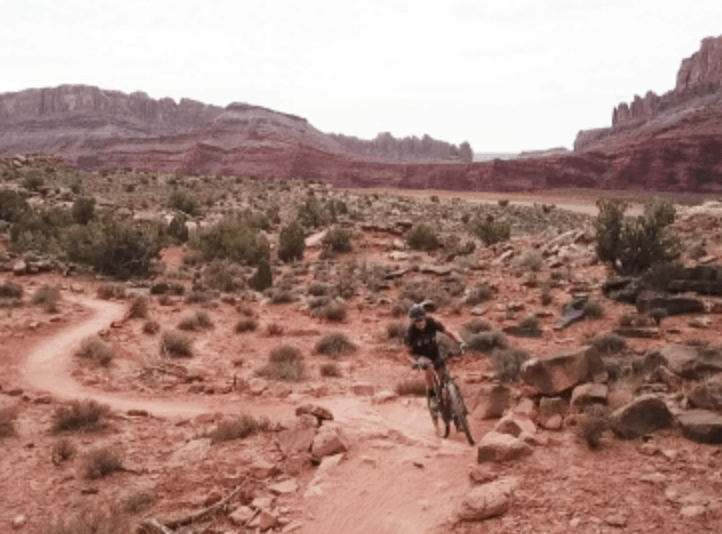 This small and simple trail is a piece of the Moab trail system and in the edge of Arches National Park. Since this is a popular area for biking there is plenty of parking available and a bench or two to rest on. Lots of red rocks and red sand with only the occasional bit of green along the trail means that you will want to grab plenty of water if riding this trail in the summer even though it is only a short trip.
"Pretty easy, but pretty entertaining! Rocks, singletrack, and some great bermed turns," is what Greg H. had to say about it while someone else with the username of blutzski said: "I am so glad they added these trails. My 5 and 6 year olds love riding here." Should you decide that Lazy is too short and easy for you, just take one of the trails to the side, or do it over again!
13. Mill Creek Pipeline – 7.3 miles – Easy – Elevation 6,088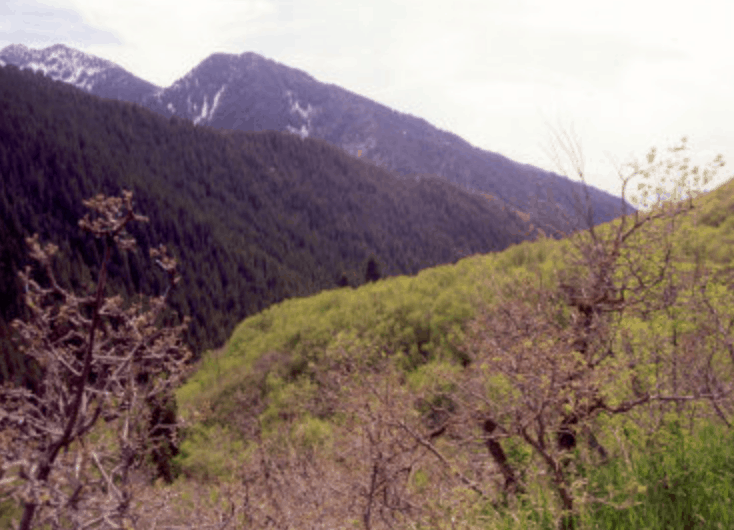 The start of this trail is less than a mile out of Salt Lake City, making it a perfect side trip where you can stop for a few hours if you are passing through that city. Besides having restrooms and a bench or two available for your use, there are also multiple locations you can park at and almost just as many places where you can access the trail. This means that if you don't have time for the whole trail you can just do a part of it.
This trail is one that is quite popular, not only for mountain bikers but for hikers, runners, and even dog walkers as well, so if your bike breaks down you likely will not have to wait long for someone to come by should you need assistance. The first part of the trail is pretty flat, but it gradually changes to a steep, yet manageable climb. Chris D. says: "This is where it all began for me. Great beginner trail that advanced riders will enjoy as well."
14. Valley Vista Trails – 5.6 miles – Easy to Intermediate – Elevation 4,837 ft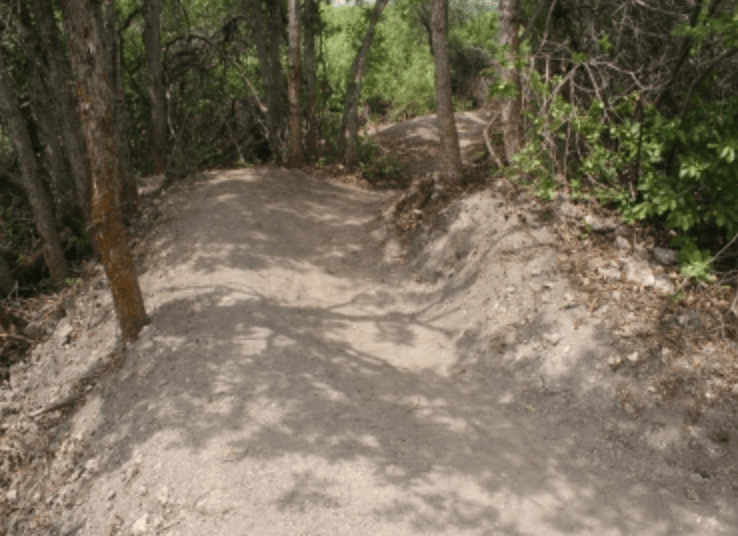 Located just on the edge of Pleasant Valley, this trail is easy to get to and provides both restrooms and water as well as picnic tables at the front where the loop begins and ends. With some uphill and downhill sections, the main feature of this track is its many curves as it goes back and forth across the terrain. The trail is very well marked, with the direction you are supposed to go in on the signs to avoid any confusion due to the optional areas.
Finished being built in 2016, the trail is in good condition and has some hikers and other visitors as well. "First of all, if one is looking to get basic practice on a mountain bike and is not in great shape yet, the green (beginner) track is phenomenal. It presents some little challenges for technique and some good rolling hills to get the heart pumping and the legs burning a bit," is what Rodger B. said about this trail.
15. Deer Creek Trail – 8 miles – Easy – Elevation 5,404 ft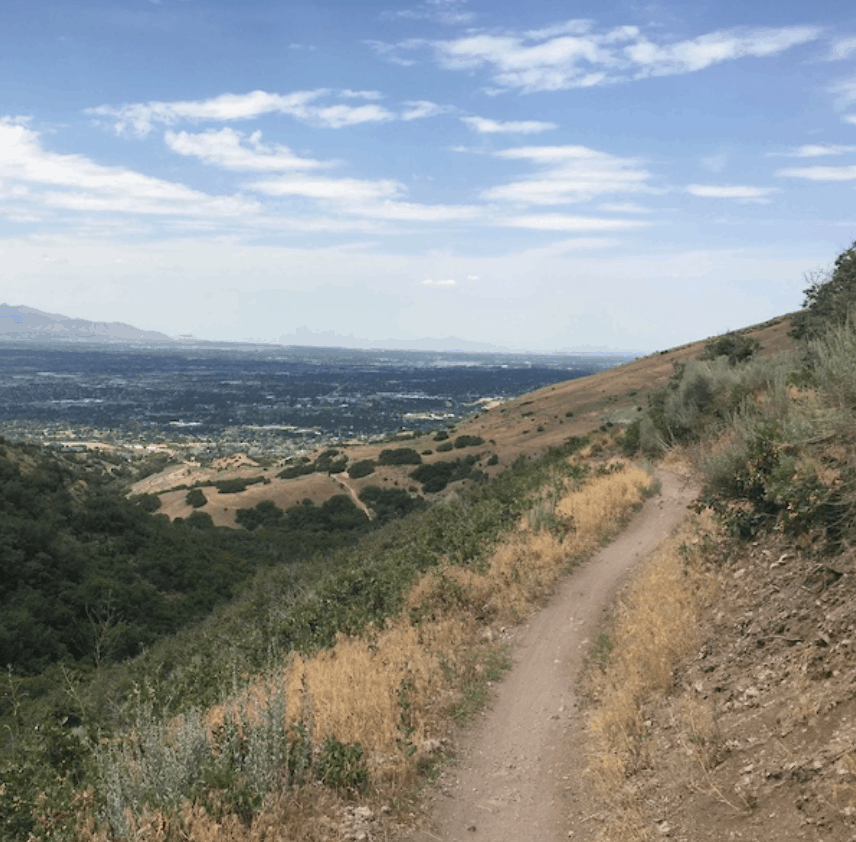 Deer Creek State Park's trail nearly has it all. It follows the edge of Deer Creek, giving you not only an almost constant view of the beautiful water but it also gives views of snowcapped mountains in the distance that are just close enough to show their reflections on the water. Russell T. sums it up: "Not a technical ride, but great views of Deer Creek and Mount Timpanogos."
Though the trail is mostly sand there is plenty of greenery in the landscape, just not very many trees. There is also the option of fishing anywhere you want to along the lake and the 4×4 double track trail makes it a perfect spot to take the whole family along. You can ride at a leisurely pace with a picnic basket and a fishing pole in tow or simply see how fast you can get from start to finish.